Shanghai International Jewelry Exhibition
Celebrated: Mar.&nbsp28,&nbsp2013 to Mar.&nbsp31,&nbsp2013
Location: Shanghai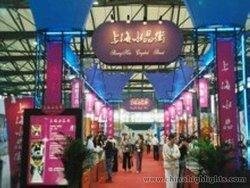 China is the largest producer of fresh water pearl in the world, the output accounts for around 95% of the total. Besides, China is also the largest jade trading market in Asia and is going to be the largest jade consumption market in the world in the coming decades. As Shanghai is conditioned with booming market economy, advanced modern service and flourishing business environment, it is a good place to develop jewelry market. Presently, Shanghai is the largest jewelry consumption market in China, which collects gold, diamond, silver and platinum trading markets. According to related economic data, annual turnover of jewelry industry in Shanghai accounts for 20% of the total in China. Shanghai residents enjoy high consumption level and good tastes which effectively promote the development of jewelry industry.
Planning a trip? Ask us here 800-2682918 (USA & CA)
86-773-2831999 (Int'l)
Q:
Robert Solomon
Asked on 2013-03-13
Reply
Hi where is Shanghai International Jewelry ExhibitionCelebrated: Mar. 28, 2013 to Mar. 31, 2013
Hi Robert, it will held in Shanghai Exhibition Center.
Add: #1000, Yan'an Mid Road, Jing'an District, Shanghai上海市静安区延安中路1000号
Whitney Liao Replied on 2013-03-14