Shanghai International Tea Culture Festival
The Shanghai International Tea Culture Festival is a
famous cultural event in
Shanghai
. It has achieved international fame for the diffusion of Chinese traditional culture with a national specialty.
History
Since 1994, the Shanghai International Tea Culture Festival has been celebrated 19 times. Each year, this festival has attracted hundreds of thousands of tea lovers, as well as experts and producers from other provinces of China and abroad, with its special form, content and charm.
Activities
With the theme of "making friends with tea and expressing emotion with tea", the festival has organized a great many activities related to the tea culture. Activities in the festival include a tea art contest, famous tea appraisals, a forum between tea purchasers and suppliers, star-rated tea house appraisals, a tea culture seminar, an economic and trade fair, a tea set auction, and tea art talks.
Travel Information
A visit to Shanghai International Tea Culture Festival would be best combined with a Shanghai tour from China Highlights. Contact us to tailor-make a tour including the Shanghai International Tea Culture Festival.
Address: Shanghai Difute International Tea Culture Square (上海帝芙特国际茶文化广场), Zhongshan North Road, Shanghai.
Getting there: Shanghai Difute International Tea Culture Square is only ten minutes' ride from Shanghai Railway Station, or twenty minutes' ride and fifty minutes' ride from Hongqiao Airport and Pudong Airport respectively. It is also accessible by bus 46, 65, 95, 518 or 722.
Recommended Festival Tours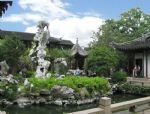 Questions and Answers About Shanghai International Tea Culture Festival
vandana virwani
2013-03-19
Show Answer
hi i would like o visit the tea festival . i also want to purchase the tea when i am there. can u give me more details as how to book and what the formalities are,thanksvandana
Dear Vandana, I found out the official website and you could get more information on it. Please click: http://www.tea-shexpo.com/en/index.asp Lussie Lu replied on 2013-03-19
Jan James
2013-01-06
Show Answer
When in 2013 is the International Tea Culture Festival being held in Shanghai?Kind regardsJan James
Hi Jan, it will be celebrated from May 16, 2013 to May. 19, 2013.
Whitney Liao replied on 2013-01-06
joseph moreno
2011-04-01
Show Answer
I`m not clear on the dates of the International Tea Culture Festival in Shanghai.I have seen different dates online.I can attend if the dates are April 15-18,but I have also seen dates posted in mid-May when I will no longer be in China.Please clarify.If April 15-18 are the correct dates,where is the venue? Thanks for your attention. Joe Moreno
Dear Joseph Moreno, I have read the news that be released on Mar. 31. It's reported that the international tea culture festival will be held on Apr. 23-29 at Shanghai East Asia exhibition hall (上海东亚展览馆) which is located at No.800 Lingling Road, Xuhui Districet.(上海市徐汇区零陵路800号). It's next to Shanghai Gymnasium. You can take Line 4 subway to there. Lussie Lu replied on 2011-04-02
April Offer $25 Coupon
Send your inquiry before Apr. 30, 2014, and we will email you a $25 coupon.
The coupon is valid till Dec. 31, 2014, for paying tour packages worth $250 or up.
The coupon cannot be used for paying flight tickets, train tickets, hotel rooms and day trips.
Travel Advice or Question? Ask us here