Shanghai Peach Blossom Festival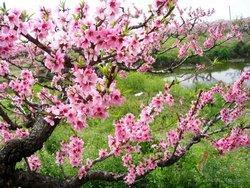 Location: Shanghai, Nanhui District
Since 1991, Shanghai has had a peach blossom festival during March and April in the big Nanhui District. This festival combines enjoying the peach trees with appreciating Chinese culture. So along with enjoying the hundreds of peach trees in the area, you can also listen to traditional Chinese music played by ethnic folk musicians and watch dancers. There is a recently developed park you can see there that is called the Chengbei Folk Peach Orchard. You can enjoy some Chinese cuisine in the restaurants and buy peach products in the shops. The Shanghai Peach Blossom Festival is held from March 25 to April 11 in 2011.
A funny part of the festival is watching the pigs. There are pig events such as pig races, pigs diving, and etc. The pig events are one of the entertainments at the festival. Acrobats entertain as well. You can also have picnics and go to the fish ponds. During the festival time, many local farmers and residents open up their homes so that visitors can enjoy playing with fish nets or agricultural implements and have a meal. The Nanhui District is a coastal district that was traditionally agricultural, but now also hosts the peach blossom festival every year
China Highlights can help you customize a trip to see the best of Shanghai.
Planning a trip? Ask us here 800-2682918 (USA & CA)
86-773-2831999 (Int'l)
Q:
shierlly
Asked on 2013-11-25
Reply
When will 2014 Peach Blossom festival Shanghai will be held?If the festival is over, will I still be able to enter the garden to watch flower blossom?
Dear Shierlly, Thank you for your inquiry. The official opening time of 2014 Peach Blossom festival Shanghai didn't come out yet. For your reference, the period in 2013 is Mar 26- Apr 20. You can still enter the garden if the festival is over, but it might not as beautiful as during the festival. Doris Huang Replied on 2013-11-27
Q:
Sandy
Asked on 2013-09-30
Reply
When will the Peach Blossom Festival, Shanghai, be held in 2014?
Hi,
We do not know when the festival will be held next year now, but it is usually held from late March to early April.
Regards,
Coco
Coco Yang Replied on 2013-09-30
Q:
Julia
Asked on 2013-03-26
Reply
Hi, What is the shortest route to take public transportation to Peach Blossom from Jinjiang Inn Central Shanghai Jiaozhou Rd? Thanks.
Dear Julia, It is about 63 km from the hotel to Datuan Peach Garden. You could take line 7 subway from Changping Road station(昌平路站) which is about 700m from the hotel. Get off the subway at Fanghua Road station(芳华路站), then walk to Fanghua Road- Lianpo Road(芳华路连坡路站) for taking Longda special line(龙大专线) to Yongchun east Road-Yongchun north Road station(永春东路永春北路站) where is about 2 km from the garden. Lussie Lu Replied on 2013-03-27
Q:
Bee
Asked on 2013-02-22
Reply
Hi, When is Peach Blossom Festival this year 2013? Thank you
Dear Bee, I regret that I did not find the exact date. Based on the former information, it willbe held from Mar. 25 to Apr. 11. Lussie Lu Replied on 2013-02-23