The Horse Race and Archery Festival
Celebrated:
Location: Lhasa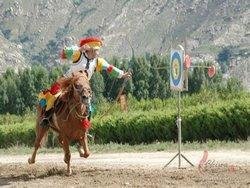 Beginning in the city of Gyantse, the horse racing and archery festival is a popular sport on the vast expanse of Tibet's grasslands, which has a history of more than 500 years, and it was held between the 10th and the 27th of the 4th month of the Tibetan lunisolar calendar.
The Horse Race and Archery Festival is not only a chance for the Tibetans to get together in their spare time, but also it's a good opportunity for them to show the Tibetan spirit.
The horses participating in the festival are well-selected from various tribes, which are ridden by young men aged from 12 to 20 years old for contest, and the horse-racing field measures 12 kilometers long. The first five players are awarded by the local leaders, for example: the first-place winner is awarded a Khatag and 100 silvers, the second-place winner a colored silk and 80 silvers and the third-place winner a colored silk and 70 silvers. Later, Archery competitions on horseback are added to the festival (horse racing and archery had earlier been strictly separate events).
During the 3-day festival, the young herdsmen in holiday costumes sing, dance, shoot arrows and select their ideal partners. Three days after horse racing and archery festival, all singing and dancing activities are not allowed according to Tibetan customs; instead, it's followed by political and commercial activities that last about one month.