Tibetan New Year in Shigatse Area
Celebrated:
Location: Lhasa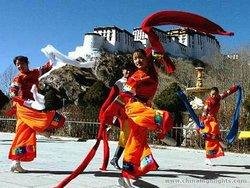 Tibetan New Year, also known as Peasants Day for Tibetans, is the most ceremonious festival in Shigatse, and it falls on 1st of December according to Tibetan calendar.

Shigatse is a rich and fertile agricultural area, where the local people created their own calendar 100 years ago to better arrange agronomic activities.

It is a tradition for people living in Shigatse and Lhasa to keep their yards and kitchens clean and tidy during Tibetan New Year, when the locals put up New Year paintings on the doors to add luster to the festival as well.

The most unforgotten experience of Tibetan New Year in Shigatse Area is eating "Gutu", a kind of dough with white stones, capsicums, wools and charcoals in it, which incorporates a rich symbolic meaning. If a man eats a "Gutu"with wools in it, he is considered to be kind-hearted; if a man eats one with a capsicum in it, he is thought to be termagant; if a man eats one with a charcoal in it, he is deemed to be vicious; if a man eats a stellated dough, he is regarded to be unpopular among the crowed, so he will be forced to drink wine as a punishment.

The dishes served during Tibetan New Year are characteristic, which are traditionally dominated by mutton, including dried mutton, boiled mutton and roasted mutton. Great changes have taken place in Shigatse food habits, and the dishes are richer than ever before.
In addition, a number of cultural entertaining performances are also available in Shigatze during Tibetan New Year, including horse-racing, arrow-shooting, singing and dancing.