Tibetan New Year in Kongbo Area
Celebrated:
Location: Lhasa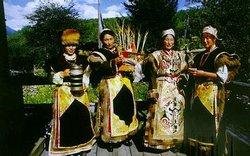 As the first festival throughout the year, Tibetan New Year is the most ceremonial festival in Kongbo Area of Tibet, which is also a festival for the families to get together, and it's celebrated just as the Han ethnic people celebrate their Spring Festival.
The legend goes that Kongbo Area faced war during the early period of 13th century, when Kongbo tribe leaders called on all their people to prepare for the war, but they didn't know when they could return home owing to the long distance from their hometown the battlefield, so they decided to celebrate the New Year on 1st of October in advance before they went for battles. The Kongbo Tribe won the victory over their enemies eventually owing to their great tenacity, since when it's become a tradition for them to celebrate the New Year on 1st October according to Tibet calendar.
There is a unique custom in the New Year in Kongbo Area. Every evening of the last day of the year, each Kongbo family will put those foods prepared for the New Year into a wood plate. Then put the wood plate in the middle of the yard and let the dog eat those foods. It is believed among the Kongbo people that the food dog eats will predict something in the following year. For example, if the dog eats the Cuo (a kind of food made of roasted qingke barley flour), people will think that it will be a good harvest in the following year. If the dog eats cheese or butter, people will think that Livestock breeding will be good. If the dog eats dried peach, it makes people think that all the family members will have a lucky year.