Weifang International Kite Festival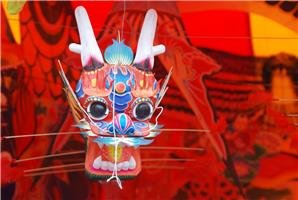 Weifang International Kites Festival attracts thousands of visitors every year.
The Weifang International Kites Festival is an annual event held from April 20th to 25th in Weifang, in East China's Shandong Province. The festival draws thousands of visitors each year.
The night before the festival started, there was an opening ceremony that would equal most any Olympics opening ceremonies! The venue was a huge soccer stadium that seats about 80,000 people, and it was filled, including about 40,000 plastic chairs in the stadium floor! The kites from the 40 different countries were each escorted across the stage in front of the crowd, and each escort carried a large sign showing the kite flier's home country. Chinese television (CCTV) is government controlled, and they were there to cover the entire opening and closing ceremonies events. During the opening ceremony and awards ceremony at the stadium, there was a huge show on stage that consisted of 10,000 dancers, acrobats, and drummers, also some of China's most popular singers were there to perform.
During the 2-3 days of actual kite flying competitions, all of the invited kite fliers from around the world were transported from hotel, and driven to the designated kite flying field.
There are kites of all shapes and sizes, traditional kites, modern kites, big or small from different region. The unlimited imagination creates magically things.
During the closing ceremony and awards, the coordinators ended it with an hour long fireworks display that was all choreographed to music from Star Wars, the motion picture.
A museum dedicated to kites- Weifang Kites Museum, and the relative culture has been set up here.
Related Reading
Questions and Answers About Weifang International Kite Festival
Mee Yeang Chan
2013-09-07
Show Answer
Hi, I am from Malaysia. I wish to participate in the kite flying competition in 2014. What is the rules and regulations and what is the process of applying the competition? Thank you
Hi Winsome, please visit their offical website for the detail informatoin at http://www.weifangkite.com/index1.asp.
Simon Huang replied on 2013-09-07
Nazmul karim
2013-03-04
Show Answer
how many people attest on the weifong international kite festival 2013 in china.How way or process attend the festival
Dear Sir or Madam, There are many people attending the festival every year. If you would like to attand the competition, you need to apply for it. Here is their official website, you could ask them the details directly. Please click: http://www.weifangkite.com/index1.asp Lussie Lu replied on 2013-03-04
henry
2011-04-01
Show Answer
when does this Kite Festival start?
Dear Henrry, The kite festival stars on Apr.20 and ends on Apr.25. The opening ceremony will be held on Apr.20. If you are interested in travel to China, I can arrange an itinerary for you. My e-mail address is lussie@chinahighlights.com You can send your inquiry to me directly. Lussie Lu replied on 2011-04-02
Alessandro
2011-03-27
Show Answer
Sorry I am a little bit confused....it say's 2 days festival but at the same time from the 20th of April to the second of May.....witch are the exact date to see the kites in the Sky? Thank you!! Alessandro
Hi Alessandro People participate the fly kite competition during the 2 days festival, but the celeration activies will start from 20th of April to the second of May. If you have more questions about WeiFang Kite festival, you could feel free to contact me, and I will try best to help you with this tour or competition. My E-mail: william@chinahighlights.net William Huo Travel Advisor William replied on 2011-03-28
April Offer $25 Coupon
Send your inquiry before Apr. 30, 2014, and we will email you a $25 coupon.
The coupon is valid till Dec. 31, 2014, for paying tour packages worth $250 or up.
The coupon cannot be used for paying flight tickets, train tickets, hotel rooms and day trips.
Travel Advice or Question? Ask us here