Xinjiang Grape Festival
Celebrated: Aug.&nbsp20
Location: Xinjiang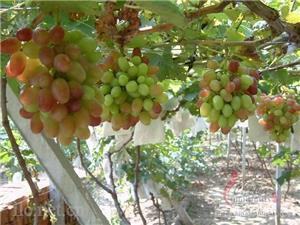 The grape harvest on Xinjiang Grape Festival
Grape cultivation in the world-famous city of Turpan dates back to more than 2,000 years ago. Of the 100-odd grain strains in Turpan, the seedless white grapes, dubbed "green pearls of China", are the most precious. The raisin and wine produced in Turpan are known for their lingering good tastes. Most of Turpan's grapes are grown in the renowned Grape Valley, or "Pearl City in the Desert".
Turpan Grape Festival was first launched in 1990 and has since become an annual event in Turpan. It is also a special event to commemorate the ancient Silk Road which stretches 4000 km in China and 2000 km in Xinjiang, with south, middle and north 3 routes crossing the area. Turpan is well-known as a strategic key point at the middle route.
On the festival, a large-scale firework display, and a singing and dancing gala mark the opening of the festival on the first night. Events on the festival include a Wedding in the Uygur style, mashlap (lively and humorous folk dance), nazkum (witty art performance), Koco style songs and dances, Hami-melon competition, trade negotiations, tour of the Street of Grapes and Melons, and camel caravans reminiscent of the Silk Road more than 2,000 years ago. Large scale Mucamu concert, a grape-eating competition, and Dawazi (in Uygur means high-altitude wire walking) challenge competition are also arranged.
Questions and Answers About Xinjiang Grape Festival
SiD
2014-04-08
Show Answer
where can i find the grapes plant in urumqi.....i want to bring it to my country...
Dear Sid, You could not take the grapes or other plants out of China. Lussie Lu replied on 2014-04-09
Tom Plocher
2014-04-06
Show Answer
What are the exact dates of the 2014 festival?
The date for grape festival in 2014 is on August 20. Carol Wang replied on 2014-04-07
teresa zabala
2012-11-23
Show Answer
what are the exact dates and schedule of events for Aug 2013 ....all I can find and receive is for this year and that is over.
Hi Teresa, sorry, all I can find and receive is for this year and the year before. There exact dates and schedule of events for Aug 2013 is still unknown.
Whitney Liao replied on 2012-11-25
Anyone know about dates for this year's fest? Thanks! guest replied on 2013-07-31
Hi Terasa, it is Aug. 20, 2013. Whitney Liao replied on 2013-08-01
April Offer $25 Coupon
Send your inquiry before Apr. 30, 2014, and we will email you a $25 coupon.
The coupon is valid till Dec. 31, 2014, for paying tour packages worth $250 or up.
The coupon cannot be used for paying flight tickets, train tickets, hotel rooms and day trips.
Travel Advice or Question? Ask us here