Yangjiang Kite Festival
Celebrated: Oct.&nbsp13,&nbsp2013 to Oct.&nbsp13,&nbsp2013
Location: Guangzhou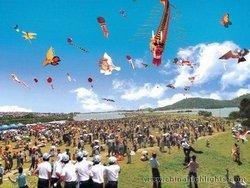 Place: Yangjiang, Guangdong
Yangjiang has long been enjoyed the fame of "Hometown to the Chinese Kites", whose kite is the most popular of its kind in South China, and it's equally famous as Weifang kite in North China. Kite-Flying Festival has been held in Yangjiang, Guangzhou on Double Ninth Day since 1992, attracting over 10,000 kite-lovers from all over the world to participate each year.
Yangjiang kite has a long history of over 1,400 years and it was a custom for the locals to fly kites during the Song dynasty. The legend went that the magistrate of Yangjiang invited celebrities from all walks of life to fly kites on Double Ninth Festival, and the common people put up their tents in the open air to appreciate the spectacular scene.
Yangjiang kites are of great variety and delicately made in a classic style, including centipede kites, eagle kites, tiger kites, dragon kites and lion kites, all of which are as vivid as the real ones if seen from afar. Some kites are 10 meters tall and weight over 20 kilograms, which have a diameter of about 3 meters, and it needs more than 10 persons to cooperate to fly it high. The longest kite – Longli Kite is as long as 30 meters, and it is centipede-shaped and decorated with 200 small colorful bamboo loops.
This special folk festival is not only popular among the domestic travelers but also attracts overseas from the United States, Japan, Italy, India, Thailand, France, Germany, Bangladesh, Luxembourg and South Korea. During the festival, various competitions about kites will be held, such as the longest kite contest, the biggest kite contest, the highest kite contest, individual kite stunts contest and kite stunts team contest.
Planning a trip? Ask us here 800-2682918 (USA & CA)
86-773-2831999 (Int'l)
Q:
P Johnston
Asked on 2013-03-11
Reply
I am going to yangjiang maritime silk road museum shortly. Where can I go to buy kites near the museum?
Hi Johnston, sorry, I don't know the details regarding to buying kites near the museum. Whitney Liao Replied on 2013-03-12