Yuyuantan Park Ice and Snow Festival
Celebrated: Dec.&nbsp20,&nbsp2012 to Feb.&nbsp20,&nbsp2013
Location: Beijing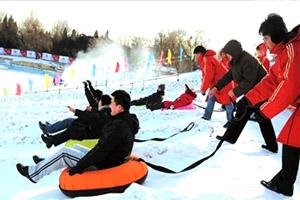 Since 2009 Beijing Yuyuantan Park Ice and Snow Festival has been celebrated each year in Yuyauntan Park. Yuyuantan Park is one of the ten largest parks in Beijing, covering an area of 137 hectares, and is located in Haidian District.
During the festival thematic activities are rich and colorful, including inflatable snow tube, horse-drawn sleighs, and snow-covered CS field.
Ticket Information
During the festival the park entrance ticket price is 2 RMB/person. The ticket price for the ice and snow cultural area is 30 RMB/Person, which doesn鈥檛 include the rental of ski sets.
Transportation
Transportation to Yuyuantan Park is very convenient. Visitors can reach Yuyaun Park by bus 114, 320, or 717.
Planning a trip? Ask us here 800-2682918 (USA & CA)
86-773-2831999 (Int'l)
Q:
oneal
Asked on 2013-12-02
Reply
is this place far from wangfujing..?does it open this december?
Hi Oneal,
Greetings from Cecilia at China Highlights Travel.
Yuyuantan Park is 10KM away from Wangfujing, 30 minutes'' drive. Since it is warm this year, we are not sure if it will open on this month, usually it opens in later December and lasts for one month.
Hope it helps.
Cecilia
Cecilia Peng Replied on 2013-12-03
Q:
Caixing
Asked on 2013-09-02
Reply
Is this an annual event?
Dear Caixing, This event was hold every year in December or January, depends on the weather, and last until the end of February. Doris Huang Replied on 2013-09-02