Foshan Transportation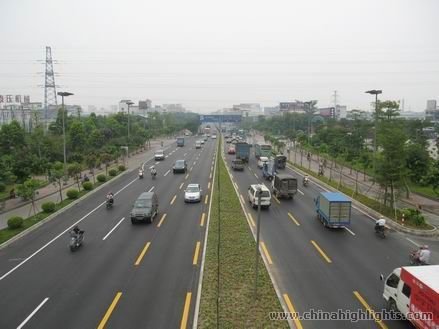 Flight
There isn't an airport in Foshan and the closest air port is Baiyun Airport in Guangzhou.
You can take the shuttle bus at Hongyun Bus Station from Foshan to the Baiyun Airport. It runs from 6:30 a.m. to 10:30 p.m. every 30 minutes. The journey takes one hour and the ticket costs 28 Yuan.
Train
Guangzhou to Zhanjiang Railway is connected with the whole country through Foshan. There are many trains to big and medium cities in China. It is very convenient to get to the station with bus NO. 1、2、4、5、6、8、9 and 10 from the city center.
Boat
Foshan is a city next to the sea. It has two passenger transportation harbors, namely, Shunde Harbor and South China Sea Pingzhou Harbor.
There are 6 passenger liners to Hong Kong every day in the Shunde Harbor. The earliest one is 8:30 a.m. and the latest one 8:20 p.m. There are 6 liners from Hong Kong to Shunde Harbor.
South China Sea Pingzhou Harbor has the liners to both Hong Kong and Guangzhou. Passenger liners to Hong Kong are available every day, while the ones to Guangzhou are only available on Saturday and Sunday. It takes about 30 minutes to Guangzhou. The ticket price is 8 Yuan and is half for kids. Fifteen liners go to Guangzhou every Saturday and Sunday.
Long Distance Buses
Foshan Bus Station is the hub for the highway passenger transportation in Foshan. It makes a long-distance passenger transportation net covering nearly 100 cities or counties including Hunan, Sichuan, Jiangxi, Fujian, Guangxi and Zhejiang. In addition, a lot of hotels have the shuttle buses to Hong Kong and Hong Kong Airport, costing around 3.5 hours.

China Highlights
Planning a trip? Ask us here 800-2682918 (USA & CA)
86-773-2831999 (Int'l)
Q:
talal
Asked on 2013-06-12
Reply
Hi, T will arrivw HKA at 8 pm . and would like to go to Foshan , Crown Plaza Hotel .what is yhe bus service to Foshan ?
Dear Talal, You could take a bus from Hong Kong airport. The ticketing point is at Counter C12, Coach Station, Terminal 2. The buses are available from 7:00am to 20:30pm. It costs about HK$250 per person. It takes about 4 hours. When you arrive at Foshan city, you could take a taxi to get to your hotel. Lussie Lu Replied on 2013-06-13
Q:
dave
Asked on 2013-03-27
Reply
Hi .I will be in Shenzhen next month and would like to know if there is a ferry from Shenzhen to Foshan...or.What is the train service to Foshan from Shenzhen.Thank youDave
Hi Dave, sorry I don't know any ferry from Shenzhen to Foshan, but there are direct buses from Shenzhen Nanshan Bus Station or Shenzhen Longhua Coach Station to Foshan.
Whitney Liao Replied on 2013-03-28
Q:
Tushar
Asked on 2012-12-25
Reply
How to reach fosan city from Hongzou by cheap Transport buy bus our train
Hi Tushar, is it from Hangzhou? You can fly to Guangzhou first, then take bus or metro to Foshan. This website is for you to check the flights: http://www.chinahighlights.com/china-flights/
Whitney Liao Replied on 2012-12-26
Q:
Andrew
Asked on 2012-12-11
Reply
hi, can you recommand any private car service from Kowloon,Hongkong to baiyun Airport?thanks in advance
Hi Andrew, we can arrange it for you. Please kindly advise the number of people and the exact date, then we will quote you the best possible price, okay?
Whitney Liao Replied on 2012-12-11

its just for 1 person on 18th December 2012. I need to be in baiyun by 11:30am. guest Replied on 2012-12-11
Hi Andrew,thanks for your information. My colleague in charge of this will quote you soon. Whitney Liao Replied on 2012-12-11
Q:
viswanathan
Asked on 2012-06-30
Reply
I want to travel from Baiyun air port to Crpwne Plaza hotel at Foshan at 7 a.m. Can you please give me the bus number.
Dear Viswanathan, Thank you for your inquiry. My name is Doris Huang and I am a travel advisor, it is my pleasure to assist you. The numbers of the shuttle bus are: 020-86122102 and 020-86122605 You can take the Foshan Line shuttle bus, and take a taxi from the terminal stop to the Crown Plaza, it's not faraway (about 4km). The earliest bus departs at 06:40 in the morning, and costs about CNY30~50. Here's the Chinese information of your hotel that you can show it to the taxi driver: Name:佛山皇冠假日酒店 Address:广东省佛山市禅城区汾江中路118号 I hope these would help you. Doris Huang Replied on 2012-07-02