Fuzhou Transportation
Air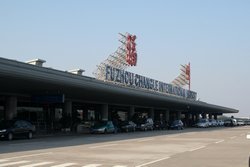 Fuzhou Airport
Fuzhou Airport is about 55 kilometers far from the city center. It is now connected with 40 cities by air service, there are flights every day between Fuzhou and Beijing, Changsha, Chengdu, Shanghai, Guangzhou, Guiyang, Haikou, Hangzhou, Kunming, Xiamen, Nanchang, Shenzhen, Wenzhou, Wuhan, Hong Kong, Macau, etc.
Airport skybus can go to the center of the city to pick up passengers. The parking place at the center of the city is Apollo Hotel (No.132 at Wuyi Road, 200 meters away from the north of Fuzhou bus station), the stops on the way are Baihu pavilion, Xianan, circle island of Changle, circle island of Zhangxiang and the airport passenger terminal. The bus runs every 30 minutes, it takes about 40 minutes from the departure station to the terminus. The price of the ticket is 20 yuan. If you take a taxi to go to the airport, it will cost you about 120 yuan.
Waterway
As one of the two commercial harbours in Fujian Province, Fuzhou harbour is the largest water transport terminal-junction in the province. It is also one of the harbours that deal with foreign trade in China. By ship, you can leave Fuzhou for the main harbours along Yangtze River and even for over 30 harbours in more than 20 countries and regions.
The telephone number: 0591-83682344
Highway
The highway at Fuzhou is quite advanced. Every day, there are 300 coaches going from the city to other cities like Wenzhou, Guangzhou, Shenzhen, and Hong Kong and to over 30 counties and towns in Fujian Province. There are three main coach stations: the north passenger station near the train station, the south passenger station on Wuyi road, and the west passenger station near Hongshan Bridge.
Phone number of the south passenger station: 0591-83322847
Phone number of the north passenger station: 0591-87580118
Phone number of the west passenger station: 0591-83379934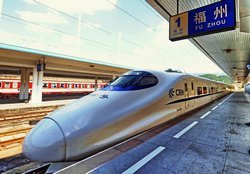 A Bullet Train Running through Fuzhou Railway Station
Railway
The train station is connected with the railway lines all over the country. It lies at the north end of Hualin Road, in the north of Fuzhou city. You can go there by bus No.2, 5, 17, 18, 20, 26, 51, 810, 821, 905, 917, 949, 951 and 966, or go by bus of special lines including the East 2nd Ring Road line, the West 2nd Ring Road line and the special line of Fujian Agriculture and Forestry University.
Phone number: 0591-87579350
Traveler can also buy train tickets. Train tickets can also be purchased at alternative railway ticket offices spread round the city. Find Fuzhou train ticket offices.

China Highlights
Planning a trip? Ask us here 800-2682918 (USA & CA)
86-773-2831999 (Int'l)
Q:
Meng
Asked on 2013-04-01
Reply
Hi, I want to take the bus from Hong Kong to FuzhouI understand that there are direct overnight buses from Hong Kong and Shenzhen to Fuzhou (with sleeping bunks).I am in Canada and will like information (websites, email addresses and telephone numbers) so that I can arrange my trip in advance. Any related information will be greatly appreciated.Thank you.
Dear Sir or Madam, I only know you could take a bus from Hong Kong airport to Shenzhen, then you could take another bus to Fuzhou from Shenzhen Luohu bus station. There are some buses every day. Please click here to check the bus from Hong Kong to Shenzhen: http://www.hongkongairport.com/CBT/Itinerary?actionType=list&locale=eng&locType=c&locCode=sz&arr_dep=D&locations=SZ&operation=&deptDate=&schehr1=00&schemin1=00&schehr2=23&schemin2=59 Lussie Lu Replied on 2013-04-01

Ms. Lu Many thanks for the link. It is most informative. I had been informed that "near Luohu Railway Station, you will find Qiaoshe Bus Station where you can find bus to FZ South Bus Station". Thank you again Meng guest Replied on 2013-04-07
Q:
john
Asked on 2013-03-26
Reply
Can we go by boat from Hong Kong to Fozhou
Hi John, do you mean Foshan or Fuzhou, please?
Whitney Liao Replied on 2013-03-27
Q:
Shiva
Asked on 2013-02-24
Reply
How can I go to ningde xiapu from Fuzhou airport on the same day.
Hi Shiva, there are direct buses from Fuzhou airport to Ningde. You can go to Ningde first, then change bullet train to Xiapu.
Whitney Liao Replied on 2013-02-24
Q:
Eileen Yeh
Asked on 2012-10-28
Reply
Can u help me with train schedule I wanted to travel From Hong Kong to Fuzhou by train on 17/11/2012How & where should I get the train ticket from Hong Kong
Hi Eileen, there is no direct train from Hong Kong to Fuzhou. You can take train from Kong Kong Railway Station to Shenzhen first, then take another train from Shenzhen Railway Station to Fuzhou.
Whitney Liao Replied on 2012-10-29
Q:
Ben
Asked on 2012-07-31
Reply
How to transfer from fuzhuo airport to crh train
Dear Ben, You could take a shuttle bus from the airport to the down town.It takes about 1 hour and it costs about CNY20 per person. And then take a taxi to the railway station, it takes about 10 minutes. Lussie Lu Replied on 2012-08-01
Fuzhou Travel Guide