Customer Story with Pandas
Quick Facts
Name: The Chinese call it the 'big bear-cat' (大熊猫 da xiongmao /dah-sshyong-maow/).
Size: 75 centimeters (2.5 foot) tall and 1.5 meters (5 foot) long
Weight: Up to 150 kg (330 lb)
Habitat: Central- Western and Southwest China.Mainly Sichuan. A few in Shaanxi and Gansu. See the map
Diet: 99% bamboo. 13 kg (30 lb) or more a day.
Life Span: Up to 30 years in captivity, but usually only 15 to 20 years in the wild
Protection Status: Endangered. Estimates of giant panda numbers in the wild vary between 1,500 and 3,000.
How the story begins?
Andreas and Vlasta are from Germany. They love pandas and wanted to visit hometown to get closer to the world treasure. Andreas contacted some travel agency and found that China Highlights was the only travel company that offered panda keeper program at that time. He sent email and got response from Travel Advisor, Lissy very quickly. Finally Andreas arrived at Chengdu in 2007 and enjoyed the in-depth touch to pandas. Since 2007 with the exception of 2008 due to the earthquake, they visited Wolong, Ya'an and the Panda Base in Chengdu every year in March or November. So far Andreas have visited Chengdu seven times and adopted five pandas.
Why they love pandas so much?
Andreas said: The pandas are our life's work. These animals have never left us, and the struggle for its existence is the most important thing we can do in our life. We want to leave our children and grandchildren in a world where there are at least more than 2,000 wild Giant Pandas in habit in Sichuan Province, China.
Vlasta said: The Giant Panda is the symbol for a long life on our planet and a rare species that has survived many climate changes and natural disasters and to continue to survive. Only a planet with many species is worth living, with all its diversity and variety.
What they did in Chengdu? See Vlasta's Story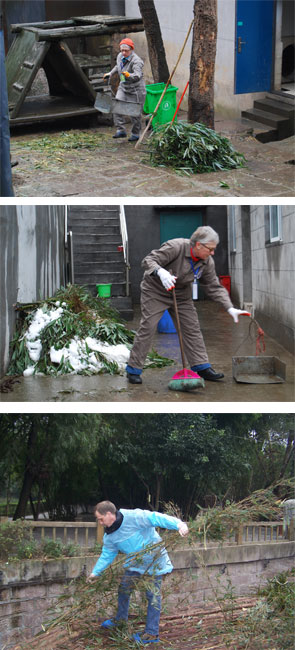 In November 2011, I traveled for the first time to China, with the aim: to meet the Giant Pandas and take care of them. I made the journey together with Andreas. China Highlights professionally organized tours to the Ya'an Bi Feng Xia Base and to Chengdu. The excitement was great, finally I'll meet the black and white nature, and I would care of them in the wonderful home of the Giant Pandas: China.
The first day was so full of expectation and indescribable, I was just upset. The beautiful landscape that I saw out of the moving car was fabulous. The tension grew with each new curve and finally I was at the finish of my dreams: Bi Feng Xia Base. At first I only saw the administration building and then it went down the mountainous road: there, quite close, I saw him sitting my dream beings: the Giant Panda eating breakfast. And soon I'm quite close to him, only a few formalities, overalls and already I should make the rooms clean. My master was very good teacher and I would act without Claudia lost. She was a great help. After the clean-up, I could bear the bamboo poles. Ah, that was a challenge for me beginners! The rods to carry, requires skill and ability. Only with the perseverance you done the hard work.
The most beautiful moment of nursing is the feeding of the beloved Giant Pandas. His smacking sounds, his looks and his confidence have been the most glorious moments in my life and it always will be. I should take care of two wonderful boys: Tai Shan, the superstar and Fu Long, the gentlest boy, who was born in Europe. I was very proud and happy that I could be my beloved Giant Pandas so close.
It is each recommended to China to come and take care of the Giant Pandas in Chengdu. You will better understand why they should be protected and saved from extinction.
About Their Organizations
In 2012, Andreas founded a small non-profit organization "Giant Panda Friends International" in Germany to protect the Giant Pandas to raising funds to support the Pandas in China. So far he already adopted five Giant Pandas.
Their organization accept donation from people who love pandas. Every penny will be 100% used for pandas in Chengdu, e.g. purchasing new climbing equipment for the young Giant Pandas. The organization will send donor a certificate (PDF) by email.
PayPal address click: PayPal Donation
If you have any questions about Panda Keeper Program or donation, please contact Andreas
Email: filos@pandaworld.de
Tel. +49 69 66600121
Fax. +49 69 66600122

Their Websites:
Top Giant Panda Tours
Visit the homeland of Giant Pandas in Chengdu, but also the famous Golden Triangle - Beijing, Shanghai and Xi'an.
Join a two-day Panda Volunteer Experience to care and interact with the pandas, and see the ancient Chengdu.
Join an International Internship Program or Panda Keeper Program to have an opportunity to feed the pandas and then give then a cool bath.