Transportation
Guangdong Province is located in the south of China. Guangzhou, its capital city, serves as the transportation hub for south China. As one of the most prosperous provinces in China, Guangdong Province is conveniently accessible by air, railway, highway and waterway. It is also the major gateway adjoining Hong Kong and Macau.
Air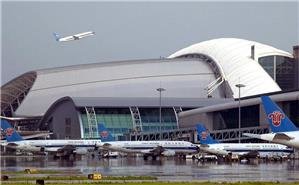 Guangzhou Baiyun International Airport
There are five civil airports within Guangdong Province, respectively located in Guangzhou,Shenzhen, Zhuhai, Shantou and Zhanjiang. Among them, international airports are Guangzhou Baiyun International Airport and Shenzhen Baoan International Airport, via which tourists can get to almost all the major cities in China, including Beijing, Shanghai, Chongqing, Qingdao and Guilin. There are also some international flights, such as Guangzhou-Melbourne, Guangzhou-Kuala Lumpur, Shenzhen-Singapore, Shenzhen-Bangkok, and so on.
Highway
There is a developed highway system in Guangdong. It has established a land way traffic network system which connects major towns, cities, airports and harbors. There are highway coaches to and from many major southern cities in the country.
Guangzhou Provincial Passenger Bus Station is the largest bus station in Guangdong province. Buses depart here daily to the neighboring Guangxi, Hunan, Fujian and Jiangxi Provinces. There are also deluxe buses to Shenzhen, Hong Kong and Macau. The easiest way from Guangzhou to Hong Kong is by the deluxe bus following along the Guangzhou-Shenzhen freeway in 2.5 hours. In Zhuhai, tourists can get to Macau by simply taking a bus to Gongbei Port and pass through the customs.
Waterway
Located at the Pearl River Delta, Guangdong has abundant waterways within the province. It is also the major southern gateway connecting Hong Kong and Macau.
Guangzhou is located by the Pearl River. Boats sailing along the river can take visitors to Hong Kong, Macau, Haikou and Sanya. From Shenzhen, visitors can get to Zhuhai, Guangzhou, Macau,Hong Kong and Kowloon by boat.
Questions and Answers About Transportation
ankita
2014-03-07
Show Answer
Hi , I am ankita . I am planing to visit gaungzhow on may 1. i would be taking a flight to hong kong that would reach around 9.10 am . Then goining to macaw from macow I want to come to gaungzhow . and from gaungzhow i would go back to india . Please guide me with the inland transfers with in china .
lisa
2013-11-25
Show Answer
hi,how to go to jinma industrial,chencun, humen town, dongguan,guandong if i go from jakarta indonesia
Dear Lisa, Thank you for your inquiry. I suggest you fly to Guangzhou from Indonesia, and take a train from Guangzhou South Train Station to Humen town (takes about 17 minutes). After arrival Humen train station, take a taxi to the Jinma Industrial, and it takes about 20 minutes to get there (8.6km). Doris Huang replied on 2013-11-27
Daffy Davantes
2013-01-08
Show Answer
Hello I''m Daffy from Manila Philippines, can you recommend a budget hotel but nice and near at commercial area in Dongguan City in Province?, can you advise me how or what would be the mode of transportation from airport to Guandong how long will be the travel time, is it very cold in the month of January? Thanks!
Hi Daffy, the temperature in Dongguan in Jan. is 9°C-19°C.
You can check hotels in Dongguan via here:http://www.chinahighlights.com/hotel/
There are direct buses from Guangzhou Airport to Dongguan. It takes about 2.5hrs.
Whitney Liao replied on 2013-01-09
Hi Ms. Liao, thanks for the reply, may i ask again if VIENNA HOTEL in Liaobu is near in Xianglingbei Industrial District? is it a Taxi ride from Vienna Hotel?, Best Regards guest replied on 2013-01-17
Hi Ms. Liao, thanks for the reply, may i ask again if VIENNA HOTEL in Liaobu is near in Xianglingbei Industrial District? is it a Taxi ride from Vienna Hotel?, Best Regards guest replied on 2013-01-17
monica
2012-10-28
Show Answer
Hi, I am monica. I am planning to attend china coating show at Guangzhow.I will flight at 28 Nov morning from Narita-Japan. Then 1 Dec I will flight to Shanghai. 3 Dec afternoon, I will go to Nanxiong City. 5 Dec back to Japan from Nanxiong city. Please advice the kind of transportation I can choose and on which hotel I could stay (3 star hotel)?
Hi Monica, from Shanghai to Nanxiong City, there is no direct transportation. You can fly to Guangzhou first, then take a bus to Nanxiong. For hotels in Shanghai please check here: http://www.chinahighlights.com/hotel/shanghai-hotels/ For hotels in Guangzhou please check here: http://www.chinahighlights.com/hotel/guangzhou-hotels/


Whitney Liao replied on 2012-10-30

China Highlights