Guangzhou's Location in Southeast China Map
This map shows the location of Guangzhou in the south of China as well as nearby provinces.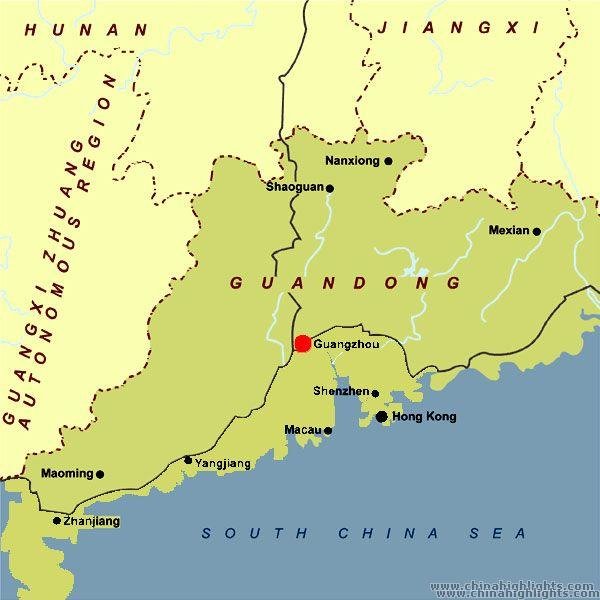 China Highlights
Planning a trip? Ask us here 800-2682918 (USA & CA)
86-773-2831999 (Int'l)
Q:
Che
Asked on 2012-11-25
Reply
How long do it takes from Hong Kong to Guangzhou
About 3.5-4hrs.
Whitney Liao Replied on 2012-11-26
Q:
VIDYA NAYAK
Asked on 2012-10-09
Reply
Guangzhou it is in which area of Hongkong, as I would like to book hotel near the station If possible. Is it in Kowloon area?
Dear VIDYA NAYAK, Guangzhou is a city, near Hong Kong. It is not a district of Hong Kong. Do you near a hotel in Kowloon? If so, here are some options. 1. The Harbourview-Hong Kong: http://www.chinahighlights.com/hotel/hong-kong-hotels/the-harbourview.htm 2.Harbour Grand Kowloon: http://www.chinahighlights.com/hotel/hong-kong-hotels/harbour-plaza-hotel.htm 3. Stanford Hotel: http://www.chinahighlights.com/hotel/hong-kong-hotels/stanford-hotel.htm More: http://www.chinahighlights.com/hotel/hong-kong-hotels/ Lussie Lu Replied on 2012-10-10
Q:
dan
Asked on 2012-10-06
Reply
how much does it cost for the trip to guangzhou
Hi Dan, it depends on how long your trip will be? And how many people in your group as well as what kind of hotel you would like to book? Whitney Liao Replied on 2012-10-08