A Day in Guilin — Big Budget (the Sky's the Limit)
If money was no object you could really go to town on your transport and eating options, and see Guilin's top attractions in style.
(This itinerary is for consideration only as it has never been previously attempted, and would require a considerable amassing of resources for the transport options, and permissions for the speedboat and helicopter.)
Morning
Breakfast at the Shangri-La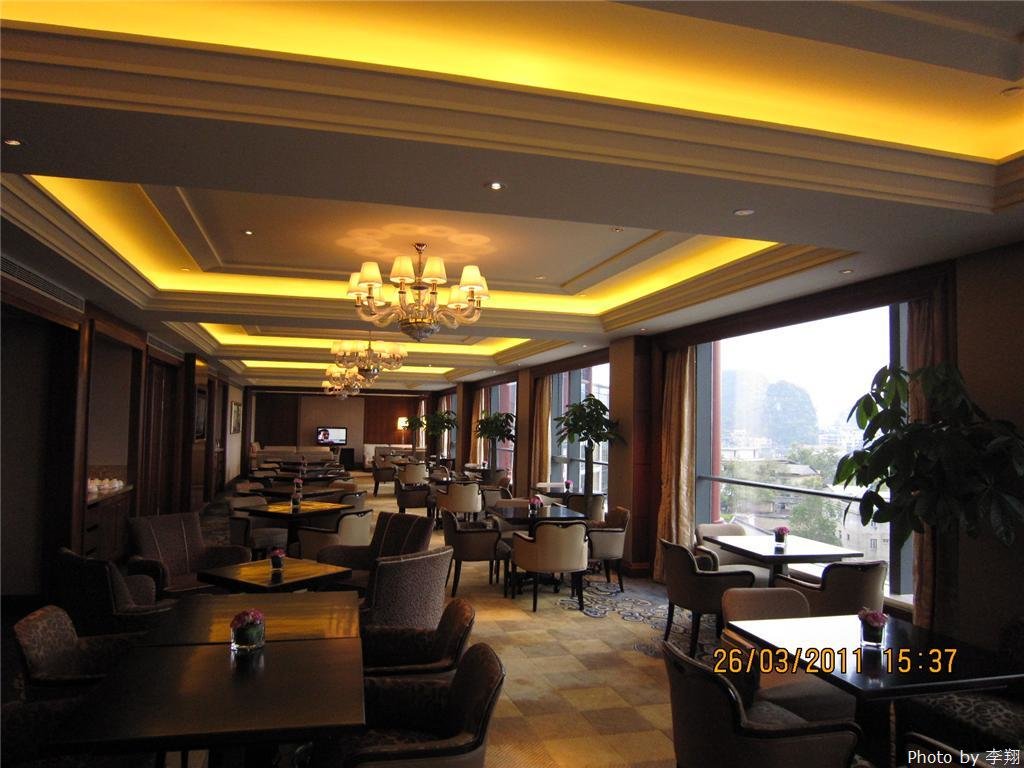 A restaurant in Shangri-la Hotel, one of the best hotel in Guilin.
Take breakfast in your Guilin Shangri-La Hotel Horizon Club River View Room, and enjoy the finest breakfast with the finest view money can buy in Guilin. See the morning rays reflecting on the sheer face of Folded Brocade Hill and the interposing Li River. Your transport awaits your sight-seeing convenience below.
Chauffeur-Driven Classic Convertible Coupé
For road transport a convertible must be the way forward. You can see the sights unobstructed, feel the atmosphere, and hear clearly what's going on around. And if it rains, or you've had enough sunshine, just ask for the roof to go up, and enjoy the air-con.
The most expensive convertible is the Rolls Royce Drophead Coupé. It can seat chauffeur, guide and two customers. However, you might prefer a Porsche or Ferrari.
Elephant Hill
Iconic Elephant Hill is the symbol of Guilin encapsulating river and rock in its trunk-like arch. Your speedboat will take you across the river to stand under the "elephant's trunk". After this not-to-be-missed photo opportunity, you can start your voyage down the Li to Yangshuo.
Li River Cruise by Porsche Fearless Speedboat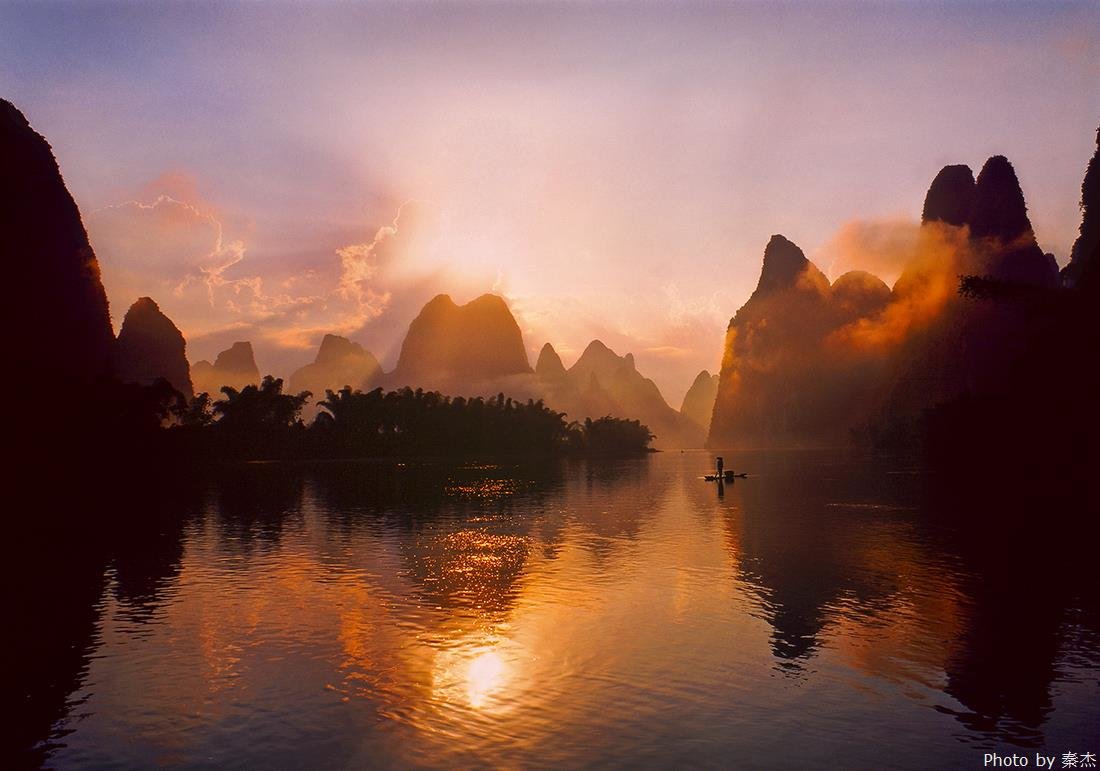 Beautiful sunrise at Li River in Xingping
We recommend at least the 44-foot model in Porsche's Fearless range for style and room for pilot and guide. Cruising the Li with your own private speedboat you can go at your own pace, stopping at the classic sights like Nine Horse Fresco and Yellow Cloth Shoal, and speeding past anything that is not of interest.
In Yangshuo your chauffer-driven convertible will pick you up from the water's edge and carry you through Yangshuo's beautiful countryside.
Lunch at Yangshuo Resort
Take lunch at the Riverbank Restaurant in Yangshuo Resort on the Yulong River (阳朔河畔度假酒店 Yangshuo's première 5-star scenic hotel complex). The highest quality local and Western cuisine in the county can be found here.
Afternoon
Sit in a roomy stylish convertible, with your guide and driver. This is the ultimate way to take in the countryside atmosphere. It gives you the views you get when cycling without the sweat. You can go whatever speed you want. See Moon Hill, karst peaks surrounded by rice paddies, and ancient villages in comfort, while sipping champagne and eating strawberries.
Take your own private tour of colorfully-lit and cavernous Silver Cave to see the underground highlights of Guilin's limestone scenery: fluted stalactites, tranquil pools, and underground waterfalls.
It's a pity that balloon rides are no longer offered in Yangshuo, but if the sky is the limit price-wise, a Gazelle Scout helicopter ride to see Yangshuo from the air, would be highly recommended.
Dinner at the Green Lotus
Take your evening meal at the Garden Restaurant of Green Lotus Hotel, the most expensive 5-star establishment in the town of Yangshuo.
Evening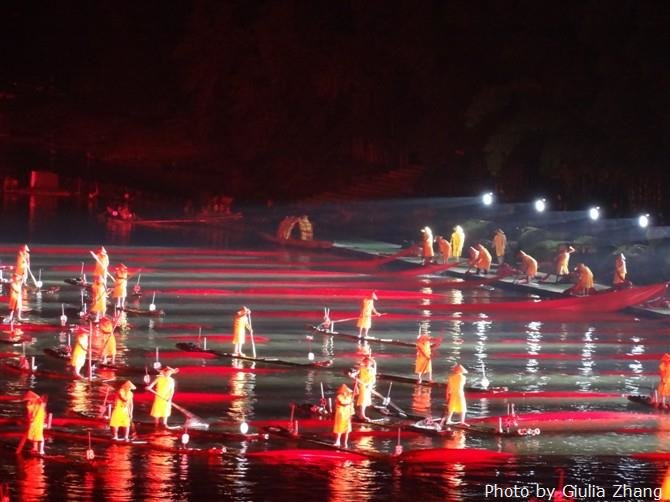 Impression Liu Sanjie, a visual show displayed at the Li River
See Impression Liu Sanjie, the legendary tale of "the song fairy", set to lights and music, with a cast of hundreds, and staged on the Li River itself. Enjoy this unique spectacle from the best VIP seats in the riverside viewing area.
In the evening walk West Street with your guide and see the best of the bars and local souvenirs. For nighttime entertainment Yangshuo's bars have everything from the sophisticated and quiet to the lively and noisy. For an even more peaceful evening, retreat from the busy streets to Yangshuo Resort's Dragonfly Bar for drinks in the moonlight, accompanied by live folk songs.
We recommend staying the night at Yangshuo Resort.
Let us help you plan a personalized Guilin day tour for you or tailor make the travel arrangements for you.
Also read The Pick of Guilin.
Questions and Answers About A Day in Guilin — Big Budget (the Sky's the Limit)
Midco
2012-10-04
Show Answer
Our client would like to rent a helicopter for visiting Guilin & Yangzhuo. Is this something that you could arrange? Thank you.
Hi Midco, our office is located in Guilin,as I know there is no helicopter rental service. Sorry but we are unable to arrange it for you. Michael Hu replied on 2012-10-05
Drazen Zupancic
2012-09-20
Show Answer
Hi!I wish to visit Li river Gulin-Yangshou but have limited time wile on visit to China next month.Could you tell me is it possible to do this in one day for example depart from Guangzhou airport to Guilin airport in the morning ( what time would you recomend to arrive?) then head to Li river for a cruse to Yangshou , have walk in Yangshou on West street,have lunch and then go to rice terace like Longsheng or is there something like but closer to Gulin and Yangshou ,visit some rular country side and some beautiful spots to take few picture stay there till late afternoon/evning and then go back to airport to board a late flight back to Guangzhou.Nothing to luxury just average .Thank you
Hi Drazen, sorry it is not enough time for both the terraced field in Longsheng and the Li River Cruise from Guilin to Yangshuo. Each of them needs almost one day to cover. I suggest that you arrange at least 2 days for them.
Whitney Liao replied on 2012-09-21
Joyce Sherry Chiang
2012-08-29
Show Answer
Dear SirsMay I know how much do you charge a 1 day luxury tour in guilin. I have a family of 3 pax.
Dear Joyce, It is our luxure tour, the price for your reference is US$1529 for 3 of you. I also send an email to you, please check it for more details. guest replied on 2012-09-02
April Offer $25 Coupon
Send your inquiry before Apr. 30, 2014, and we will email you a $25 coupon.
The coupon is valid till Dec. 31, 2014, for paying tour packages worth $250 or up.
The coupon cannot be used for paying flight tickets, train tickets, hotel rooms and day trips.
Travel Advice or Question? Ask us here

China Highlights
Guilin Travel Guide