A Day in Guilin — Low Budget (on a Shoestring)
See Guilin and Yangshuo's classic attractions and eat for less than 100 yuan each (accommodation not included).
| Item | Cost (yuan) |
| --- | --- |
| Guilin map | 6 |
| Two 1.5 litre bottles of water | 6 |
| Breakfast | 6 |
| City bus to train station | 1 |
| Bus to Yangshuo | 20 |
| Lunch | 10 |
| Bicycle rental | 10 |
| Dinner | 10 |
| Banana pancake | 10 |
| Street snacks | 5 |
| 2 bottles of local beer | 10 |
| Total | 92 |
On arriving at Guilin Railway Station buy a 6 yuan Chinese-English Guilin map from a kiosk or street stall, and buy a 1.5 liter bottle of water (a significant saving on the 500 ml bottles).
Morning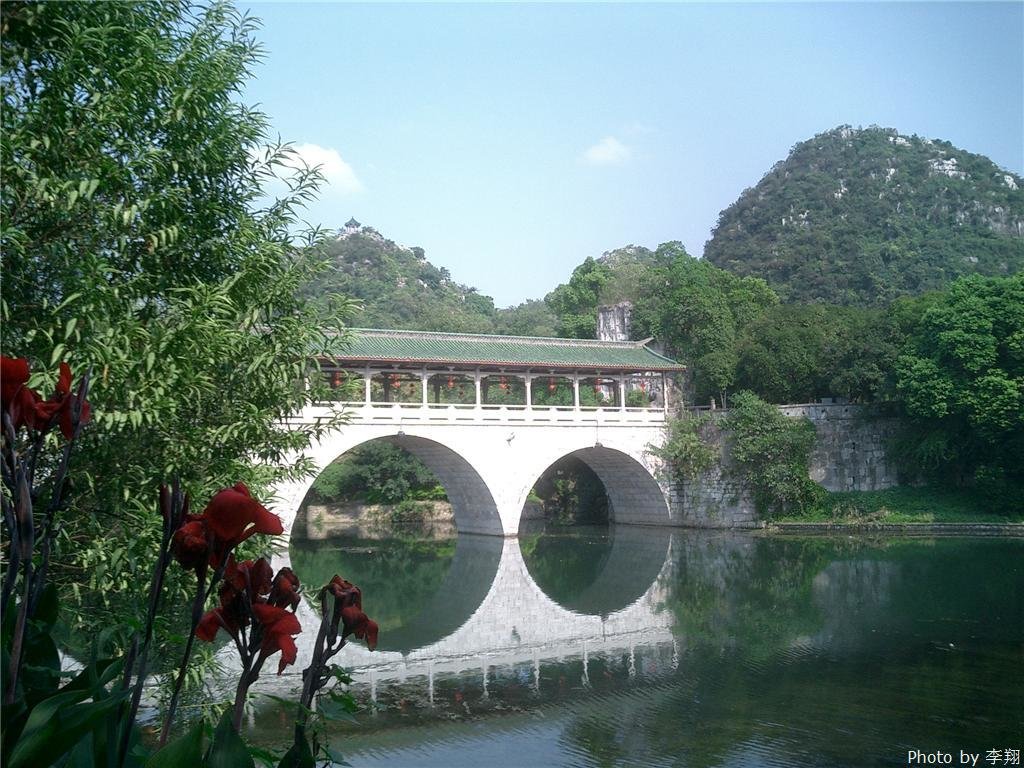 Beautiful bridge of Seven Star Park in the morning.
Get into
Seven Star Park
before 6:30am for free. Climb up the hill with the pagoda and, if you feel like it, shout at the opposite peak, like the locals. You should see the sun rise from behind the opposite peak, and the panorama of Guilin's small city center surrounded by .
Breakfast
Eat breakfast in the park at the rice noodle shop by the large square. Mifen (米粉 rice noodles) is Guilin's classic and always popular cheap breakfast. At 3.5 yuan for 100g and 4 yuan for 150g it should be tried. There fried dough sticks are 0.5 yuan each, and cups of soya milk are 1 yuan each.
From Seven Star Park walk out of the main entrance and on Liberation Bridge you can take a look at Elephant Hill to the left and Folded Brocade Hill to the Right. Look down in the Li River below and you might see someone going for a morning swim.
Straight ahead from Liberation Bridge on the right of the road is a bus stop. Catch bus 10 (1 yuan) to the railway station for the cheapest bus to Yangshuo (around 18 yuan).
Lunch
On arriving in Yangshuo exit the bus station from the entrance, and take an early lunch of clay pot rice from one of the shops on the opposite side of Pantao Road. Shaguo fan (砂锅饭 rice and assortment of cheap meat and veg cooked in and eaten from a clay pot) is about 10 yuan, but varies with ingredients.
Buy a 1.5 liter bottle of water if you're running low.
Afternoon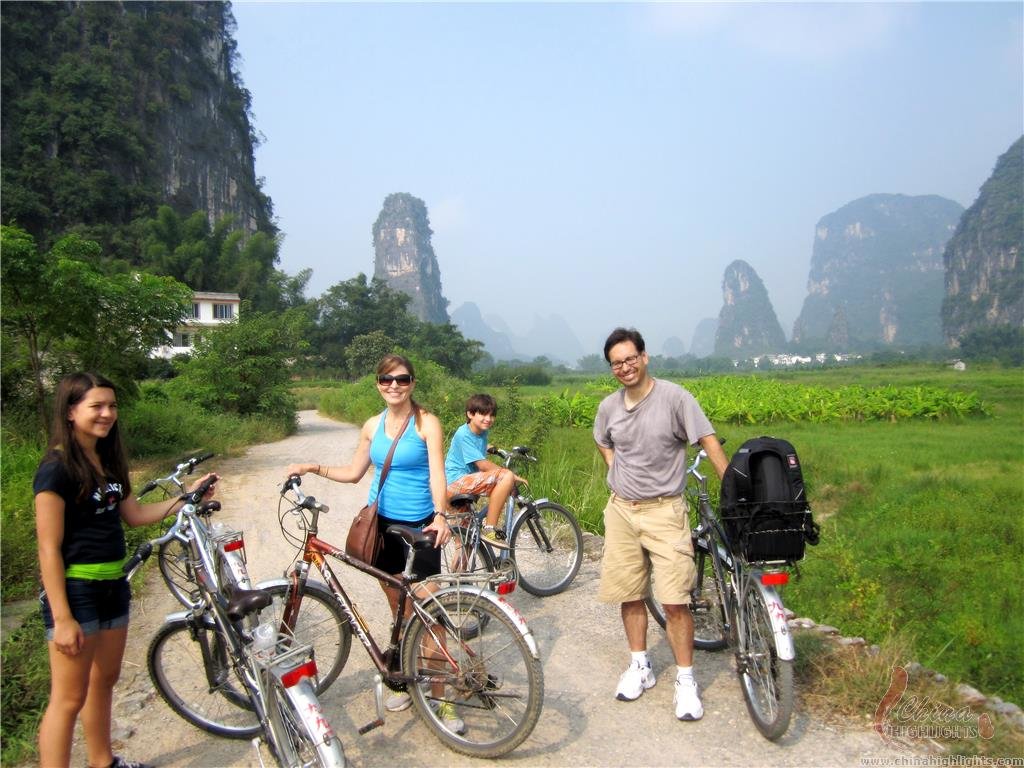 Cycling in countryside with friends is a good idea.
Rent a bicycle from one of the many places around West Street and see the countryside. Rental prices start from about 8 yuan. If there are two of you, you can save with a tandem (5 yuan each). The deposit is up to 200 yuan.
Some of the best things in life are free to behold. See our Yangshuo bicycle routes. For a full afternoon of cycling and sight-seeing a combination of the first two routes would be good.
Visit the Yulong River along the way. Bathing is at your own risk, but quite pleasant and much safer than the Li River, as it is slower-flowing and only deep in the middle in some stretches.
View Moon Hill from the little road that branches right after Li Village.
Dinner
On returning to Yangshuo return your bike, and get a Chinese "fast food" dinner from one of the canteens on side streets east of Diecai Road. Alternatively, there are shops selling dumplings (饺子 jiaozi), or wonton and noodle soup. You can fill up for 10 yuan.
Evening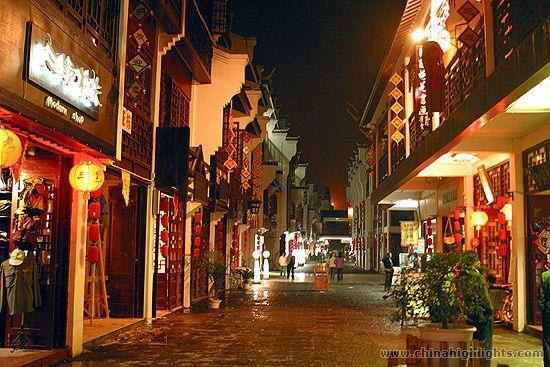 Night view of Yangshuo West Street.
After dinner watch the sun go down from the peak with the pagoda in Yangshuo Park (free entry, only about 10 or 15 minutes up the steps). First buy a beer to drink on the top. Cold local beer can be bought from supermarkets and corner shops for 5 yuan per 500 ml bottle.
Then tour West Street. See the various outlets selling everything from silk to trinket-type souvenirs, cheap outdoor clothing to Chinese character T-shirts.
Snacks and Chilling Out
A classic Yangshuo snack/dessert is the banana pancake. The cheapest they go for now is about 10 yuan. You may also want to try a local street snack, like a bowl of sweet black sesame curd for 5 yuan. A scoop of flavored ice cream in a wafer cup also goes for 5 yuan.
For a bit of piece and quiet and to reflect on your day, buy another supermarket chilled beer, and head down to the Li River. Relax and watch the moonlight play on its waters.
Accommodation
The cheapest accommodation in Yangshuo is 30 yuan/night: a bed in a dorm with air conditioning, or a small room in a back street hotel with a fan, but no air conditioning.
Let us help you plan a personalized Guilin day tour for you or tailor make the travel arrangements for you.
Also read The Pick of Guilin.
Questions and Answers About A Day in Guilin — Low Budget (on a Shoestring)
ami k shahm
2013-04-23
Show Answer
we are planning to come to guilian in mid may from india -mumbai. can u help us with a english speaking tourist guide and a good indian restaurant.we are 4 of us including 2 small children.
Hi Ami, we are more than pleased to help arrange the English speaking tour guide and Indian restaurants for you. Besides these, do you need any hotel booking and tour service? We are a travel agency since 1959 and based in Guilin, welcome to our office on the 4th Floor, CITS Building, 11 Binjiang Road, Guilin. Hope we will have the opportunity to serve you.
Whitney Liao replied on 2013-04-24
me
2013-03-30
Show Answer
Hi, I''m planning to go to Guilin at 4,5,and 6 March so I will spent 3 days there. Could you please help me to arrange my trip? anw I also need the cheap accommodation for 3 days in there. Thank you.
Hi Me, do you mean in April 4,5,6? It is not April now. No problem to arrange the tour for you. How many people are there in your group, please?
Whitney Liao replied on 2013-04-01
ky
2013-01-31
Show Answer
Hi Lily, we''re in a group of 4 pax n plan to spent 3-5 days in Guilin n Yongfu in the 1st week of march 2013, please give me some proposal plan basing on your experience/knowledge....thks
Thank you for your tour inquiry, Yes, I can arrange the Guilin tour for your family in March, which is a great time to visit Guilin, nice weather with great view in this period. I have sent one suggested tour proposal with quotation to your email. please check to see the detail
Lily Guo replied on 2013-02-04
han
2013-01-19
Show Answer
Hi,Where are planning a Guilin-Sapa Vietnam trip by end of March 2013 for 5 pax. Where is the best place to visit in guilin during spring season? We plan to go to yao mountain, li river cruise, shangri-la park, nanxishan hill park (for the cherry blossom festival) and Longji Rice Terraces and would like to spend 2-3 days in guilin before departing to . Please help us to plan the trip. Thank you.
Yes. I can arrange the tour for you in Guilin, you are right, spring is really great time to visit Guilin, nice flowers and comfortable weather in this period. I am working on the tour proposal now. please check your email to see the detail.
Thank you for using our service.
Lily Guo replied on 2013-01-22
April Offer $25 Coupon
Send your inquiry before Apr. 30, 2014, and we will email you a $25 coupon.
The coupon is valid till Dec. 31, 2014, for paying tour packages worth $250 or up.
The coupon cannot be used for paying flight tickets, train tickets, hotel rooms and day trips.
Travel Advice or Question? Ask us here

China Highlights
Guilin Travel Guide