Enrich Your Guilin Tour
Do you have just a few hours or a day to see something of Guilin? No Job is too small for us; we are here to serve. Just ask us. See the best of Guilin with our Guilin tour packages or combine with our Itinerary Plus to get even more or just ask us to tailor-make a Guilin tour to your needs.
Note:You can enjoy something special in Guilin by choosing the following Itinerary Plus tours ONLYwhen you book our Guilin tour packages, hotels or flights.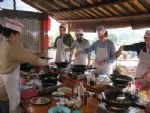 Duration: 3 hour(s)
Feature: This class begins at the local market where ingredients for the dishes are chosen by students. Back at a covered, rooftop patio-classroom, you ha...
Booking Options
Price Per Person
Next Step
A) Inquiry Now

$83

B) Combine it with a package

$66

(save 20%)

Choose it and continue»

Duration: 1 hour(s)
Feature: The Guilin local farmers' markets are a great place to see and experience the life and work of the local people. The fresh vegetables, meats, var...
Booking Options
Price Per Person
Next Step
A) Inquiry Now

$15

B) Combine it with a package

$12

(save 20%)

Choose it and continue»