Kung Fu Experience In Yangshuo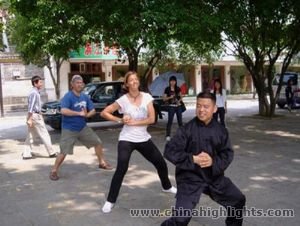 Tour Code: Kung Fu Experience In Yangshuo
Duration: 1 hour(s)
What to do:
Chinese Kung Fu consists of a number of fighting styles that were developed over the centuries. Our master follows the Budizhen Kung Fu style and he will share some of these skills with you.
What happens during the class?
1. Full illustration of Kung Fu master.
2. Demonstration by Kung Fu master.
3. Tutor to learn Budizhen Kung Fu style
4. After class, experimenters are invited to compete doing Kung Fu.
Booking Options
Price Per Person
Next Step
A) Enquiry this tour Now

$

B) Combine it with a package

$0

(save 20%)

Choose it and continue»
Booking Terms
The optional add-ons prices listed above include entrance fees, personal tour guide & driver, private car/van, lunch if tour lasts one day.
The above prices are based on a traveling group of 2-5 persons. A group of more than 5 people will get a larger discount. Please ask our travel advisor about prices for larger group.

Note:

You can enjoy something special in Guilin by choosing the following Add-ons tours ONLY when you book our Guilin private tour package.