Lecture On Traditional Chinese Medicine And Qigong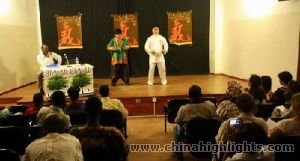 Tour Code: Lecture On Traditional Chinese Medicine And Qigong
Duration: 4 hour(s)
What to do:
Qigong is a great form of exercise, especially for those with osteoarthritis. It can help you build your leg muscles, strengthen your posture, and improve your balance, flexibility, and mobility. It also can teach you to relax and focus, even while executing the moves, and is a way to harmonize the musculoskeletal and nervous systems. In addition, it helps to develop concentration and coordination, and can reduce the risk of falls common with the elderly.Our Lecturer Mr.Luo is a teacher at the Guilin Medical College. He suffered Epilepsy and Myasthenia gravis 20 years ago so he started to study TCM and Qigong , he recovered.
Booking Options
Price Per Person
Next Step
A) Enquiry this tour Now

$

B) Combine it with a package

$0

(save 20%)

Choose it and continue»
Booking Terms
The optional add-ons prices listed above include entrance fees, personal tour guide & driver, private car/van, lunch if tour lasts one day.
The above prices are based on a traveling group of 2-5 persons. A group of more than 5 people will get a larger discount. Please ask our travel advisor about prices for larger group.

Note:

You can enjoy something special in Guilin by choosing the following Add-ons tours ONLY when you book our Guilin private tour package.