Longsheng Rice Terraces; Which One to Visit
Longji Rice Terrace refers to several areas of rice terraces spanning across Longsheng County about 2 hours to the Northwest of Guilin. The major ones include Ping'an, Dazhai, Ancient Zhuang Village, Huangluo Yao Village, and Tiantou Village rice terraces. It is not neccessay for travelers to visit all of these sites. Read this article on how to choose the one that is suitable for you.
Ping'an Zhuang Village Rice Terraces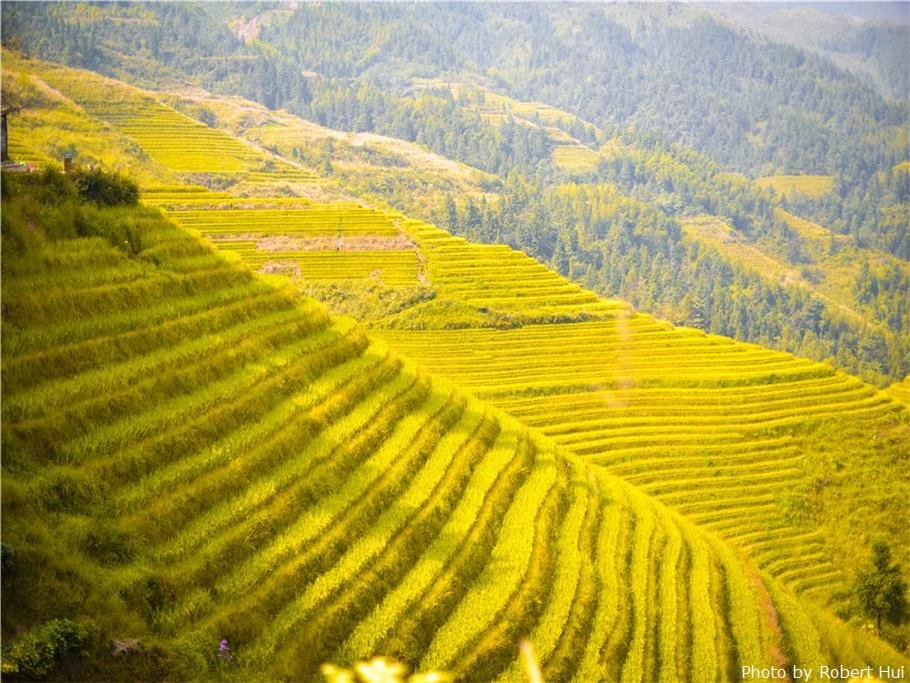 Ping'an Zhuang Village Terraces are the earliest and most developed terraced fields in Longsheng and are, not surprisingly, the most touristy ones. The rice terraces there are the largest in scale.
The village is well-equipped with modern service facilities, where dining, accommodation and transportation are very convenient with over 80 hostels and hotels available, with Li An Lodge and Longji Star Wish Resort being the two best.
The Ping'an Zhuang villagers live in three-story stilted houses raised on piles over the surface of the ground. Outside the village, the terraced fields stretch from the bottom to the top of the mountains, which take on different looks seasonally. The terraced fields look like silver ribbons in spring, green waves in summer, golden towers in autumn and flying dragons in winter. The two major scenic spots in the village are Seven Stars surrounding the Moon and Two Dragons Frolicking with a Pearl, both of which are favorite haunts of artists and photographers alike.
Location: It is located in the east of Heping Town of Longsheng, 95 kilometers (59 miles) from Guilin, about two and a half hours' drive.
Dazhai Jinkeng Hongyao Terraces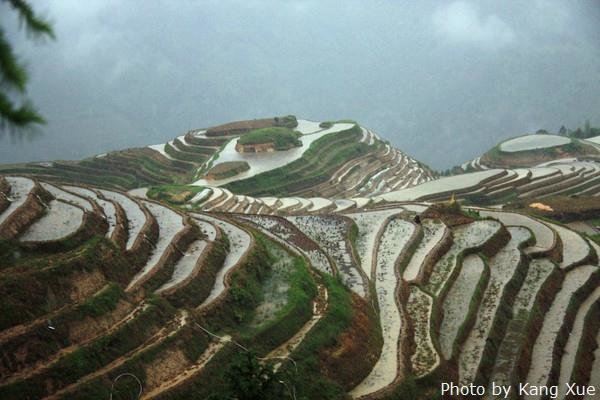 The terraced rice fields at Dazhai Village in Spring
Dazhai is quieter and far less crowded than Ping'an. The terraced rice fields and the village are more natural without the distractions of tourist facilities – hotels, restaurants and souvenir stalls – like Ping'an.
Dazhai is the best place to take photos of the terraced rice fields. More than 90% of the pictures in albums of the Longsheng Terraces are taken at Xishan Shaoyue scenic viewing point in Dazhai.
There is a cable way from the bottom of the rice terraces to the peak – Golden Buddha Peak – one of the best scenic viewing spots, which is very convenient for those who are not good at walking. The cable way takes travelers to the top in 20 minutes as opposed to three hours of walking.
There are 275 households of 1,222 people living in the village, 98% of whom are Yao ethnic people, and they toil on the terraced fields left by their ancestors from one generation to another, resulting in the present magnificent 'Dragon-Backbone' (Longji) fields we see today.
Seen from the village, you can appreciate the Golden Buddha Peak, where the terraced fields wind their way like a huge dragon.
Over 30 hotels are available in the village, highlighted by Jinkeng Quanjinlou Hotel and Jinkeng Wanjignlou Hotel, which are the two best hotels to see the terraced rice fields from. There are many good hiking trails between these villages. A more challenging route is from Ping'an to Dazhai, which takes about 4–5 hours on narrow countryside paths.
Except for the scenery, another highlight of Dazhai is a family visit. People in the village live in their traditional way, little affected by the arrival of tourists. Visit a local family and get a glimpse of their simple local lifestyle.
Location: It is located in the east of Longsheng, to the north of Ping'an Village, 77 kilometers (48 miles) from Guilin, taking approximately two hours' drive.
Ancient Zhuang Village
Ancient Zhuang Village is the most traditional and least affected village. It is the option for those who are interested in history and culture. The village boasts the oldest and the largest stilted building complex in Guangxi Province, most of which are more than 100 years old.
With a history of over 400 years, the village is home to 200 households of over 1,000 Zhuang people, and it features its well-retained architectural buildings of the Ming (1368-1644) and Qing (1644-1911) dynasties, highlighted by the 'three fish with one head' stone bridge, Longquan Pavilion, the Site of the Military Camp, the Clean and Honest Politics Stele (Lianzheng Stele) and water mills. The village is very big and may take half a day to explore.
Location: Guzhuang Village is situated in the north-east of Heping Town, Longsheng Ge Ethnic Autonomous County, 75 kilometers (47 miles) from Guilin, about two hours' drive.
Huangluo Yao Village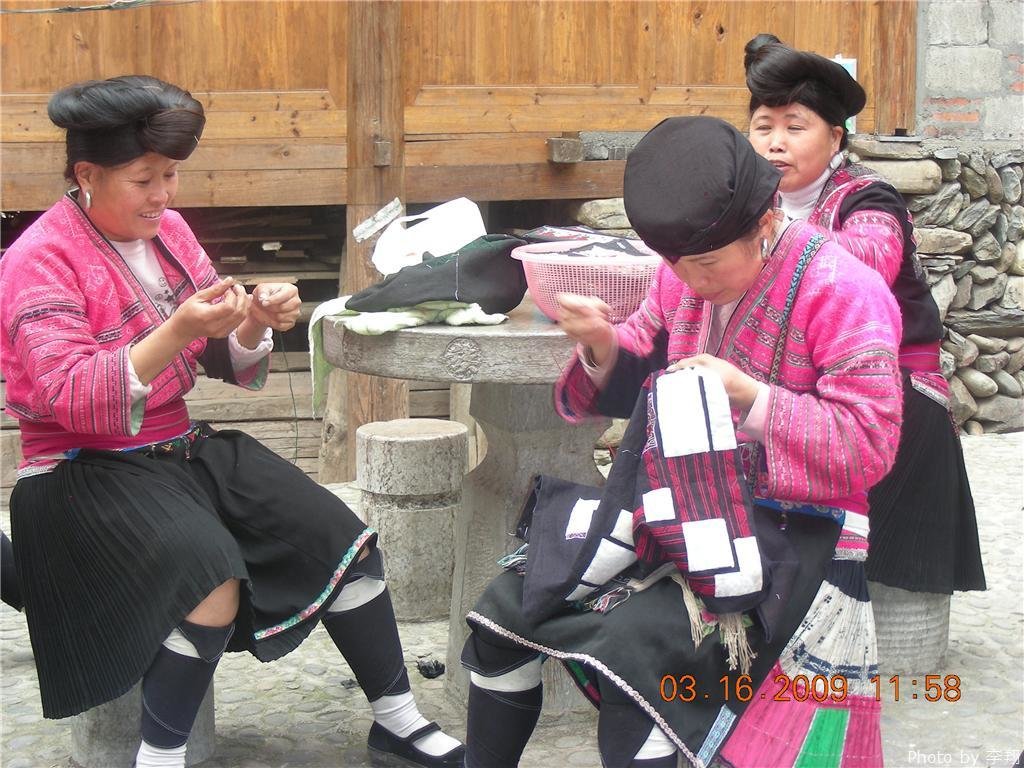 Yao women with long hairs making traditional clothes
Known as the 'World's First Long Hair Village', Huangluo Yao Village is at Longji Terraced Fields Scenic Area, east of Heping Town, Longsheng, 87 kilometers (54 miles) from Guilin, where over 60 Yao households of over 400 people live harmoniously.
It is a tradition for girls to wear long hair in Huangluo Yao Village, where over 60 girls have over one-meter long black hair, and one of them has hair that's 1.9 meters long, creating a Guinness World Record for long hair.
The warmhearted and hospitable Yao villagers are good at singing and dancing; they sing sweet mountain songs to welcome visitors from far and near. In addition, the 'long-hair show', 'red-stick dancing' and 'umbrella dancing' are performed in the village.
The village is very commercial so we recommend travelers to skip it and choose others.
Tiantou Village
Tiantouzhai is located half way up from Dazhai to Xishan Shaoyue, the highest peak of the rice terraces, at 1,100 meters above sea level. It is a good place to get a view of the rice terraces.
Questions and Answers About Longsheng Rice Terraces; Which One to Visit

China Highlights
Guilin Travel Guide