The Best of Yangshuo
Teeming with gorgeous rivers, mountains, fields, and ancient villages, Yangshuo is an excellent destination to embrace nature and relax without the hustle and bustle city life.
Hotels
There are many hotels in Yangshuo of different levels, many with good service and environment. These are a pick of the best:
Luxury Hotels
Named after Green Lotus Peak behind it on the Li River, Green Lotus Hotel is the best five-star hotel in Yangshuo, with exquisite decoration and superb service. This grand building integrates natural scenery and local minority architectural features well.
West Street can be reached in 10 minutes by foot.
Yangshuo Resort
Yangshuo Resort has a great location, and most rooms have a delightful view of the Yulong River and karst countryside. The décor is stunning, including the magnificent lobby, and service is very good.
Also read Best Boutique Hotels in Yangshuo.
Middle-Budget Hotels
Grandma's Home Hotel's great location is only a few steps from West Street. The environment of this hotel is quiet. Living in this hotel is just like staying in your grandma's home, warm and comfortable.
Yangshuo Oriental Hotel is located a leisurely 15-minute stroll from West Street. The decoration of this hotel is simple and exquisite.
Economy Hotels
Located near West Street, Aiyuan Hotel offers
comfort and convenience
. It is quiet and clean with
spacious rooms
and
complete facilities
.
Beautiful natural scenery can be seen from the balconies of Yangshuo Mountain Retreat on the Yulong River. The staff of this hotel are friendly and helpful, and the food is fresh and local.
Restaurants
Many different styles of restaurants can be found on Yangshuo's streets. Decent local, Chinese, American, Indian, Thai, etc. food is served in restaurants with homely to interesting to classy décor.
Cafe Del Moon
Authentic Western cuisines are served in this popular restaurant on West Street, including pizza and ground coffee. It offers a large selection of wines from around the world in a crisp and colorful environment.
Rosewood Café
Rosewood Café is a highly praised restaurant in West Street open since 1999. Wide selections of food are provided, such as European dishes and Chinese/local dishes.
Kali Mirch Indian Cuisine
If you love Indian food, you must visit this restaurant. Kali Mirch Indian Cuisine is an authentic Indian Restaurant, with all the classic curries containing quality yoghurt and cheese. It has won lots of positive feedback from customers.
Also read Top 10 Restaurants in Yangshuo.
Nightlife and Shopping
West Street
Night is a perfect time to enjoy yourself around West Street and see the performance on the Li River.
West Street is even more full of vacation atmosphere when it gets dark. The whole street is lit up by colorful shops selling souvenirs and curios. Bargaining is important, and an interesting chance to interact. The better nightclubs are busy, with drinks, lights, and strong music. You can also find tranquil cafes and bars to chat in.
Impression Liu Sanjie is a grand night performance on the Li River itself, backed by mountains. With colorful lighting and electrifying sound, singers and performers dressed in folk costumes present the traditional Zhuang minority story of Liu Sanjie.
Attractions and Activities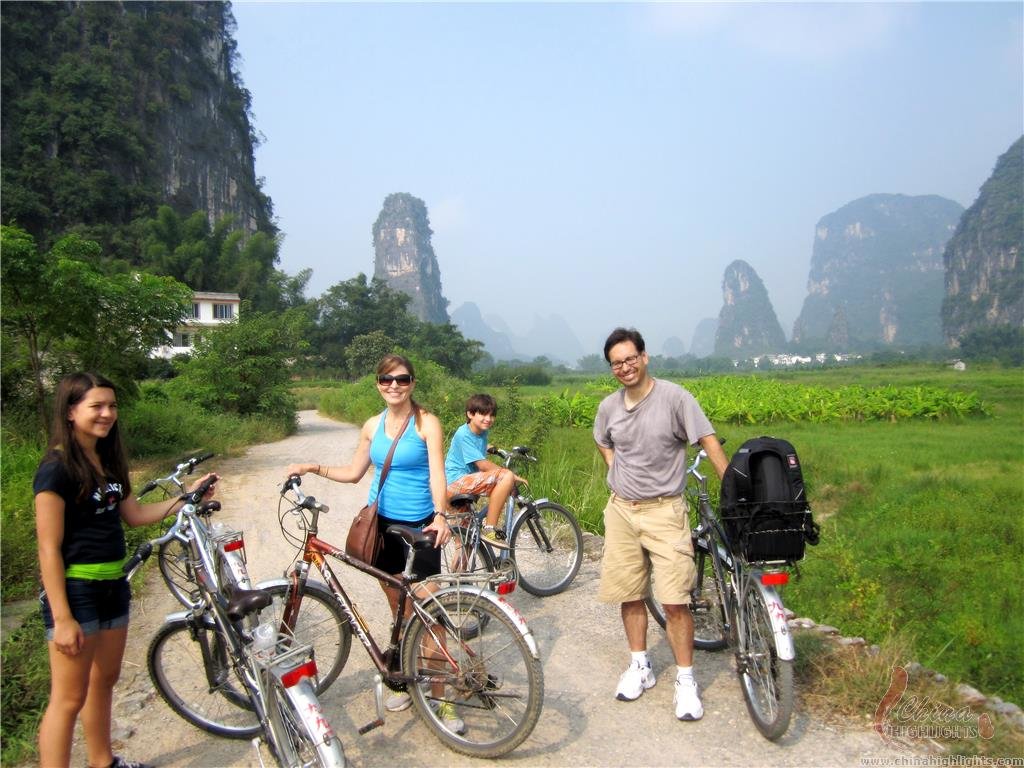 Cycling in the countryside and enjoy happy time with your friends.
Cycling in the countryside is one of the best ways to embrace and immerse yourself in Yangshuo's scenery. Spring, when the fields are blanketed by yellow flowers, and autumn, when the golden rice paddies wow you, are the best times for cycling.
Also read Top Outdoor Activities in Yangshuo.
Cycle to the foot of Moon Hill and climb its steps, or view it from a distance to appreciate the "phases of the moon". It is named after the hole like a moon in the middle of the hill.
Yulong River is extremely beautiful, flowing leisurely past fields, trees, and mountains. Bamboo rafting on the river, or hiking along the river, you will be surrounded by crystal clear water and mountains.
Also see The Best of Guilin.
Recommended Tours
Questions and Answers About The Best of Yangshuo
April Offer $25 Coupon
Send your inquiry before Apr. 30, 2014, and we will email you a $25 coupon.
The coupon is valid till Dec. 31, 2014, for paying tour packages worth $250 or up.
The coupon cannot be used for paying flight tickets, train tickets, hotel rooms and day trips.
Travel Advice or Question? Ask us here

China Highlights
Guilin Travel Guide