Top 3 Camping Sites around Guilin
Heavenly Lake of Quanzhou 天湖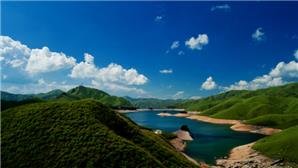 Heavenly Lake of Quanzhou
The Heavenly Lake of Quanzhou is located in the east of Quanzhou County, about 140 kilometers from Guilin (4 hours' drive), with an elevation of 1,600 meters. It is composed of 13 reservoirs.
Heavenly Lake is beautiful with different seasonal views.
In spring, wild flowers can be seen everywhere.
In summer, the white clouds reflect the blue sky.
In autumn, golden layers cover the mountain.
In winter, the mountain is covered by snow.
There are two highlights of Heavenly Lake. The first is the abundance of azaleas. Every May, the azaleas are in full blossom with different colors, and the biggest one has a diameter of 30 centimeters.
The second highlight is that the sun and moon appear in the lake at the same time.
Place to camp: although Heavenly Lake is very big, there aren´t sufficient places available for camping. The recommended place is the slope in front of the Heavenly Lake Resort.
Tips: it is suggested to choose a fine day for camping. If the weather is cloudy or gloomy, the scenery is not very good.
Suggested camping times: June-October.
From November to December, it is very cold; the lake may be frozen and the road may be blocked by snow.
Nine Horses Fresco Hill 九马画山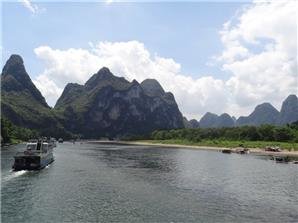 Nine Horses Fresco Hill
Nine-Horse Painting Hill is about 60 kilometers from Guilin and is located 4 kilometers north-west of Xingping Town. It is on the eastern coast of Li River, being 400 meters high and 200 meters wide. It looks like there are 9 horses on the hill, hence how it got its name.
Along the river bank, there are broad lawns which are perfect for camping. During the daytime, you can enjoy the essence of the Li River. In the evening, the fishing lights turn on one by one; the river is amazing with this view.
Lying in your tent, you can see beautiful stars shining in the sky and lovely fireflies playing in the bushes.
Camping times: August to November.
Note: May to July is the flooding period of Li River; it is not suitable for camping.
Hua River Chaoran Pai 华江超然派
Hua River Supernatural Pie is located in Gao Zhai Village, Xing'an County, and is 80 kilometers from Guilin. It is at the foot of Cat (Maoer) Mountain — the tallest mountain in South China.
It has beautiful lakes, mountains, forests, historical ruins and folk customs. It is an ideal place to flee from modern city life.
Reasons to go:
It is the source of the Li River. The 10-mile Camboo Canyon remains in its original state. It is a natural oxygen bar and the water is so clear that you can see the bottom. What is more, giant salamanders can also be found there.
You can experience four seasons in one day. It is a bit like the weather in Great Britain; it can be different every 10 miles. It is recommended that you dress in layers.
You will see several waterfalls.
It has stayed, unchanged, as an ecological environment for 10,000 years; you will find peace and inspiration in your heart.
Opening times: 8:30-18:30
Camping season: 6 to 11 months
Special tips:
It is suggested that you get a local tour guide from Gao Zhai Village. It is 50-100 yuan per day.
Take some snake medicine in case of an accident
Wear trousers to protect yourself from getting hurt by forest plants.
Take a rubbish bag so that you can take away all of your waste.
The signal is not good in either the village or the valley. It is only available on the top of the mountain.
Futher Reading
Questions and Answers About Top 3 Camping Sites around Guilin
April Offer $25 Coupon
Send your inquiry before Apr. 30, 2014, and we will email you a $25 coupon.
The coupon is valid till Dec. 31, 2014, for paying tour packages worth $250 or up.
The coupon cannot be used for paying flight tickets, train tickets, hotel rooms and day trips.
Travel Advice or Question? Ask us here

China Highlights
Guilin Travel Guide