Travel Ideas from Guilin Locals — what Guiliners recommend
Guilin is so well known abroad that, for tourists, it's a sure-shot destination for many. That applies still more to Yangshuo. Some years ago, indeed, every foreigner in China seemed to know all about it, while for many Chinese it remained unknown. Even today, many Chinese regard Yangshuo as something of a 'foreigner town'. Nonetheless, there's no substitute for local knowledge. For the visitor to Guilin looking to make the most of his or her stay, here are some ideas gathered from Guilin's citizenry.
The Downtown Area of Guilin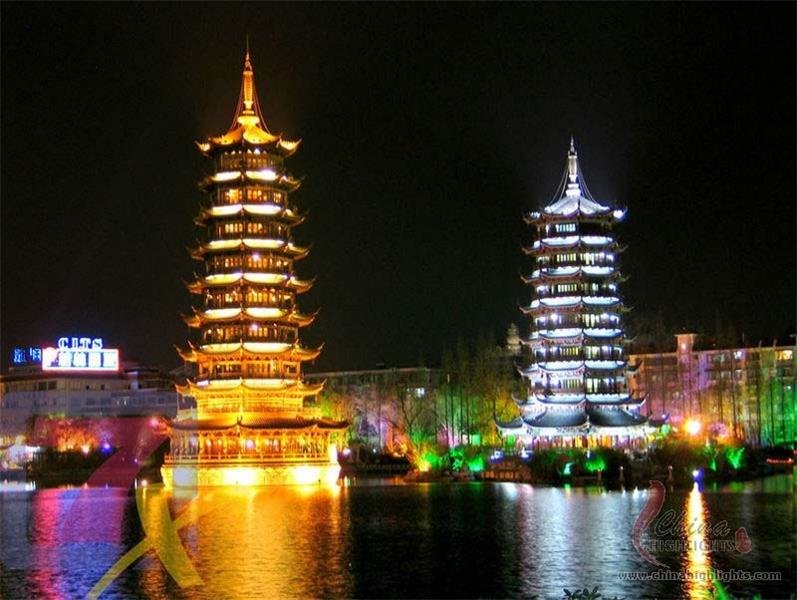 Two towers inside the Shan Lake lit by lights
The 'Two Rivers and Four Lakes' in and around Guilin's city center make it one of the most wonderful cities in all the world in which to wander. The four lakes – Rong, Shan, Gui and Mulong — are easy to access from the city center and walking these and their interconnecting rivers — the Tao and, of course, the Li River itself — is a pleasurable hike, whether by day or at night when the paths and attractions are well-lit giving the scenery something of the feel of a fairytale. As well as walking, there are many options for taking to the water itself on a short cruise.
Traveling by boat, you may have the good fortune to see a performance of singing on Rong Lake. However, these performances are unscheduled. You cannot plan ahead for them, just thank to luck if your timing is such that you catch one. Likewise cormorant fishermen, often themselves favoring the evenings for their activities. Not there for the tourists, you will have to trust to your luck. These aside, however, the fantastic lighting makes the evening the best time to take one of the many small cruises available, so this would be the first recommendation of the locals.
Your ideal schedule, then, would look something like this. Should you arrive in Guilin in the afternoon, spend the evening cruising the two rivers and four lakes. Sleep over, then consider the longer cruise along the Li River to Yangshuo the next day.
Guilin to Yangdi Wharf, Xingping Wharf and Yangshuo
An alternative to cruising the Li River directly to Yangshuo by tourist boat is to take a bus from Guilin's downtown area to Yangdi Wharf. Here, you can pick up a bamboo raft. These seat four people, and the ride to Yangshuo costs RMB216 for each. This is the only way to get to your next destination; there are no roads from Yangdi to Xingping. The rafters will be happy to let you stop at scenic spots along the way.
It takes a little over two hours to get to Xingping if your stops aren't too frequent. The rafter will have given you a ticket for the tourist bus which you can get from Xingping bus station to Yangshuo.
West Street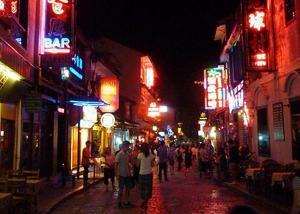 West Street at Nights
Just as our local informants would recommend you cruise the two rivers and four lakes of Guilin's city center at night, so too night, they suggest, is the best time to appreciate Yangshuo's West Street, though for different reasons. West Street comes alive at night with street stalls, snack-sellers, local cafes and shops being particularly busy. This street has a long history to it, stretching back as far as 1,400 years. Though those centuries, its 1,180-meter length has seen an array of uses prior to its current focus upon providing entertainment for foreign visitors, leading as it does from the town down to the river where most of the inhabitants would have plied their trades. Indeed, so important was it to the locals that it is the oldest of all the streets in Yangshuo County.
Rafting and biking on the Yulong River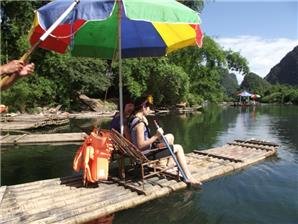 Rafting on the Yulong River
Stay overnight in Yangshuo in order to take best advantage of the magnificent scenery offered along its Yulong River. Put aside the entire day for this, and get up early. Then find someone from whom to rent your bike. There are many people offering this service, so you should have no difficulty. These may be obtained from as cheaply as RMB10, as much as RMB40 for the entire day, but be prepared to shop around and to bargain if you want the cheapest prices. Don't take too long doing that — you've a long day ahead of you.
You now want to cycle to the Chaoyang Wharf, (朝阳码头), from where you will take your raft. Your destination, Gongnong Bridge, (工农桥), will cost you RMB160 per person on a two-person raft. An alternative, if you don't have time to take the raft, is to take one of the small motor vehicles at Chaoyang Wharf directly to Gongnong Bridge, but the locals do not recommend this. Miss out on the river journey and you will lose out on some of the most glorious scenery around Yangshuo on one of the prettiest rivers in all China. Nor is it only the area's trademark karst peaks that are on show. Here you may see water wheels, ancient villages, the locals at their daily agricultural and fishing activities and old bridges that make the Yulong River not only scenic, but culturally fascinating. Nicknamed 'The Little Li River', many would argue that it outshines even its elder and more famous brother.
Now it's time to cycle back again and to see those same sights from the riverside path that stretches all the way back to Yangshuo. With so much local activity on show the scene will have changed since you journeyed the river, so anticipate an equally surprising and enchanting ride back.
Also read 4 Classic Biking Routes in Yangshuo.
The Ten-Mile Gallery
Many of the best-known and most beloved sights around Yangshuo are situated along a route the locals have come to know as 'The Ten Mile Gallery'. To see them all would take you several days, so budget your time well. The more time you have, the better. Once again, start your morning — and subsequent mornings if you have the time — setting out early and hiring your bike. It is possible to walk it, but walking the route as well as taking the side-trips to see those sights you want to see would prove exhausting, so it is not recommended. Keep your eyes open as you ride along. The specific sights listed below may be your targets, but there's beautiful scenery through rural Yangshuo county along the entire route. These are some of the sights and sites to see and explore along the way.
Moon Hill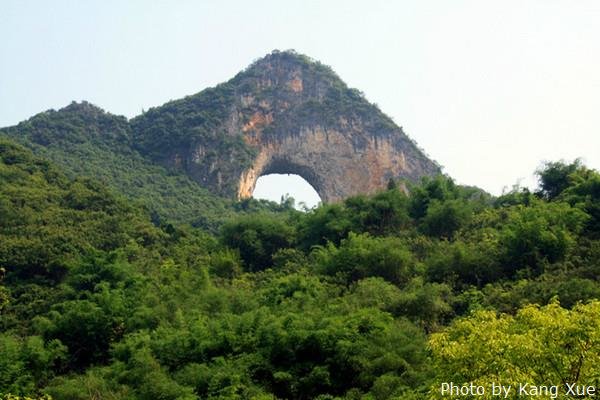 Natural erosion of the karst landscape has led to many strange and interesting shapes being sculpted from the rock, and Moon Hill is one of the more spectacular, dominating the scenery for miles around itself. Located near Fenglou Village, Gaotian Town, (高田乡凤楼村), and standing at a height of over 380 meters, the peak has been eroded in such a way as to leave a huge hole in its center in the shape of a half-moon. The light shining through it in contrast with the darkness of the rock that surrounds it completes the image.
Assembling Dragon (Julong) Cave
Hidden deep within the peaks all around you in Guilin are numerous caves that have eroded from the limestone over millions of years. Many of these cave complexes are as yet undiscovered; they are as numerous as the peaks themselves, something which lends endless fascination to the scene as you look about you in Guilin. The locals have known about some of them for centuries, using them for storage, even as homes, shops or workshops or places in which to stable animals. The Julong Cave is one of those better-preserved and most readily explored, and so has been opened up to the public. Though not one of the larger or more spectacular examples, it's worth stopping off all the same, particularly if you are lacking the time to explore any other cave systems here.
The Big Banyan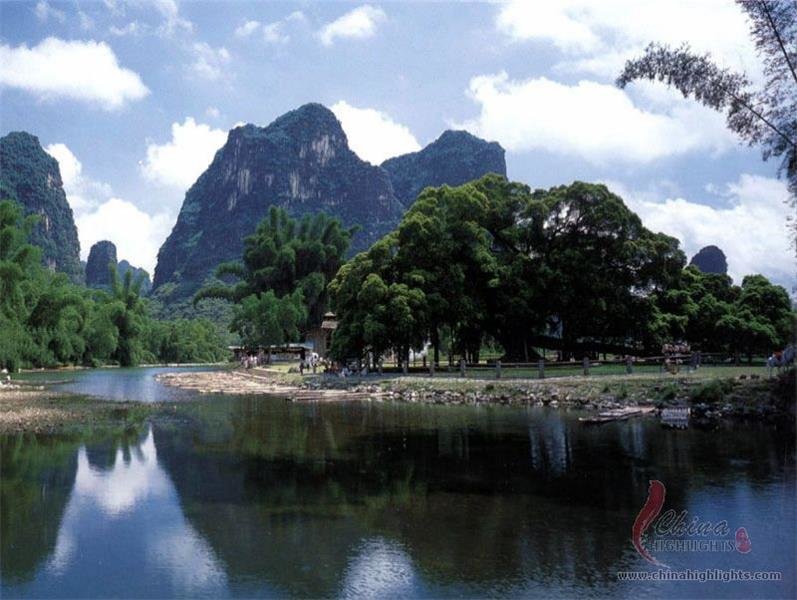 Banyan trees can grow to huge sizes, and the Big Banyan, as you would expect, is one of the more humongous examples of the species. Alongside the tree itself there are waterways, stalls, entertainers and plenty to see and do with the tree as their focus.
Butterfly Spring
An interesting complex filled with things to do, the main focus is on the local Miao minority people. 'Princes' and 'Princesses' of the Miao will be more than happy to pose for you in their spectacular costumes, but be wary... there may be a charge if they do so. Read more about Butterfly Spring.
The Ancient Totem Way, (图腾古道)
An interesting side-journey on your travels, this is something best explored for yourself. To entice you, the locals will only tell us that it is somewhere to meet a wild man and to see him perform.
A Few More Suggestions from the Locals
We have not even started to cover the ground here in considering what Guilin and its surroundings have to offer, but here are some closing ideas, each of which may be done in a day or less, though sometimes at a push.
Yangshuo's Longjing River Rafting
There's rafting and there's rafting. It is one thing to drift amiably down the Yulong River with your hand dangling in the water as you're slowly punted through beautiful scenery in the sunshine; it is quite another to raft the Longjing. The water here flows fast and furious, and this is a trip for the adventurous. Helmets and lifejackets take the place of summer clothes and cameras, here. If you don't actually fall into the water, the water will fall on you, so bring a change of clothes.
Buses leave for the rafts at 9.00am, 11.30am and 2.30pm each day; the rides themselves begin at 10.00am, 1.00pm and 4.00pm. There are two routes. One takes in a part of the route and is known as 'The Warrior'. This is the best option for those who are anxious or inexperienced. The battering will last for some thirty minutes. For hardier souls, the entire route is known as 'The Brave Warrior', and with good reason. The ride is far more challenging, and far longer at two hours or so.
Yangshuo's Silver Cave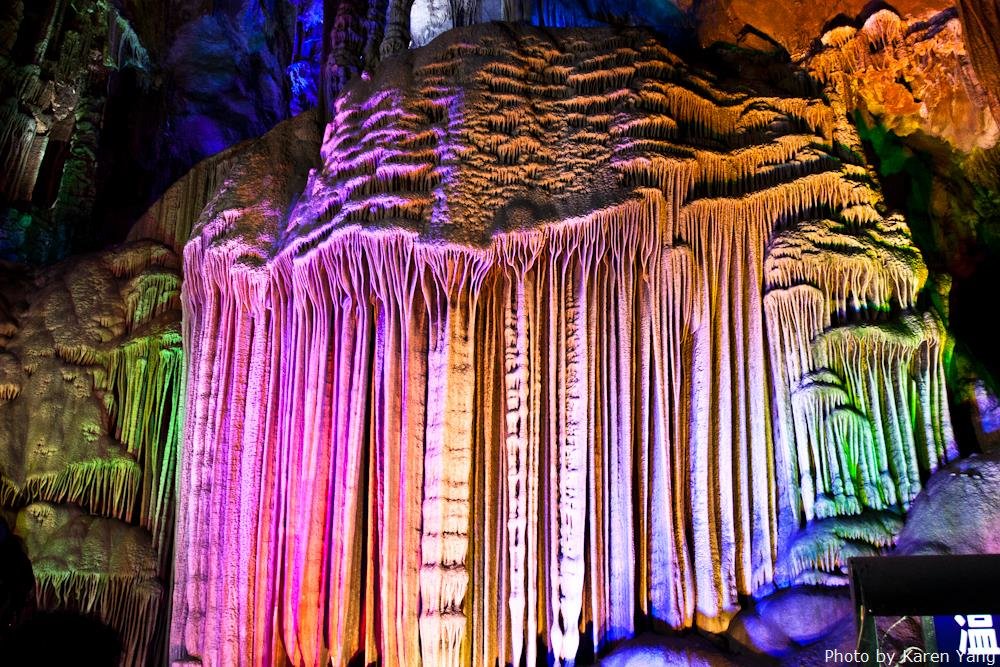 One of the more spectacular of the karst caves in the Guilin area that has been opened up to the public, the Silver Cave runs through a total of twelve peaks and is, therefore, extensive. It is made accessible by being a 'floor' type cave, which is to say that its formation is such that an effective level floor was produced in its erosion. Here you may see the classic elements of a limestone caves, including the strange 'curtain' formations, stalactites and stalagmites, all of which were built up over millions of years through several different geological ages. It is the twinkling of the lights from their reflecting surfaces that has led to the complex being named 'The Silver Cave'.
So popular is this as a tourist attraction that four vehicles a day are devoted solely to taking people to it from Yangshuo. These leave at 9.00am, 11.30am, 2.00pm and 3.20pm. The total time you should allow is three and a half hours for the round trip. On the way back, you will stop off at a shopping area.
Liu Sanjie — Impressions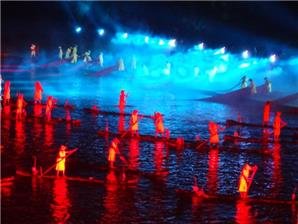 The Show of Liu Sanjie Impressions
If you were impressed by the opening ceremony of the Olympics, 2008 in Beijing, then this show is for you. The same creative genius that designed the ceremony is also responsible for this, one of the most spectacular theatrical creations you are ever likely to see. Film director Zhang Yimou is the man to be praised for this, a performance that involves hundreds of local people in a performance area that embraces an entire lake of water, a well-choreographed paean to local life and the famous Chinese story of the singer Liu Sanjie, (third-sister Liu), a local heroine. Seats are very expensive, ranging from around RMB200 on up, but this is one instance in which you really do get what you pay for.
There are two shows each evening, starting at 8.00pm and 9.30pm, each lasting for seventy minutes. There is plenty of transport to the venue from Yangshuo, leaving approximately thirty minutes to an hour before each show in order to get there on time. The cost of transportation is around RMB10. Tickets for the show are available within Yangshuo itself. Read more about the Impression of Liu Sanjie.
The Longji Rice Terraces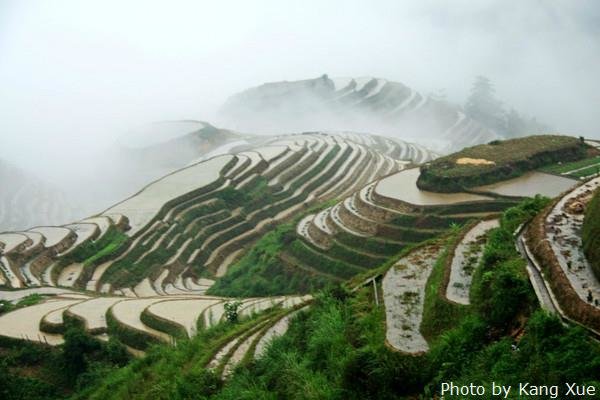 The Longji, (Dragon's Spine), rice terraces began their creation in the Ming dynasty, completed in the Qing dynasty, giving them a total history of some 650 years in total; but these are no archaeological remnants. Ranging in altitude from some 300 to 1,100 meters, with slope gradients in the main ranging between 26 degrees and 35 degrees, 50 degrees at their steepest, this incredible feat of agricultural engineering is as active as it has ever been in rice production. What you will see varies immensely from season to season. Outside the growing season the terraces fill with water, reflecting the sun and sky's light in shimmering twists and turns about the hillsides. In the growing season, the slopes become green steps rising ever-higher from the valleys below. The irregular form of the slopes, the range of hill sizes and the variety of slopes makes for a gorgeous geometrical patterning of the landscape which varies with every hundred meters you walk around the high paths above their playful meandering. Bring a camera. And spare batteries. And maybe a spare memory card.
Situated some 100 miles from downtown Guilin it is easily possible to get there and back in a day, but we would recommend an overnight stay. If you do that, get up before sunrise. When the terraces are filled with water in particular, sunrise — and, indeed, sunset — make for a particularly spectacular show.
Further Reading
You can find a great deal of additional information in our pages, so take a look around. The best place to start is with our Guilin introductory pages, moving on from there to the many fascinating items which will let you know more about this seductive city, its inhabitants and its landscape.
Let China Highlights give You your Ideal Guilin Experience
Our Guilin tours are fully customizable. Have a look through our pages and find what interests you from our many articles on destinations and activities in and around Guilin. Make a list of your ideal destinations, submit it to us, and we'll suggest a suitable itinerary and quote you a price.
Questions and Answers About Travel Ideas from Guilin Locals — what Guiliners recommend
April Offer $25 Coupon
Send your inquiry before Apr. 30, 2014, and we will email you a $25 coupon.
The coupon is valid till Dec. 31, 2014, for paying tour packages worth $250 or up.
The coupon cannot be used for paying flight tickets, train tickets, hotel rooms and day trips.
Travel Advice or Question? Ask us here

China Highlights
Guilin Travel Guide