Banyan Lake and Cedar Lake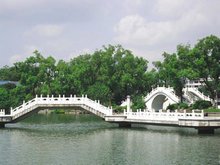 Banyan Lake (Rong Hu) and Chinese Fir Lake (Shan Hu) are the two largest and most famous of the lakes on the Two Rivers and Four Lakes cruise. They are located in the very center of Guilin City, either side of Zhongshan Zhonglu (Sun Yatsen Middle Road). The origin of both parks dates back to the Tang Dynasty (618-907), when they were part of a city moat. As Guilin expanded in all directions, the moat became a lake within the city area.
Chinese Fir Lake was named after the Chinese fir trees growing on the shore. Standing in the water of Shan Hu are the Sun Tower and the Moon Tower. The Sun Tower is painted gold and the taller of the two. In the night it is lit with bright yellow lights. The Moon Tower has deep brown beams and aqua eaves. It outshines the moon at night, with its artificial white lights. The two towers are open to the public and there is an underground aquarium-like viewing tunnel linking the pair. The towers are in the style of Buddhist pagodas and Buddhist music can sometimes be heard emanating from them during the day.
Banyan Lake got its name from a large banyan tree standing on the lake shore near the 1,000-year-old South City Gate. A zigzag bridge leads to Mid-lake Isle, which is dotted with long open-sided corridors, waterside pavilions and ancient buildings. Built in the Song Dynasty (960-1279), Blue Ribbon Bridge, now called Sun Bridge, separates the lakes. The two lakes together were often referred to as Round Lake.

China Highlights
Guilin Travel Guide