The Cat Mountain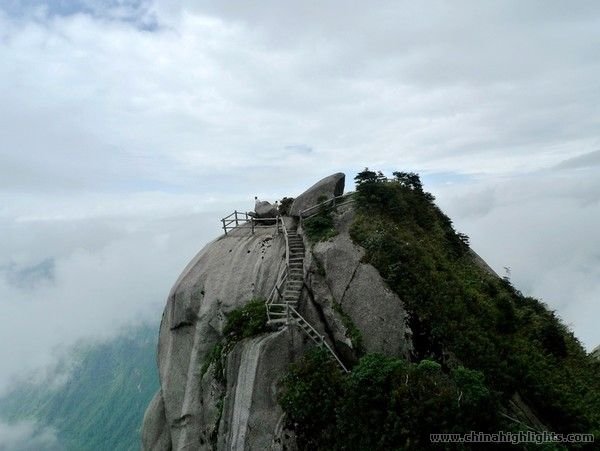 Located to the northeast of Xin'an Town, about 110 kilometers north of Guilin, Cat Mountain is the highest mountain in South China. It got the name Cat Mountain because its stony peak looks like a huge cat. The main peak of the mountain is about 2,141 meters above sea level and is renowned as the "Summit of South China".
The Zi River, Xun River and the best-known Li River have their sources high in this mountain. Climate differs dramatically at different altitudes within the mountain. Depending on when you journey there, you will see azaleas blanketing its slopes, clouds enshrouding its peaks, breathtaking red leaves or the memorable snow scenes of winter.
Latest Tips on The Cat Mountain
Cat Mountain is not open to foreign tourists. Complicated formalities are required to get permission into the area.

China Highlights
Planning a trip? Ask us here 800-2682918 (USA & CA)
86-773-2831999 (Int'l)
Q:
Carol
Asked on 2011-09-05
Reply
As you know Cat Mountain is not open for non-Chinese tourists. We once ask for procedure and seek an opportunity to make our customers go there, but in vain. The procedure is complicated than you can imagine. At present, in Guilin, no mountain is proper for hiking. As travel agent, we could not take ant risky to put our customers to non-certificated activities. It seems that you are interested in adventure activities. We specialize to plan hiking along Li River, hiking around Longji terrace field.
Q:
maureen wartski
Asked on 2011-09-03
Reply
How would one get permission to climb Cat Mountain? If this isn't possible, what mountains can be hiked in the region?
Hello Maureen Wartski, Permission for climbing Cat Mountain (Maoer Shan) is obtained by applying to the Maoer Shan Environmental Protection Management Office. I am currently in the process of applying to climb myself (I'm from the UK.). Contact me in 2 months if you still want to climb Maoer Shan and I will tell you how it went. All the other mountains in the Guilin region, and indeed in the Guangxi Region, can be climbed without permission, as far as I know. I would recommend the mountains of Longsheng in the county just west of Cat Mountain. They are almost as tall, with rice terraces and minority villages. Gavin Van Hinsbergh gavin@chinahighlights.com Gavin Van Hinsbergh Replied on 2011-09-05
Guilin Travel Guide