Daxu Ancient Town, China's Little Hidden Gem
Planning to visit China? Love exploring historical sites and off the beaten track places? Why not visit the well preserved, ancient village of Daxu for a great example of traditional Chinese architecture and culture?
Location and Description
Surrounded by lush scenery in the Guangxi Zhuang Autonomous Region of Southeast China is the quiet and rural town of Daxu, one of China's little hidden gems. Located approximately 20 kilometers southeast of Guilin, near the bank of the Li River, Daxu is noted for its well preserved ancient buildings, worn bluestone streets and traditional culture.
History
The history of Daxu dates back to over 2,000 years ago when it was founded during the era of the Qin Dynasty that ruled in China between the years of 221 and 207 BC. Centuries later during the Ming Dynasty, Daxu thrived as a leading trade and commercial hub due to its close proximity to the Li River. The thirteen docks that can still be seen in Daxu today are the remnants of this former golden age.
As industry, technology and tourism grew and spread elsewhere in China over the next several hundred years, the ancient village of Daxu somehow managed to make time stand still and has maintained its antique architecture and traditional way of life.
What to See
Though a quaint, off the beaten path village, Daxu offers many interesting sites to be explored. From ancient temples to stone streets to a historic market, Daxu is a paradise for lovers of history and antiquities.
The Old Street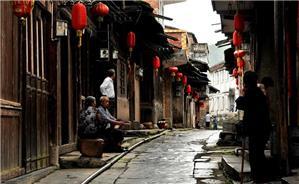 The blue stone street
Probably the most popular attraction in Daxu is its ancient street. Stretching about 2.5 kilometers in length, the street is noted for its bluestone pavement made smooth from a thousand years worth of carts, shoes and weather.
Historical Architecture
Regarded for its well preserved architecture, the Daxu village features many significant buildings constructed during the Ming and Qing Dynasties from wood and stone and decorated with beautiful carvings. Some of these historical structures include the Hanhuang Temple and the Gaozu Temple that are well worth a visit. The Longevity Temple is an attractive site featuring a stone turtle and two pillars with huge dragon carvings at its entrance.
The Longevity Bridge
A must see is the beautiful Wanshou Bridge, or Longevity Bridge. Constructed during the Ming Dynasty between 1368 and 1644, the bridge is a charming stone arch from where visitors can see the scenic views of the Li River, Millstone Hill and Snail Hill.
The Docks
The thirteen docks still surviving from the prosperous trade business of the Ming Dynasty are another interesting attraction. Some of these docks remain in use and serve as the object of many visitors' photographs.
The Seven Stars Tombs
Discovered as late as the 1990's, these seven tombs were found to be mysteriously arranged to coincide with the pattern of the Big Dipper constellation. Many interesting burial artifacts were excavated from the tombs.
The Traditional Market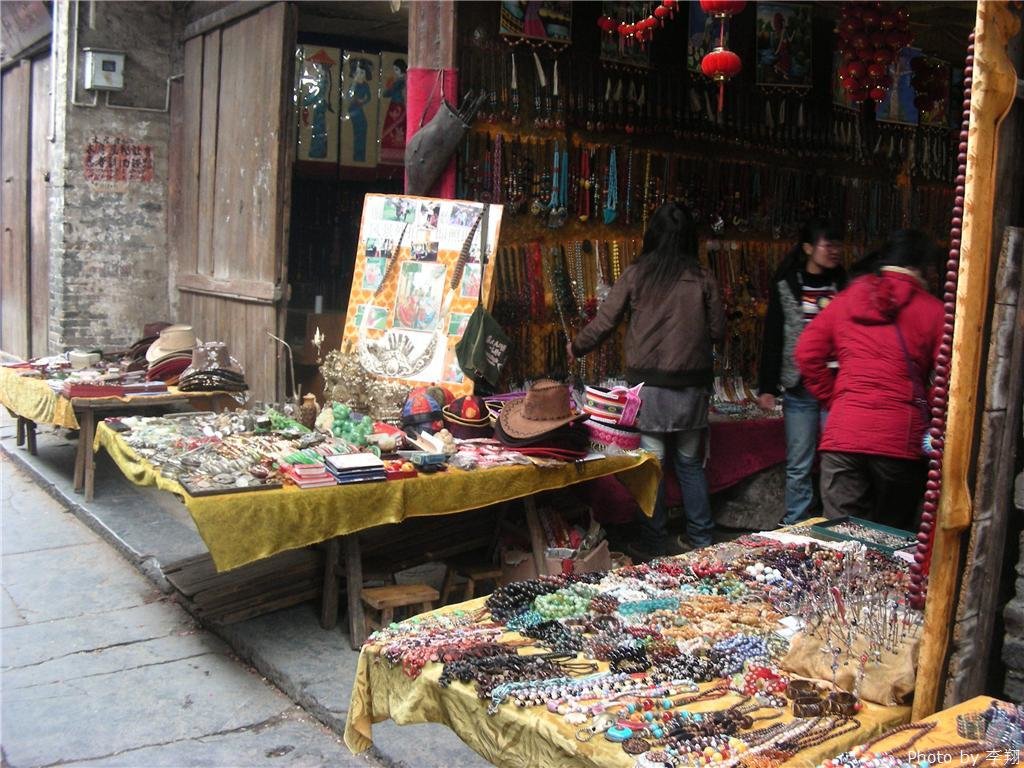 Colorful souvenirs in Daxu's traditonal market.
Formerly one of the most important markets in the area during the Ming Dynasty, the market in Daxu still thrives even if smaller today. Visitors can enjoy browsing stalls that sell a variety of goods from traditional handicrafts like straw sandals and accessories to ceramics and souvenirs as well as Chinese medicines, foods and delicacies like quail eggs, fruit and dumpling snacks.
Useful Information
The best lodging choices can be found in nearby Guilin.
Visitors can reach Daxu by taking a 40 minute bus trip from the Guilin Bus Terminal.
The region surrounding Daxu has a subtropical climate with mild winters and hot, humid summers.
Occasionally about once a year, the Li River overflows and floods the lower levels of the Daxu village. Travelers are advised against visiting during or immediately after flooding.
Also read Best Attractions in Guilin's Counties.
Go Strawberry Picking At Daxu Old Town
See the traditional Chinese architecture at Daxu Old Town, and pick juicy strawberries on a farm nearby. You can stroll along country roads lined with beautiful farms and experience the Chinese rural lifestyle. Enjoy this fun activity and your juicy strawberries.
Duration: 4 hours
Price: USD 33 (combined with tour package)
Questions and Answers About Daxu Ancient Town, China's Little Hidden Gem
dan vin
2012-10-10
Show Answer
what Bus to take to go Daxu from Guilin Bus Station?
Hi Dan, you can go opposite of Guilin Bus Station, take Bus No.16 to Sanlidian 三里店. There are lots of buses to Daxu which passing by People's Bank of China中国人民银行. You can take it there.
Whitney Liao replied on 2012-10-10
paul kelly
2012-02-23
Show Answer
what banks do they have in guilin also what is the exchange rate
Bank of China, Bank of Communication, China Construction, Industrial and Commercial Bank of China, Guilin Bank, Agricultural Bank are the popular ones. For the exchange rate, you can check out here: http://www.chinahighlights.com/travelguide/moneyconverter.htm. Thanks. Lynn Ye replied on 2012-02-28
April Offer $25 Coupon
Send your inquiry before Apr. 30, 2014, and we will email you a $25 coupon.
The coupon is valid till Dec. 31, 2014, for paying tour packages worth $250 or up.
The coupon cannot be used for paying flight tickets, train tickets, hotel rooms and day trips.
Travel Advice or Question? Ask us here

China Highlights
Guilin Travel Guide