Fubo Hill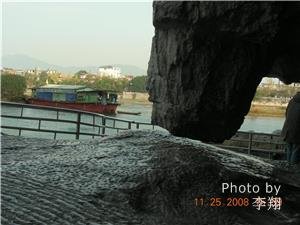 Rare rock of Fubo Hill
Fubo Shan (伏波山 Subduing Waves Hill) carries Xinxi Marquis Temple, built during the Tang Dynasty (618–907). The title of Xinxi Marquis was given to the "Fubo" General, Ma Yuan, hence the name of the mountain.
Half of the graceful lone peak of the hill is in the river, and the other half is on land. During flood season turbulent currents explode against the hill's rocky base. On top of the hill one sees an exquisite view, like a traditional Chinese painting.
Highlights of Fubo Hill
Listening-to-Waves Pavilion
Built on the southeast cliff of Fubo Hill in 1964, Listening-to-Waves Pavilion is a 2-storied building of 106 square meters (1,140 sq. ft.), used by visitors for gazing at the fine views along the Li River.
Returning Pearl Cave
Inside 'Returning Pearl' Cave, also known as Fubo Cave, in the mountain side, there are 'Trying Sword Rock' and many carvings on the cave walls. Among the best carvings is a self-portrait of Mi Fu, a famous painter, and a poem by Fan Dacheng, a famous poet, both from the Song Dynasty (960–1279).
A legend goes that an old dragon played in the cave. Its pearl was stolen after it fell asleep. Fortunately, the pearl was returned at last, hence Returning Pearl Cave.
The Returning Pearl Cave faces the Li River, and is only accessible by boat.
Thousand Buddha Crag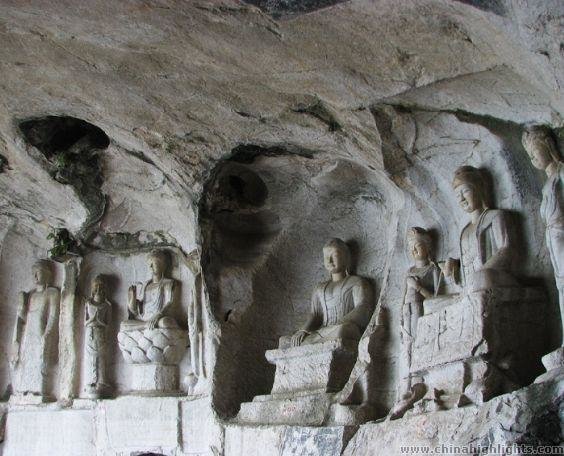 Thousand Buddha Crag
Nestling in the belly of Fubo Hill and connected to Returning Pearl Cave, Thousand Buddha Crag is composed of three layers. The upper layer measures 7.4 m long, 6 m wide and 12 m tall (25x20x40 feet), where 239 statues of Buddha are enshrined. The statues of Buddha are masterpieces from the Tang Dynasty, delicately carved with calm looks.
Similar Attractions
You are highly recommended to visit Elephant Trunk Hill and Folded Brocade Hill during your Guilin travels.
Travel Essentials
Location: in the intersection of Binjiang North Road and Fengbei Road, by the Li River, northeast of Guilin downtown.
Opening hours: 8:30am–4:40pm
Bus routes: 2 and 203
Latest Tips on Fubo Hill
For safety reasons, you should not climb the hill if the weather is not suitable, for example in heavy rain or fog. Your guide will recommend you stay at the bottom of the hill or take you to an alternative location.
Questions and Answers About Fubo Hill
April Offer $25 Coupon
Send your inquiry before Apr. 30, 2014, and we will email you a $25 coupon.
The coupon is valid till Dec. 31, 2014, for paying tour packages worth $250 or up.
The coupon cannot be used for paying flight tickets, train tickets, hotel rooms and day trips.
Travel Advice or Question? Ask us here

China Highlights
Guilin Travel Guide