Jiangtou Village in Jiuwu Town
Accolades
This rustic village near Guilin shows what life was like about 50 years ago near Guilin. The village had a reputation for producing good scholars for the Qing Dynasty government. You can see old houses, many of which originally date from the Qing Dynasty era (1644-1912), and hike around the village where life doesn't seem as modern.
History
It is said that Zhou Dunyi (1017–1073) (周敦颐, Zhōu Dūnyí) who was an important Chinese Neo-Confucian syncretistic philosopher during the Song Dynasty era is the ancestor of most of the people in the village. If this is true, it seems strange since he was born in Hunan Province and died in Jiangsu Province. It is said that the Jiuwu 九屋 Village has a 800-year history. Most of the people have the last name of Zhou. It is said that the people had a tradition for scholarship and produced many who became scholars.
This farming village is becoming a tourist site around Guilin. People can hike to it through ethnic communities to the north. Some people are being relocated. But the Jiangtou Ancient Village part of Jiuwu Town doesn't have big hotels yet. People can lodge in guesthouses. A lot of old people live there, and you can see what more traditional Chinese life was like.
Features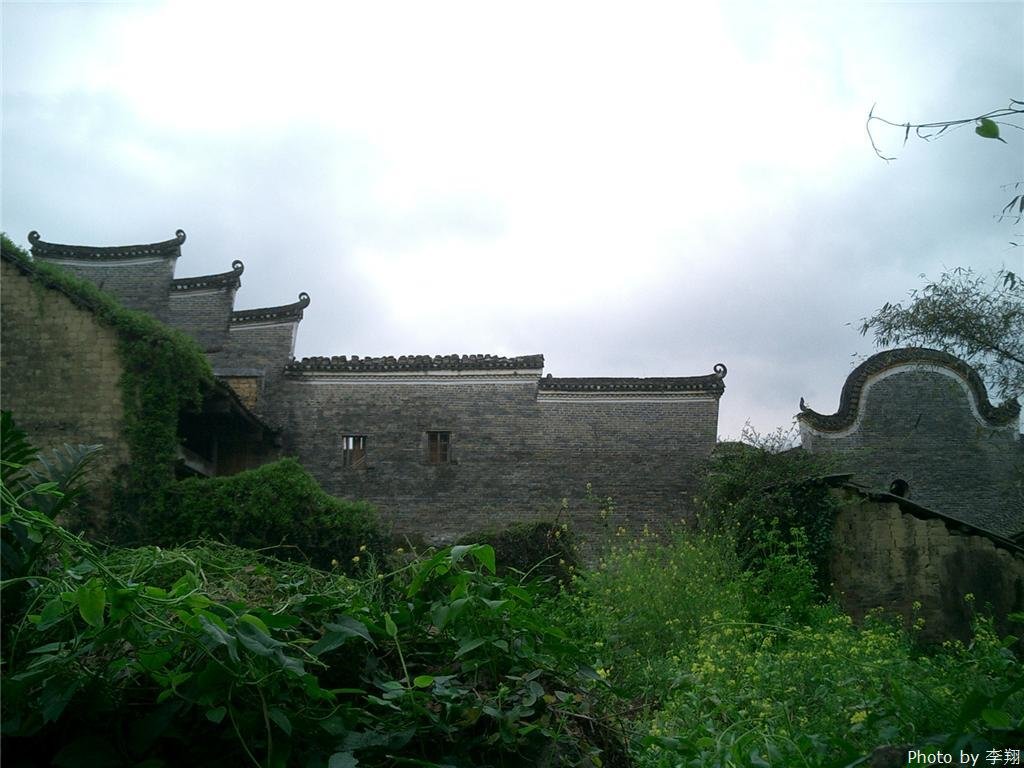 The characteristic buildings of Jiuwu Town.
Jiuwu Town is about 32 kilometers or a 45 minute car ride north of Guilin. So it is close enough for a quick trip. Many tourists go to town of Yangshuo to the southwest, but the area north of Guilin is even more interesting to see because of ancient villages, places to hike, and the ethnic minority groups that live north of Jiuwu Township. The scenery and the sight of farmers working with buffalo and old houses is worth a short hike.
You can walk around in the maze-like village with narrow alleys. The conditions seem primitive. Some of the walkways are paved with stone pebbles. You may see mirrors at the doorways to drive away ghosts. You can see intricate wooden doors and beautifully shaped roofs and watch people play a game called mahjong.
China Highlights can help you customize a tour to visit Jiangtou Village in Jiuwu Town and other highlights in Guilin.
Transportation
Tours: A day tours can be arranged by private vehicle for as little as 140 RMB or 23 USD for a single individual. It is even less for groups of two or more. The day tour includes meals and a guide. Travel in an air-conditioned vehicle takes only about 45 minutes.
Related Links
Top 5 Ancient Towns around Guilin
Most Beautiful Ancient Villages in China
Questions and Answers About Jiangtou Village in Jiuwu Town
annick
2013-03-21
Show Answer
Hi,My name is annick. I plan to go in guilin in april for one day. I would like to visit a village and do trekking by the same time. Do you have something to suggest? How much is it for hiring a guide?Many thanks
Hi Annick, I recommend Yulong River hiking in Yangshuo to you. It is one of the most popular hiking routes for tourist. For hiring a tour guide, it is CNY400/DAY(8hrs). Meals and transportation are not inclusive. I suggest that you also rent a van and driver, because from Guilin to Yangshuo is about 60km, 1.5hr drive for one way.
Whitney Liao replied on 2013-03-22
bernie l yoksh sr
2012-04-02
Show Answer
why is china changing they charge you for every thingwhen i go with my wife it is cheaperamericans have to pay more
I'm sorry to hear that! The people might think you're rich and you don't know the price of goods as foreigners. Peter replied on 2012-04-05
Colleen Baker
2011-07-13
Show Answer
I understand there is an electric cart tour in the Guilin area. Can you direct me via computer to a site that shows this tour, what the electric cart looks like and what I will see on this tour. Much thanks
Hi Colleen, I guess you are talking about the electric cart in Yangshuo, Guilin. There are many routes in Yangshuo for electric carts, but the theme is the same--countryside views. The relaxing electric cart trip will ensure you fantastic views of orchards, fields, buffaloes, chickens and farmers on the way. By following the link below, you will see how it is like in the countryside, I will email you separately with a picture of the cart. http://www.chinahighlights.com/community/video/yangshuo.asp Candy Wei replied on 2011-07-14
April Offer $25 Coupon
Send your inquiry before Apr. 30, 2014, and we will email you a $25 coupon.
The coupon is valid till Dec. 31, 2014, for paying tour packages worth $250 or up.
The coupon cannot be used for paying flight tickets, train tickets, hotel rooms and day trips.
Travel Advice or Question? Ask us here

China Highlights
Guilin Travel Guide