Qin Family's Courtyard
Many foreign visitors come to China seeking examples of tradition but never find them. Too many people leave the country disappointed that the China they were looking for has been replaced by blocks of skyscrapers and eight-lane highways. The Qin Family's Courtyard may be the place that they seek.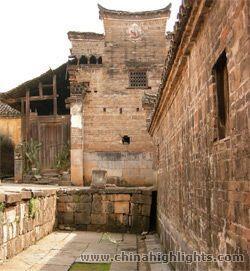 Buildings of Qin Family's Courtyard are fulled of stone foundation.
Located some 90 kilometers northwest of Guilin, Qin Family's Courtyard is an ancient village dating back to the Ming Dynasty. The village was built by descendants of a dismissed Ming official who was exiled to the area with his family. Over the years, generations of the family have lived here and have expanded the complex of buildings.
The village is filled with original Ming and Qing Dynasty buildings with huge stone foundations, brick walls, well-decorated tiles and elegantly carved window frames and doors. The complex consists of 23 buildings, covering an area of 15,000 square kilometers. Architecture here mainly uses the quadrangle, a traditional Chinese architectural form that can be seen around the country.
In the middle is a courtyard, around which rooms are symmetrically arranged. The largest building in the village was said to have been built at the end of the Ming Dynasty. Unfortunately, three fires during ancient times consumed it and left behind a few darkened pillars. The stele in front, however, has survived, although it is worn by rain and littered with small holes.
This village has maintained so many features from the Ming and Qing eras that many films have been shot here.
China Highlights can help you customize a tour to visit Qin Courtyar dand other highlights in Guilin.
Questions and Answers About Qin Family's Courtyard
April Offer $25 Coupon
Send your inquiry before Apr. 30, 2014, and we will email you a $25 coupon.
The coupon is valid till Dec. 31, 2014, for paying tour packages worth $250 or up.
The coupon cannot be used for paying flight tickets, train tickets, hotel rooms and day trips.
Travel Advice or Question? Ask us here

China Highlights
Guilin Travel Guide