Seven Star Park
Seven Star Park takes its name from its seven peaks which are laid out like the Big Dipper constellation (with its handle bent forward). The park is on the eastern side of the Li River in central Guilin City. Attractions in the park include: Seven Star Cave, Dragon Hiding Cave, Flower Bridge, the Zoo, Maping Mosque, Guihai Forest of Steles, and much more. Covering an area of 1.34 square kilometers, it is the largest park in Guilin, and contains some of the finest sights in the city.
Flower Bridge
Flower Bridge was first built in Song Dynasty (960–1279). It is so named because in ancient times, the area surrounding the bridge was planted with various flowers. In late spring and early summer, when the flowers bloomed, the bridge was covered with flowers. However, in the Qing Dynasty (1644–1911), the flowers gradually declined, and today visitors cannot see any flowers surrounding the bridge. Flower Bridge is just inside the main entrance to the park.
Guilin Seven Star Zoo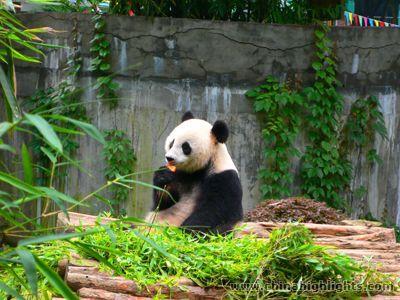 A lovely panda of Seven Star Zoo
Guilin Seven-Star Zoo is the only zoo in Guilin city, built in the early 1960s. It has pandas, monkeys (some have escaped and now live free range in the park), a tiger, an elephant, camels, birds, and reptiles. The enclosures have improved somewhat in recent years, but some animal lovers may still regard them as cramped.
Pandas soon became the star attraction. Currently visitors can also see two giant pandas and several red pandas. After its construction, panda becomes the famous star here. Since the 1960s, there have been raised more than six pandas which are "have lived out their lives in Seven Star Zoo: No.9"Number Nine, "Weilun", "Meimei" (holding the record for longest living captive panda at 36 years), "Taotao", "Yueyue," and " Yangyang". The two Olympic Pandas (During 2008 Beijing Olympic, some pandas are sent to be on display during the Beijing Olympic Games) ", Fengyi" and "Meixin," which have moved here inrecently for the 2008 Beijing Olympics, and are regarded as the seventh and eighth pandas kept in the Guilin Seven -Star Park. Among all the pandas that kept in the park, "Meimei" had lived for 36 years. It had set a new record for the longest life among the pandas raised in captivity in the world.
Performances: Some of the animals perform and do tricks in an amphitheater. You may see the unbelievable sight of a monkey balancing on a goat balancing on a tight rope.
Wonder Garden is one of the most popular places in the zoo. Many children come to feed young sheep and rabbits there.
Camel Hill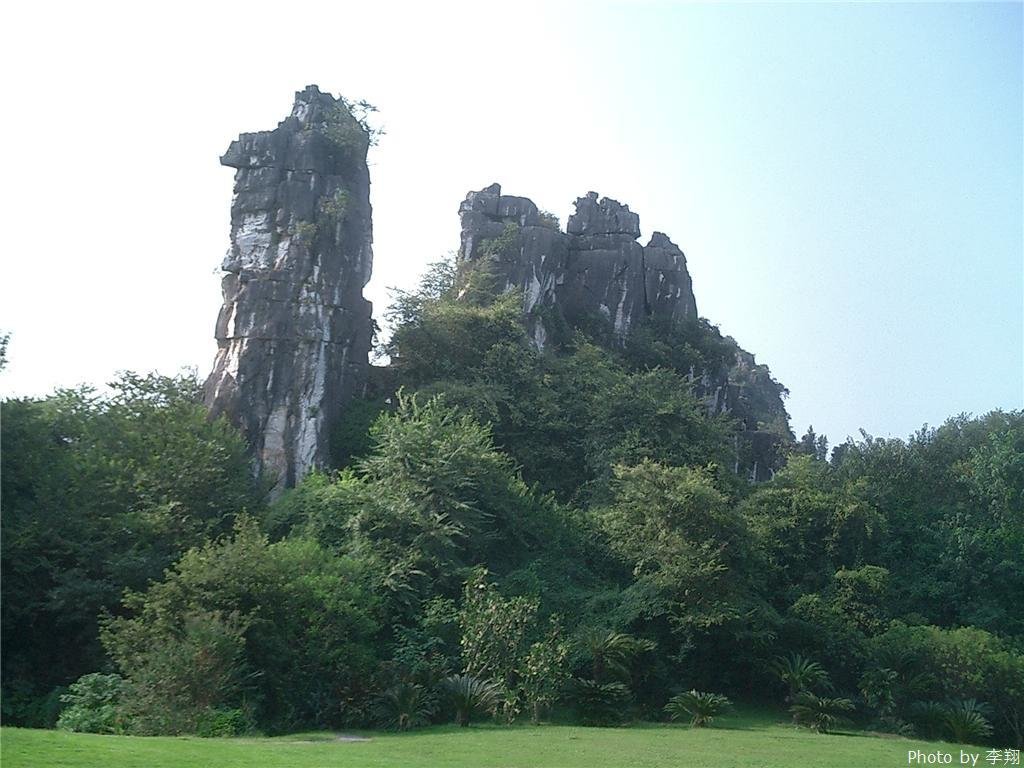 Scenery of Camel Hill at distance
Camel Hill is one of the outstanding features of Seven Star Park. With a bit of imagination, you will find that all the limestone hills in Guilin look like somebody or something. This hill looks incredibly like a huge camel standing in a vast grassland. At the foot of the hill there is a grassy lawn, which offers a pleasant place for a stroll. In the south of the park, it is very popular with locals, and many can be seen leisurely walking around in the early mooning or late afternoon. The zoo is nearby.
Adventreez
This outdoor adventure program is good for families with kids, a students' activity, or team building. The essence of outdoor adventure is brought to participants through several challenging courses and games among the trees. Climbing, jumping, "flying", and sliding experiences are offered. Currently, there are two routes for adults and two special routes for children. Adventreez is located beside Camel Hill, and opening hours are 8:30 a.m. – 5:00p.m.
Seven Star Cave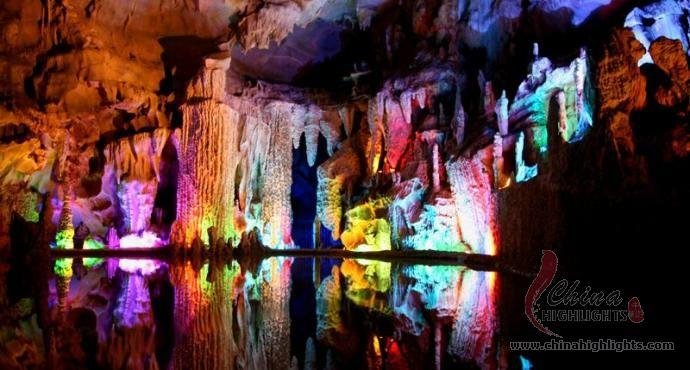 Picturesque scenery of Seven Star Cave
Seven Star Cave got its name for the seven peaks supposed to resemble the star pattern of the Big Dipper constellation nearby - four peaks in the north are called Putuo Hill, three in the south are called Lunar Hill. The famous Seven Star cave is just located at the halfway the Putuo Hill. The cave is famous for its stalactites of various shapes inside. The cave is divided into three parts. The upper part is so high and steep that one can hardly reach while the lower part is an underground river channel. The middle part, an 814-meter-long tunnel, with the widest place of 49 meters and the highest of 27 meters, serves as the main touring area. the temperature in this cave remains 20 degrees all the year round, providing a comfortable condition for visitors. Since Sui and Tang dynasties, the cave has been a favorite tour resort, and many visiting poets, writers, scholars and nobles once left their inscriptions on the wall.
Taking the shapes of stone column, curtain, stalagmite and animals, the cave leads visitors into a marvelous world. Now, artificial lighting system was equipped in this cave to fully display the enchanting scenes to visitors.
Guihai Stele Forest
Guihai Stele Forest is a collection of 218 well-preserved upright stone tablets with various ancient engravings. Most of these painstaking works of engraving were from the Tang (618–907) and Song dynasties, which are of great significance to the development of Chinese calligraphy. The 'forest' of inscribed stones is located south of Crescent Hill, which holds the park's three southerly peaks. If you don't have time to visit the famous Forest of Steles in Xi'an, this one will provide an ideal alternative.
Travel Essentials
Location: east bank of the Li River with 1.5 km from Guilin downtown
Nearby and similar attractions include Fubo Hill, Elephant Trunk Hill, Folded Brocade Hill, and Reed Flute Cave.
Opening hours: 6:30 a.m. – 7:30 p.m.
Bus routes: 9, 10, 11, 14, 16, 18, 24, 25, 30, or 204 to Seven Star Park (七星公园 Qixing Gongyuan /chee-sshing gong-ywen/)
Futher Reading
Questions and Answers About Seven Star Park
amren
2012-01-26
Show Answer
how far is this park from guilin medical university?i am a foreigner student studying here, would like to visit there.
It is about 3.3 kilometers. You can take bus 17, 32, 36 or 51 to Pengjialing Stop (彭家岭), transfer to bus 10, and get off at Seven Star Park Stop (七星公园). Lynn Ye replied on 2012-01-30
April Offer $25 Coupon
Send your inquiry before Apr. 30, 2014, and we will email you a $25 coupon.
The coupon is valid till Dec. 31, 2014, for paying tour packages worth $250 or up.
The coupon cannot be used for paying flight tickets, train tickets, hotel rooms and day trips.
Travel Advice or Question? Ask us here

China Highlights
Guilin Travel Guide