Yuzi Paradise
Summary
Yuzi Paradise is a large-scale art park of modern sculptural arts and grotto arts.
Overview
Yuzi Paradise, situated in Dabu Township Yanshan District about 30 kilometers (19 miles) from Guilin City, was founded in 1998 and sponsored by a Taiwanese entrepreneur, Cao Rizhang (曹日章).
Invested over 300 million RMB and covering 0.6 square kilometers (0.23 square miles), the park with beautiful natural scenery and profound art atmosphere has become a place of international art creation and vacationland. It will continue to be a collection, an exhibition, an education facility and a centre for art promotion, for researching and entertainment. Inside the park exhibits many a masterpiece by world famous sculptors. These works, spreading among pines, at the lake bank and at the mountain foot, are well integrated into the nature.
Sculpture Scenic Area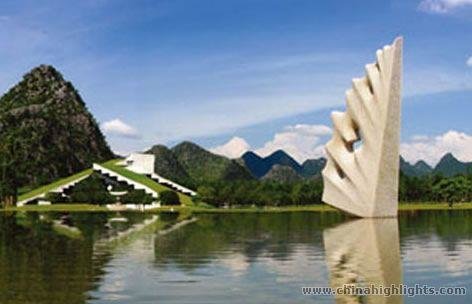 Creative architectures in Yuzi Paradise
Yuzi Paradise has attracted more than 140 renowned sculptors from 47 countries and regions to devote their creativity to the construction of the international sculpture park. In the park, there are over 270 sculptures with distinctive styles both from abroad and home integrating the Chinese traditional beauty with Western cultures. In whole, these sculptures have made the park a priceless treasure with ornamental value as well as cultural and artistic assets.
Artistic Creation
Inside the paradise set such seven workshops as stone carving, metalwork, ceramics, bronze, graphic art, azure stone and wood carving. Here is the paradise for artists' creation; here is the perfect stage for art lovers to develop their potential. Travelers can also participate in some artistic experiences under the direction of professional art tutors, like painting stones, making pottery, color painting, making kites and lanterns.
Travel Essentials
How to Get There: Travelers can take the shuttle bus from Guilin to Yuzi Paradise from Guilin Bus Station.
Opening time: 09:00–17:00 everyday.
Questions and Answers About Yuzi Paradise
April Offer $25 Coupon
Send your inquiry before Apr. 30, 2014, and we will email you a $25 coupon.
The coupon is valid till Dec. 31, 2014, for paying tour packages worth $250 or up.
The coupon cannot be used for paying flight tickets, train tickets, hotel rooms and day trips.
Travel Advice or Question? Ask us here

China Highlights
Guilin Travel Guide