Cycling in Yangshuo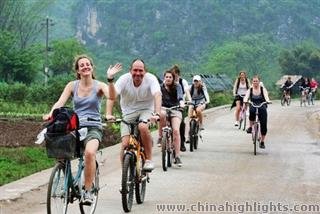 No matter if you are a first-time comer or not, cycling in Yangshuo is definitely worthy putting in your Yangshuo tour agenda. Mountainous views in motion would get better when seen on wheels. Tributaries sprawl all over Yangshuo, offering relaxing breaks on your way. Drop off your ride, hop on a bamboo raft or plunge into the water, what more 'off-beaten track' fun can you expect? Villages are easy to tour around. Chance encounters with local folks minding their own business, farmers plowing in the field, women washing by the river, kids chasing after you shouting Hello Hello, etc. Bike to experience the real deal of Yangshuo!
Location:
Yangshuo County, Guilin
Time: Daily year round
Transportation: Bicycle
Ticket Pricing:
Depending on the route and length. For more details please refer to Yangshuo Biking Routes.
Booking:
Rent a bicycle and go biking on your own.
Book a Yangshuo tour including a cycling trip with China Highlights. Your private tour guide will accompany you through the whole trip and point out for you the best sites.
Note: Cycling trip is subject to change or cancellation due to weather condition.

China Highlights
Guilin Travel Guide