How to Plan a Day in Guilin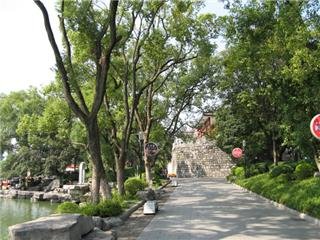 A peaceful lakeside path along the Rong Lake
Attractions
First select what you want to do from Guilin's many attractions. Usually one or two daytime activities and one evening activity is about right. For a fuller day look for close together attractions that can be easily combined.
First time in Guilin? If you are going to a city as a tourist for the first time you will want to see a selection of attractions which capture the essence of a city. Guilin's key features are its karst hills, Li River, and caves. Be sure you include these if nothing else.
A balanced itinerary: After that you may choose attractions that you have an interest in. For example, there are cultural attractions of various types (historical, architectural, ethnic), not necessarily unique to Guilin, but certainly unique to China, which could add balance to your day that would otherwise be just natural scenery.
If you have children you may want to include something for them (like a trip to the limited zoo at Seven Star Park), though climbing hills and exploring caves usually doesn't leave kids bored and might expend enough energy.
To help you choose attractions for your day in Guilin, we have arranged Guilin's attractions according to:
Type of Attraction (Cave, Children's, Cruise, Cultural, Hill, Hot Spring, Mountain, Night Show, Park, Scenic, Shopping)
Hours from Guilin
Location (attractions not in or near the city usually require a whole day)
Popularity (Ranked 1–49)
Hours needed for a visit
When to visit (daytime or evening)
So, in choosing a first time to Guilin itinerary, we would recommend Reed Flute Cave as the top cave, Elephant Trunk Hill as the top hill, and an evening cruise on the Two Rivers Four Lakes for your Li River experience (the Li River Cruise takes up to 5 hours and finishes in Yangshuo), to do it all in a day.
Solitary Beauty Peak with its Ming Dynasty mansion is an easy addition for a bit of culture.
China Highlights Day Tours
In the table below are our day tours, sorted according to proximity to Guilin and by tour type, for some additional ideas for things to do. Many of these would be better taken after transferring to Yangshuo. See also Day Trips on our Guilin Tours page.
Some of our day tours may be purchased separately. Others (Itinerary Plus Tours with 20% off) must be bought along with a China tour including Guilin.
Meals
Decide where you want breakfast, lunch, and dinner. You may want to sample a specialty of the region. For example might want to eat Guilin rice noodles or a Li River fish. See our Guilin food and restaurants pages.
Shopping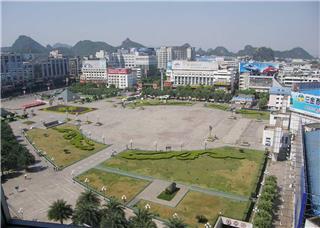 The shopping area around the Central Square
You may also want to build in some time for souvenir shopping. There are a variety of general and specialist Chinese product shops near Pine Lake (杉湖 Shan Hu), on the walking street between Liberation Road (解放路 Jiefang Lu, the road over Liberation Bridge) and Center Square (中心广场 Zhongxin Guangchang).
When to shop: Shopping is probably best done in the evening as scenic attractions require daylight to appreciate them to their fullest. You might also consider shopping in the 12–2pm siesta time in the summer, as the city center will be less busy than in the evening, and you can escape the hot sun (or rain) in air-conditioned buildings.
Make Final Adjustments
When you've decided what you want to do, make sure it fits into a realistic time frame, suitable to your pace. Seeing five attractions in a rush may not be as satisfying as seeing three, with more time for photos and looking around.
Buy tickets/ make reservations/ arrange transport
Some attractions may require booking or paying for in advance (like the Li River Cruise). Some restaurants may require reservations. Arranging for private transport and a driver for the day will save precious time. It may also save money compared to several taxi fares.
Go!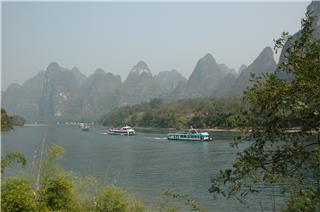 The Li River scenery
Once all the planning is done, all is left is to go. If you take a tour with us, we continue to be at your service 24/7, even after your tour is paid for. If you experience any difficulties, or require any changes to your tour, we will do our best to help. Depending on time before travel cancellations may incur a fee.
Longer Tours
Planning a longer tour of Guilin could be thought of as a series of day tours, if every night you return to the same hotel. If you have a number of days, you could spread out the key attractions over a number of more-balanced day tours (including both nature and culture, with time to relax (and kids' activities).
Visiting areas a significant distance from Guilin with lots to do, like Yangshuo and Longsheng, require at least a day on their own, and we would recommend staying at least a night there. This moves away from the Guilin day tour theme, as you would be better making e.g. Yangshuo your base, and on to "How to Plan a Day in e.g. Yangshuo".
Related Pages

China Highlights
Planning a trip? Ask us here 800-2682918 (USA & CA)
86-773-2831999 (Int'l)
Q:
Diego
Asked on 2012-11-10
Reply
Hi there, Me(32) and my mum (57), are planing to visit Guilin on around the middle of January, but we don''t really know much about Guilin, besides its beautiful nature. We would like to know if its worth going on those dates and how many days you would recommend us to spend there, having in count that we want to take the most of our time without rushing and be able to visit other cities. We where thinking about staying 7 to 10 days.On the other hand, It would be helpful if you could give us an approximation about how much money it will cost for food and attration fees. Any other advices for first visitors wil be welcome.Thank you very much for your time and I am looking forward to hear from you soon.Your sincerelyDiego.
Q:
Jackie Lam
Asked on 2012-09-20
Reply
4 pax planning a trip to Guilin in July 29 to August 6 next year. Will be arriving in and out from Guilin. Please plan for us and what is the cost? Thank you.
Hi Jackie, yes, we are very glad to plan it for you. In order to quote the exact price, please help me with below the questions. 1. What kind of hotel would you prefer? 3/4/5 star? 2. Are there any children in your pax? How old if any? 3. Besides Guilin, any other destinations you would like to include? After getting more information from you, we will send you the itinerary with detailed price soon. Whitney Liao Replied on 2012-09-23
Q:
Teo lay hua
Asked on 2012-08-23
Reply
Hi, I am visiting Guilin on 3 oct to 8 oct, my son is interested to visit fruit orchard, is there any fruit farm in guilin, any recommendation for places of attrction
Dear Teo Lay Hua, During that period, it is not a harvest season for the fruit. There is no a suitable place to visit and pick the fruit. In spring, you could go to Daxu town to pick up the strawberries, in May you could pick the loquat and from Jul. to Aug. you could pick the grapes in Xingan town. In the end of Oct. the persimmons are on the market and a fesital will be held in Gongcheng town. Lussie Lu Replied on 2012-08-24
Q:
Gary Tan
Asked on 2012-08-02
Reply
hi, i''m planning to visit guilin from 29th of november to 8th of december. where should i visit? how is the weather? is the weather suitable for sight-seeing? is there any shopping sites for clothes and shoes?
Hi Gary Tan,
Thank you for your inquiry. The average temperature in December is 7C. It is cold in winter and it is not the ideal time to visit Guilin on December. You can prepare down jackets, thick jeans, sweaters, scarves and an umbrella. Locals wear thermal underwear all winter since there is no heating in most places. You can visit Li River Cruise and Yangshuo. Since you are planning to visit Guilin, please click here of our Guilin Tour for referencehttp://www.chinahighlights.com/guilin/tours.htm. If you need, we can tailor-made a tour for you. Please feel free to contact me. For shopping malls in Guilin, you can visit Zhengyang Pedestrian Street(正阳步行街) and Niko Niko Do Department Store(微笑堂). If you plan to visit Yangshuo, you can shopping on West Street(西街).
Alice Cai Replied on 2012-08-03
Q:
Chan
Asked on 2012-07-23
Reply
Hello China Highlights,My wife and I are planning a 7day trip to Guilin in end September or after 8th October. Which is the better time to go, not too hot for hiking in the Longji Rice Terraces and not to miss the yellow golden fields?Is 7 days enough to cover all these attractions in Guilin & Yangshuo?City Tour, Li River Cruise, Yulong River, Yangdi, Reed Flute Cave, City Tour, Elephant Trunk Hill, Fubo Hill, Moon Hill, Nightlife at West Street, Daxu Ancient Town, Taohua River, Yangshuo Bamboo Rafting, Longji Rice Terraces & Minority Villages, Yangshuo Countryside/Moon Mountain/Big Banyan Tree Cycling, Seven Star Park, Impression of Liu Sanjie, Shangri-La?

Hello Chan, 7 days is quite enough to do the tour covering all the places you mentioned. I have sent you an proposal according to your needs. Please check your email and feel free to let me know if you have any questions. guest Replied on 2012-07-24
Guilin Travel Guide