Guilin Western Restaurants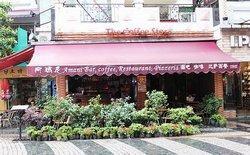 Amani Bar, Coffee, Restaurant, Pizzeria
Amani Bar, Coffee, Restaurant, Pizzeria
Amani Bar is located beside Zhengyang Pedestrian Street and near the red clock tower, with a big open air area. Many foreigners love to sit on the wooden chairs to have a drink and enjoy a relaxing time there. The decorations of this restaurant are simple and exquisite.
Pizzas and drinks are the specialty of this restaurant. Other desserts are also popular. Having a cup of coffee after shopping in the center of Guilin city can be very enjoyable.
There is often a big screen showing sports matches, the Olympics, or other important sports events.
Chinese: 阿玛尼
Average price per person: 60 yuan
Open: 10am – 2am
Tel: 0773-2809351
Address: 159 Zhengyang Road, Xiufeng District
Buses: 10, 11, 99, or 100 to Central Square (中心广场), and then walk eastward.
Rosemary Cafe
Rosemary is a small Western restaurant located near Zhengyang Pedestrian Street and the Li River. When stepping in you will feel at home in the strong international atmosphere with many Western decorations.
Pizzas are the most popular dishes of this restaurant. Served with some drinks, their Italian pasta and desserts are wonderful. Furthermore, the service of this restaurant is good and fast. It is a great place for friends' get togethers and couples dating.
Chinese name: 迷迭香
Average price per person: 41 yuan
Open: 9am – 2am
Tel: 0773-2810063
Address: 1-1 Yiren Road, Xiufeng District
Buses: 2 to Jiefangqiao (Liberation Bridge 解放桥); or 10, 11, 99, or 100 to Central Square (中心广场).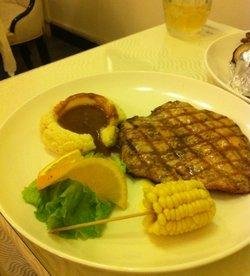 American Grill and Pizza
American Grill and Pizza
American Grill and Pizza is a new Western restaurant owned by an American man in Shangshui Street, a food street near Zhengyang Pedestrian Street. The white chairs and tables with umbrellas in the open air area make you feel fresh and naturally invigorated. The waiters in the restaurants are enthusiastic and friendly.
The food in this restaurant is authentic and attractive. When having dinner in the restaurant, you can chat with the boss and enjoy a leisurely time.
Chinese name: 佐格西餐厅
Average price per person: 75 yuan
Open: 11am – 9pm
Tel: 0773-8999922
Address: Unit D3, Shangshui Street, 15 Binjiang Road, Xiufeng District (秀峰区滨江路15号尚水街D3门面)
Buses: 10, 18, 30, 31 or 206 to Shizi Street (十字街, the crossroads on Jiefang East Road 解放东路); or 2 to Lijiang Theatre (漓江剧院); then walk to Binjiang road by the river.
Li Cafe
Situated in the Shangri-La, a five-star hotel, this high-class restaurant provides many types of professionally made food, such as Chinese food, Guilin local food, Western food, and so on. The seats by the window give a great view of the scenery of the garden in the hotel and the Li River.
Many exquisite delicious Western desserts are offered at breakfast time, such as cakes and cookies, which are welcomed and spoken highly of by many customers. Served with high-quality waitering, and surrounded by luxurious decor in an elegant environment, you will feel comfortable and relaxed having a dinner with friends or family.
Chinese name: 漓咖啡
Average price per person: 230 yuan
Open: 6am – midnight
Tel: 0773-2698888-6433
Address: 1st Floor, Shangri-la Hotel, 111 Huangcheng North Second Road, Diecai District (叠彩区环城北二路111号香格里拉大酒店1楼)
Buses: 30 or 32 to Yushanqiao (Yushan Bridge 虞山桥).
The Repulse Restaurant
The Repulse Restaurant is a short walk for the Sheraton hotel and has a great Li River view. It serves good western food and Chinese food at a reasonable price and has a pleasant, quite atmosphere. The staff there can speak good English.
Chinese name: 浅水湾咖啡 Qianshui Wan Kafei /chyen-shway wan ka-fay/
Address: Floor 6, Binjiang Mansion, 18 Binjiang Road (滨江路18号滨江大厦6楼)
Tel: 0773-2883 999
Pinocchio (木偶葡式餐厅)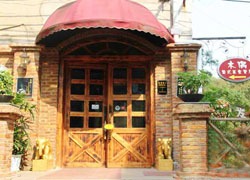 Pinocchio is a café offering beefsteak, lamb chop, Lavazza Coffee from Italy, tea, drinks, world famous alcoholic drinks and other Portuguese delicacies. With a typical southern European style and wireless internet services, the Pinocchio is a leisure place to have a small gathering or an afternoon tea. Because it is a small-scale café with 4 private rooms and a long table for 16 people, guests need to reserve in advance.
Chinese name: 木偶葡式餐厅 Mu'ou Pushi Canting /moo-oh pu-shi tsan-tnng/
Address: The 2nd Floor, No.24, Maping Street, Middle Qixing Road, Sanli Dian, Qixing District (七星区三里店七星路中段码坪街24号2楼)
Tel: 0773-5828068

China Highlights
Guilin Travel Guide