Photography Tips and Locations in Guilin
Everyone knows the beauty of Guilin scenery, but not all photographers are aware of the difficulty of taking photographs of it. As a center for tourism, Guilin's sights are well documented. However little information is available for photographers.
Local photographers are skilled in taking photos of Guilin scenery, and they know when and where to take the best shots. They are so familiar with each sight that they can seize the best chance to take photos that show the dreamily picturesque mountains and water of Guilin at their most charming.
Below we have divided suitable scenic sites for photographing into 12 types for your reference:
1. Spring Scenery
Best scenic sites and months:
Rhododendron: Yao Hill.
Peach blossoms: Xichen Town, Gongcheng, ten days before or after the vernal equinox.
Rape flowers: Guanyang County (February – March)
Plum blossoms: Crown Cave (February)
Although it rains a lot and has little sunshine in spring in Guilin, spring is the best season to take photos of flowery scenes, integrating gorgeous mountains and crystal water. The spring scenery in counties around Guilin city is as beautiful as that along the Li River.
2. The Misty and Rainy Li River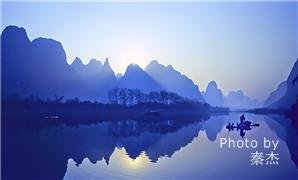 Beautiful scenery of the Li River
Best scenic sites: Xialong Village, Husband hill, Yangshuo (Yangshuo Bridge, Bilian Peak / Green Lotus Peak, TV Tower), Yao Hill, Monkey Hill, and Xingping (Huangbu Beach / Yellow Cloth Beach and Laozhai Hill/ Old Village Hill).
Best months: February – May
Best time: early morning
Conditions: calm, rainy, high humidity
The misty and rainy Li River is the representative scenery of Guilin. To show it fully, photographers need a high place to get a broader view. Seen from such a place, the river is broad and straight and peaks along the river are interspersed perfectly among more distant mountains. It is best if the river is covered with banded mist.
3. Agricultural Landscapes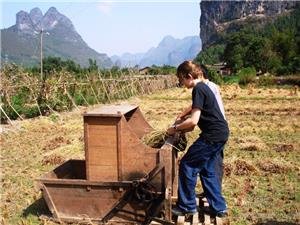 Yangti Quay
Best scenic sites: Yangti Quay, White Sand / Shangri-La, Pheonix Mountain / Moon Mountain in Puyi County, Wenlong River / Warm Dragon, Two rivers (Ri River and Peach Blossom River), and Xingping.
Best months: April – May
Best time: 2 hours before sunrise – half an hour after sunset
Best light: backlighting
Conditions: sunshine, irrigated or ploughed paddy fields.
The charm of Guilin scenery not only lies in its natural beauty, but also in its own rural culture integrating with it. The scenes of peasants working in the fields surrounded by mountains and water not only gives the Guilin scenery a focal point, but also provides vivid rural life shots for photographers.
4. Mountains with Water, Cloud, and Mist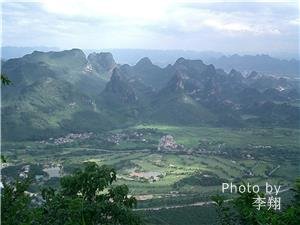 Yaoshan Hill
Best scenic sites: Yangshuo (Yangshuo Bridge, Bilian Peak / Green Lotus Peak, TV Tower), Yaoshan Hill, Monkey Hill, Xingping (Laozhai Hill / Old Village Hill), and Ziyuan County (Bajiaozhai / Octagonal Mountain Village).
Best months: April – July (around the turn of summer)
Best time: half an hour before sunrise to one hour after sunset
Best light: backlighting
Conditions: after a heavy-rain day (after the rain has cleared up), south light air, ≈10°C, and relative humidity exceeding 80%.
Every photographer who wants to take photos of Guilin scenery should look for changes in weather like from rain to sunshine, cloud and fog. Pictures of mountains and water covered with thin fog, cloud, and mist are taken perfectly in the morning sun.
Generally speaking, ten minutes after sunrise is the best time to take photos of mountains and water with cloud and mist. The temperature has not climbed, mist is in a low position, and red sunlight is visible on the surface of clouds at this time, all of which makes the cloud and the mist colorful, and brings out the most enchanting mountain vistas.
When metering accordance with the cloud and mist, photographers need to open an additional 1/2 an f-stop, based on the conditions.
5. Blue Sky and White Clouds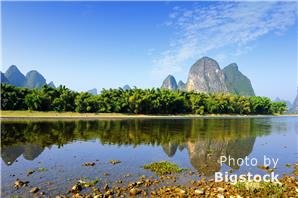 Xingping
Best scenic sites: Xingping or thereabouts, Yangti Quay, Xialong Bay, and Yangshuo Bridge.
Best months: May – October
Best time: 2pm–10pm
Best light: front lighting
Conditions: high pressure days
Apart from rainy days, Guilin scenery under blue sky on sunny days also has its own lovely features. To show them photographers are advised to take photos with a low angle and small aperture to get the color saturation.
6. Sunrises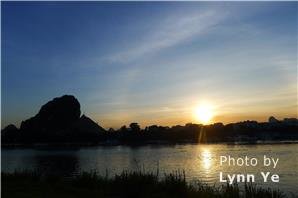 Sunrise in the Li River
Best scenic sites: Yaoshan Hill, Monkey Hill, Yangshuo (Bilian Peak / Green Lotus Peak, TV Tower), Xingping (Laozhai Hill / Old Village and Hebao Hill / Pouch Hill), and Diecai Hill / Folded Brocade Hill.
Best months: June – August, October – December
Best time: half an hour before sunrise, or one hour after sunset.
Conditions: clear skies.
Photographers need a high location to find a view. At sunrise the sun will be can be contained in a view integrating cloud, mist, and mountaintops. When metering lux second the exposure should be adjusted to an additional 1.5 – 2 f-stops.
7. Rosy Sunsets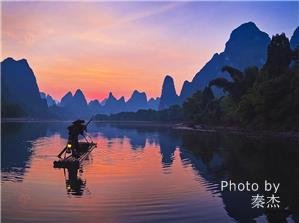 Li River Sunset
Best scenic sites: Aishan Village, Xingping, Gaotian, Peach Blossom River (Lion Rock), Tower Hill, Diecai Hill / Folded Brocade Hill (From the top you are rewarded with a panoramic view of the whole city.)
Best seasons: all the year, best in the days before and after a typhoon.
Best time: one hour before sunset to half an hour after sunset
Best light: backlighting
Conditions: high visibility, abundant clouds.
It is easier to take photos of sunsets and sunset glows on fine days. The changing vivid colors of rosy sunsets are really fascinating, particularly on days before and after typhoons. (Guilin can be affected by typhoons after they hit coastal areas of Guangdong).
The most unusual thing is that the color of rosy sunsets in Guilin will change three times: the clouds will be yellowish red right before sunset, then the clouds will be redder when the sun is sinking but still on the horizon, and finally the reddest and most-splendid rosy sunset appears when the sun sinks below the horizon.
8. Running Water and Inverted Images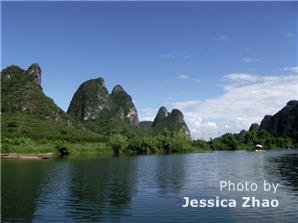 Yulong River
Best scenic sites: Xialong Village, Huangbu Beach / Yellow Cloth Beach, Wave Stone, Yangshuo Bridge, Gaotian, and Yulong River / Meeting Dragon River.
Best seasons: summer, autumn, and winter.
Best time: 9am–4pm (balance contrast at noon)
Conditions: flat water, clam, a suitable location at a beachhead
The greatest components of Guilin scenery are its green mountains, delicate water, strangely-shaped caves, and stones, as is shown by Guilin scenery reflected in the water. It's the best time to take photos of Guilin scenery's inverted images on calm days with backlighting and a low angle. It is essential to find a beachhead with a broad river.
9. Autumn Tints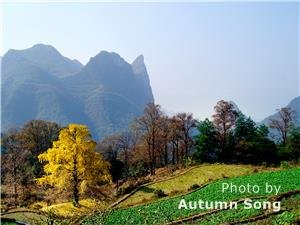 Ocean Town
Best scenic sites: the shore of the Li River, Xing'an County (Huangjiang Town and Gaoshang Town), Lingchuan County (Ocean Town), and Qifeng Town / Grotesque Rocks Town.
Best months: November – December (after frost)
Best time: 7am–10am
Conditions: early morning after a frost (0°C–15°C is best).
Autumn colors can be best captured along the Li River, and among the ginkgoes in Huangjiang town and Gaoshang town of Xing'an County or Ocean town of Lingchuan County. With enough sunshine autumn scenery is strongly presented in photos taken after a frost in the period of varying temperature between night and day.
10. Fishing Lights on the Li River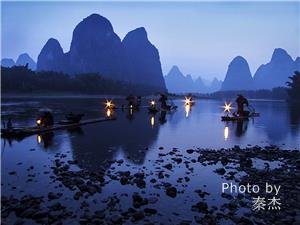 Fishing lights on the Li River
Best scenic sites: Xingping County, Yangshuo Bridge,
Best seasons: all the year
Best time: after sunset and before darkness, or before sunrise
Conditions: pay local fishermen to punt their bamboo rafts to optimal positions
As night falls the scene of bamboo rafts with fishing lights floating on the Li River with the mountains and peaks in the distance is classic Guilin scenery.
After sunset, but before the deep darkness, is the best time for photographers to take photos for there is a clear break between skyline and peaks and mountaintops, possibly with sunset glow. It's important to seize the chance to press the shutter when the bamboo boats used by the fishermen are framed just right.
11. Snow in Winter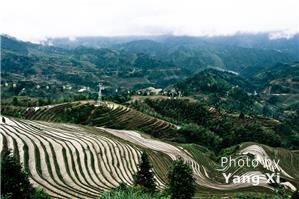 Longsheng Rice Terrace
Best scenic sites: Ziyuan County, Longsheng County (Longsheng Backbone Rice Terrace).
Best seasons: mid-winter (end of December and January)
Conditions: very cold air, high humidity
It doesn't snow much in Guilin city, but it does in some counties around it, like Longsheng and Ziyuan, and especially on (the highest mountain in Guangxi and the source of the Li River). The snow scenes are special and magnificent.
12. Miraculous Caverns and Caves
Best scenic sites: Lipu County (Silver Cave and Rich Fish Cave), Xingping (Lotus Cavern), Guilin City (Seven Star Cave, Reed Flute Cave), and Guanyang County (Black Cave)

Silver Cave

Best seasons: all four
Best time: cave open hoursConditions: tripod, shutter release, and electric torch.
The miraculous caverns and caves of Guilin are the part of its wonderful scenery. Photographing in caverns or caves doesn't need a flash, but only a tripod and is free from limitation of seasons, climate, and sunshine.
In caverns and caves, photographers can use slow shutter speeds to capture the low lighting conditions. An additional 1.5–2 f-stops of aperture to the original reading of the internal exposure meter can be recommended.
Recommended tour: Three-Day Essence of Guilin Tour
Futher Reading
Questions and Answers About Photography Tips and Locations in Guilin
Marc
2013-09-26
Show Answer
Hi, we are serious photographers from Malaysia. We would like to plan a trip to Guilin for landscape photography and to take fishing lights on the river. Can you please tell us the best time to go? Do you think early June will be fine. Thanks
The good season for photograph would be April –September, even in rainy season, since the misty Li River is a charming scene.
April: blossom season of rape flower
May: irrigation season of rice paddies
June: ripe rice paddies in Yangshuo
July-August: harvest season for first crops in Yangshuo
September: harvest season for crops in Longji Rice terrace
October: harvest season for second crops in Yangshuo
November: ginkgo leaves in Haiyang County
For the fishing lights, I suggest you go to Xingping town, near Yangshuo. It is available all the year. Besides it the sun rise/sun set at Longji Rice Terrace is good for photograph. We are professional at arranging photograph tours in Guilin. Do you need travel agent's assistant?
Carol Wang replied on 2013-09-27
Patricia
2013-09-21
Show Answer
When is the time for golden harvest in longji rice terraced village in Pingan? How long will it last? I plan to get there 26th Sept. How far is Pingan village from Guilin airport and what is the best way to get there. Thank you.
Hi,
The golden harvest time in Longji lasts about one week from middle September. It would be over on September 26th. Pingan village is about 2 hours drive away from Guilin airport. There is no bus between the both but you could take a taxi to go there.
If you need, we could arrange a Guilin tour package for you including the Longji tour. How many people will be in your group?
Regards,
Coco
Coco Yang replied on 2013-09-21
adriaan
2013-09-02
Show Answer
planning to be on the 5 of sept in guiling for 2 days and then go o yangshuo for few days , iam world traveler / hobby photographer and i would like to having some suggestion from you and maybe there will be an not to expensive photographic tour ?
Dear Adriaan, September is a good time to take pictures of the landscapes and ancient towns as the weather is good, the air is clean and water is full. Thus I recommend the Li River, Xingping Ancient Town and Laozhai Hill in Yangshuo. I totally understand that photographic tour is expensive, but I believe that you must know it is not easy to find a good place for photography. Most of the places are in remote area, and taking a good picture needs a long time. Our guide are familiar to those point, and will give you good suggestions. This is the value of taking a private photographic tour: ) Doris Huang replied on 2013-09-02
Rachel
2013-07-30
Show Answer
Is''t a bad choice going Guilin in January?
Dear Rachel, It is very cold during January, you need to take cotton padded clothes or a down jacket. As it rarely rains, the water level will be low, it affacts Li river cruise trip. If you don't like the cold weather and would like to see the beautiful natural scenery, I suggest you don't come to Guilin during that period. From Apr. to May and from Sep. to Oct., it is the best time for traveling. Lussie Lu replied on 2013-07-31
Though not that bad, but definately not a good choice. it is freezing cold there in Jan. not many tourists stay there, and some shops and bar are business off. I suggest you go there in late April, which i think is the best time to visit Guilin. JoeDADA replied on 2013-07-31
Rick B
2013-01-19
Show Answer
Hi Lynn,Iam flying to Hong Kong and then onto Japan in early March. I have approx 10 days left after Japan and would love to visit Guilin. I''m just a bit unsure what the weather will be like then regarding rain, low cloud etc as i would be visiting for photography purposes.Also how many days would you recommend in Guilin and surrounding areas ! Also as i will be flying from Japan is it best to go via Kuala Lumpur and fly with Air Asia direct to Guilin? Thankyou.Kind Regards,Rick
Dear Rick,
Thanks for your tour enquiry!
There are several places in Guilin to take great pictures, Li River, Yangshuo (countryside views), and Longsheng (rice terraced fields), usually a 6-day tour would cover these places. March is not the best time to visit Guilin I am afraid, the lowest temperature is 8 degrees and the highest 14 degrees, we may have slight rains in early spring, that would make Li River's mountains look like a real Chinese painting. Airasia offers good deals from KL to Guilin, you can consider taking their flights.
If you are looking for warmer weathers, Yunnan may offer better photo opportunities. Airasia offers direct flights from KL to Kunming too. Let me know what ytou think and I will be more than happy to propose itineraries to work for you best. I look forward to hearing from you again!
Candy Wei replied on 2013-01-20
April Offer $25 Coupon
Send your inquiry before Apr. 30, 2014, and we will email you a $25 coupon.
The coupon is valid till Dec. 31, 2014, for paying tour packages worth $250 or up.
The coupon cannot be used for paying flight tickets, train tickets, hotel rooms and day trips.
Travel Advice or Question? Ask us here

China Highlights
Guilin Travel Guide