Guilin Weather in January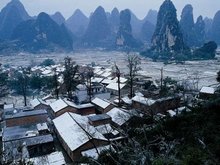 Weather: January is the coldest month in Guilin. It rarely snows and the temperature is not low compared to cities in North China, but it feels quite cold with the dampness and wind, and there is usually no heating in most places.
Clothing: Prepare warm clothes such as down jackets, thick sweaters, gloves and scarves to keep warm. Sometimes the roads are slippery due to dampness and frost, so wearing comfortable skid-proof walking shoes is recommended.
Low Season: Winter (November to March) is the low travel season, and traveling to Guilin is less crowded and it is cheaper than usual.
Things to Do
"Warm" Caves: Guilin has a lot of natural caves, the best of which include Reed Flute Cave and Seven Star Cave in Guilin, and Silver Cave in Lipu Country, close to Yangshuo. These caves really feel quite warm when entering from outdoors, so are a good choice at this time of the year.
If Chinese New Year falls in January you can see city streets colorfully decorated with red lanterns and colorful flags. New Year songs are cheerfully played at department stores and supermarkets. This is the best time of the year to experience traditional Chinese culture.
Li River cruises operate all year around. Although the scenery is not as good as during the rest of the year, you still can see the famous peculiar limestone mountains. All ships are air-conditioned, so it is comfortable inside the cruise ships.
Guilin Climate Information by Month
China Highlights
Planning a trip? Ask us here 800-2682918 (USA & CA)
86-773-2831999 (Int'l)
Q:
Jacklin
Asked on 2013-01-01
Reply
Hi there.Nice to meet you. My name is Jacklin and I would like to find out about your weather in Guilin from 17th till 31st Jan 2013. Happy new year to you!We are wondering if the weather in Guilin requires heavy attires coz it''s winter. Will it be wise for us to shop for winter clothing there?Please reply us.
Dear Sir or Madam, It will be 2-7℃(35.6-44.6℉), it'll cold and windy. You'd better take down jacket, sweater and gloves to keep warm. Eventhough you could buy the clothes in Guilin, I am afraid you can't stand the cold weather when arriving in Guilin. You could check the new inforamtion before leaving for Guilin. Please click: http://www.weather.com.cn/en/weather/101300501.shtml Lussie Lu Replied on 2013-01-02
Guilin Travel Guide