Guilin Weather in November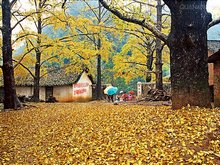 Weather: Though still mild the cooler weather announces the drier, though still damp Guilin winter is coming. It only rains on 9 days in November, and rarely heavily. The average low and high temperature is respectively at 17 °C (62 °F) and 20 °C (68 °F).
Clothing: Prepare clothes like sweaters and a padded coat. But also prepare long-sleeve T-shirts in case it gets warmer during the sunny days.
Things to Do
Li River: the weather in Guilin is dry and a bit cold but wearing a jacket is enough. In November, the surface of Li River resembles a mirror and the water reflection is clearly visible, so it is a good time to take a Li River cruise and enjoy the beautiful scenery.
See autumn colors: you can't miss the red maple leaves in Gudong Scenic Area and the yellow ginkgo leaves in Haiyang Country. Then you will be surprised at how amazing nature is. Gudong scenic area is around 28 kilometers from Guilin, about 1 hour's drive. Haiyang Country is the most popular place to visit for autumn colors. Haiyang Country is around 1 hour's drive from Guilin.
Hot spring in Longsheng: in winter, taking a bath in a hot spring to relax your tired body in Longsheng would be rejuvenating. Longsheng hot spring is renowned the best hot spring in south China.
Low Season: Guilin's low tourism season is beginning. The Li River is low, and so are the numbers of people and hotel prices. The Yangshuo Climbing Festival has been scheduled in November in previous years to take advantage of projected dry and mild conditions.
Guilin Climate Information by Month

China Highlights
Planning a trip? Ask us here 800-2682918 (USA & CA)
86-773-2831999 (Int'l)
Q:
Saw khim
Asked on 2013-01-24
Reply
Booked a trip to Guilin on 21/03/13. Is it ok in terms of weather? Heard few travel to Guilin in March. What clothing to bring? Any photos? Good chance of watching the "impression" show? Concern for rain. Traveling with husband and 3 teenage daughters. Any advise? Thanks
Dear Sir or Madam, It is about 10-17℃(50-62.6℉) during the end of March, it will become warm. Sometimes it will rain, but not heavily. You could wear some thick coats. It is suitable for travel. You could see the show in Yangshuo at night. In Guilin, besides visiting attractions, Yangshuo Chinese Painting or Calligraphy Learning, Tai Chi Experience in Yangshuo, or Yangshuo Chinese Cookery Class are interesting activies. Lussie Lu Replied on 2013-01-25
Q:
terry
Asked on 2012-11-01
Reply
hi there i will be in quilin on the 10th of nov. May I know what is the temperature at that time and the type of clothing we should bring. Thank you.
Dear Sir or Madam, Based on the information from weather forecast, the temperature will be 14-19℃(57.2-66.2℉), it might rain. The weather would become cool, you'd better take some coats or jackets. Please check the new information on this website before leaving for Guilin. Please click: http://www.weather.com.cn/en/weather/101300501.shtml Lussie Lu Replied on 2012-11-01
Q:
Stephen
Asked on 2012-10-10
Reply
We plan to be in Guilin+Hezhou+Lipu+Yangshou+Longsheng+Xing''an+Guangzhou from 21-10-12 to 28-10-12.Can you please tell us what the weather will be like and what clothings to pack for this trip.Thanking You
Hi Stephen, October in the south part of China is comfortable. The average high and low temperature is respectively at 26 °C (79 °F) and 22 °C (71 °F). You can prepare T-shirt, as well as some light coats or long-leeve shirts. You can also check the up to date information via this website: http://www.weather.com.cn/english/ Whitney Liao Replied on 2012-10-10
Q:
rose
Asked on 2012-10-04
Reply
I''m going to guillin on 20 - 24 november. May I know what is the temperature at that time and the type of clothing should bring.....
Dear Rose, Based on the former data, the average temperature is about 10℃(50℉)-18℃(64.4℉). It'll become cold, sometimes it will windy. You could take some sweaters and a cotton padded clothes. Here is an useful website, you'd better check the new information before leaving for Guilin. Please click: http://www.weather.com.cn/en/weather/101300501.shtml Lussie Lu Replied on 2012-10-05
Q:
yah
Asked on 2012-10-03
Reply
I will gone to Guilin on 17/11/2012-25/11/2012,how about weather?want to bring long t-shirt or cold clothes.thanks
Dear Rose, Based on the former data, the average temperature is about 10℃(50℉)-18℃(64.4℉). It'll become cold, sometimes it will windy. You could take some sweaters and a cotton padded clothes. Here is an useful website, you'd better check the new information before leaving for Guilin. Please click: http://www.weather.com.cn/en/weather/101300501.shtml Lussie Lu Replied on 2012-10-05
Guilin Travel Guide