Haikou Transportation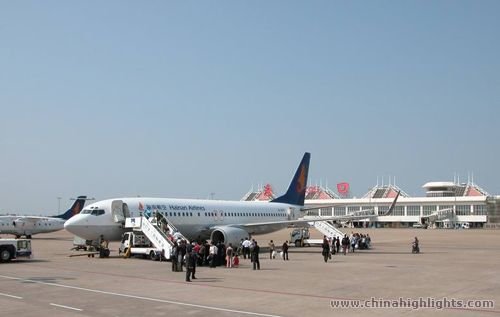 Air
Haikou Meilan Airport is located at the Meilan Town, Meilan District of Haikou. It is 25 kilometers away from the Haikou city. There are more than 60 airlines, which connect Haikou with other cities both at China and abroad. In addition, there are also airlines which connect Haikou with Hong Kong, Macau, Singapore, Thailand, Malaysia, Kyushu in Japan and Cheju in South Korea.
From Airport to Haikou Urban District( It will take 30 minutes.)
Airport Shuttle Bus: The Airport shuttle bus starts from 5:30 a.m. It runs every 30 minutes. The price is 15 yuan per person.
City Bus: There are Bus 21 and Bus 41, which can take passengers to the Meilan Airport directly. The price is 5 yuan per person.
Taxi: Passengers can also take taxies to go to the airport. The price is around 60 yuan.
Railway
The Haikou Railway station is around 20 kilometers away from the center of Haikou city. It is located in the Changliu District. It is near the sea.
There are express trains that connect Haikou with Shanghai, Guangzhou, Chengdu and Beijing. It will take around 11 hours from Haikou to Guangzhou.
Inquiry Phone Number at Haikou station is 0898-31686222.
Express Train Between Haikou and Chengdu
Since July1, 2011, express train (K486/ K488) between Haikou and Chengdu has been available, and the railway links Hainan Province with South China, running pass Chongqing and provinces of Guangxi, Guizhou and Sichuan. The length of time for the whole journey is about 38 hours. Every day, the train departs from Haikou at 18:40 and the other train departs from Chengdu East Railway Station at 18:01.
Road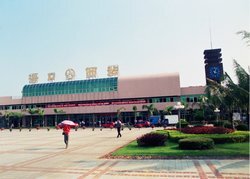 Haikou West Bus Station
The road travel in Hainan is quite convenient. There are National Road 233 in the east, National Road 224 in the middle, National Road 225 in the west. In addition, there is an Island Express Way. At present, there are 4 passenger stations in Haikou. Passengers can take city buses at the East and West Stations. For those who want to take the long-distance buses, passengers can go to the South Station.
Haikou South Station
Buses at South Station major take passengers to Chengmai County and Dingan County.
Location: The South Station is located near the Century Pavilion, Nanhai Avenue.
Inquiry Phone Number: 0898-66803800
Long-distance Bus Station
East Long-distance Bus Station
Passengers can take buses to get to the east cities of Hainan Province
Location: It is located at the No.148 Haifu Road.
Inquiry Phone Number: 0898-65340753
West Long-distance Bus Station
Passengers can take buses to get to Yanzhou, Baicha, Changjiang, Dongfang, Lingao, Yuedong, Tongshi, Tunchang and other counties in Haikou.
Location: It is located at the No.156 Haixiu Road.
Inquiry Phone Number: 0898-68657306

China Highlights
Planning a trip? Ask us here 800-2682918 (USA & CA)
86-773-2831999 (Int'l)
Q:
sarah kirangwa
Asked on 2013-11-25
Reply
how many hours from hongkong to haikou and from haikou to guangzhou
Dear Sarah, It takes 1 hour 20 minutes from Hong Kong to Haikou by plane and 1 hour 5 minutes from Haikou to Guangzhou by plane. Nancy Nancy Deng Replied on 2013-11-26
Q:
Jeffrey
Asked on 2013-07-19
Reply
Hi there, will i be able to book train tickets from your website & pickup at "Meilan Airport Railway Station"..?Is it time consuming & long queue to pick it up..?My flight arrived haikou at 10:45am will i be able to get in time for the 12:00pm D7315 train..?Thank you beforehand for your advise.
Hi Jeffrey, Thank you for your inquiry.Yes, you can book the train ticket on our website directly.Please click here to serch the train tickets and fill in the inquiry form:http://www.chinahighlights.com/china-trains/.For the transfer service, we can also arrange it. It takes about 40 minutes driving from the airport to train station. It will be a little hurry to catch the train departing at 12:00. Alice Cai Replied on 2013-07-22
Q:
Lim Lay Geok
Asked on 2012-07-07
Reply
I am a hotel broker for Airline. i need transport support ( buses ) to ferry passengers from airport to hotel when airline runs into grounded situation.Do you have any transport or bus company to recommend please. Thanks !
Hi Lim Lay Geok. Taking shuttle bus from the airport to the downtown is always the best choice for passengers. This kind of bus drives from Haikou airport to Hotel of civil aviation (民航宾馆) every half an hour, starting at 05:30 and ending at 21:00. The following are the stops along the bus route: Haikou airport (海口机场) – Green garden (绿色佳园) - Jinlin garden (金霖花园) – Changmao garden (昌茂花园) – HNA mansion (海航大厦) – Hotel of civil aviation (民航宾馆). This no-stop bus does not stop until passenger wants off at any stop. Hope it assists you well. By the way, China Highlights can offer tour package in Haikou at a competitive price. If you need our service, please feel free to let me know at kevinzhao@chinahighlights.net. kevin Replied on 2012-07-09
Q:
Chan
Asked on 2011-03-25
Reply
how does the train travel cross the strait from Haikou to Sanya ?
Hi Chan Our travel advisor Kevin Ma(http://www.chinahighlights.com/community/user/35288/) has contacted you. Thanks for your support. Nero Hou Replied on 2011-04-12
Q:
Mana Srimekhanond
Asked on 2011-03-10
Reply
Do they have train from Meilan airport to Haikou and Meilan airport to Sanya and what are their schedules and fares?
Hi Mana There is bus, bullet train from Meilan airport to down town of Haikou. Each cost at CNY10 and CNY14. The bullet train also head to Sanya, and cost at CNY114. Are you planning to visit Sanya? I could help you with your Sanya tour, if you have any query please contact me :william@chinahighlights.net William Travel Advisor William Replied on 2011-03-11
Haikou Travel Guide