Haikou Weather in November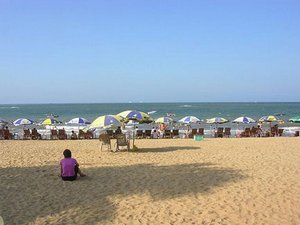 The temperature in November is much lower than in October. The average temperature is 22.3°C (72.1°F), with a minimum temperature of 19.5°C (67.1°F) and a maximum temperature of 25.1°C (77.2°F).
The weather is cooler and typhoons begin to disappear. It is a good time to travel in Haikou; bring a shirt, a light sweater, and a cardigan or overcoat for the early morning or evening coolness. See our Haikou Tours.
Haikou Average Daily Temperatures Based on Historical Data
Date
Average High
Average Low
November 1
79 °F
26.11 °C
69 °F
20.56 °C
November 2
79 °F
26.11 °C
69 °F
20.56 °C
November 3
79 °F
26.11 °C
69 °F
20.56 °C
November 4
79 °F
26.11 °C
69 °F
20.56 °C
November 5
79 °F
26.11 °C
68 °F
20 °C
November 6
78 °F
25.56 °C
68 °F
20 °C
November 7
78 °F
25.56 °C
68 °F
20 °C
November 8
78 °F
25.56 °C
68 °F
20 °C
November 9
78 °F
25.56 °C
68 °F
20 °C
November 10
78 °F
25.56 °C
68 °F
20 °C
November 11
77 °F
25 °C
67 °F
19.44 °C
November 12
77 °F
25 °C
67 °F
19.44 °C
November 13
77 °F
25 °C
67 °F
19.44 °C
November 14
77 °F
25 °C
67 °F
19.44 °C
November 15
77 °F
25 °C
67 °F
19.44 °C
November 16
77 °F
25 °C
66 °F
18.89 °C
November 17
76 °F
24.44 °C
66 °F
18.89 °C
November 18
76 °F
24.44 °C
66 °F
18.89 °C
November 19
76 °F
24.44 °C
66 °F
18.89 °C
November 20
76 °F
24.44 °C
66 °F
18.89 °C
November 21
76 °F
24.44 °C
65 °F
18.33 °C
November 22
75 °F
23.89 °C
65 °F
18.33 °C
November 23
75 °F
23.89 °C
65 °F
18.33 °C
November 24
75 °F
23.89 °C
65 °F
18.33 °C
November 25
75 °F
23.89 °C
65 °F
18.33 °C
November 26
75 °F
23.89 °C
64 °F
17.78 °C
November 27
75 °F
23.89 °C
64 °F
17.78 °C
November 28
74 °F
23.33 °C
64 °F
17.78 °C
November 29
74 °F
23.33 °C
64 °F
17.78 °C
November 30
74 °F
23.33 °C
64 °F
17.78 °C
Haikou Climate Information by Month

China Highlights
Haikou Travel Guide