Hengdian World Studios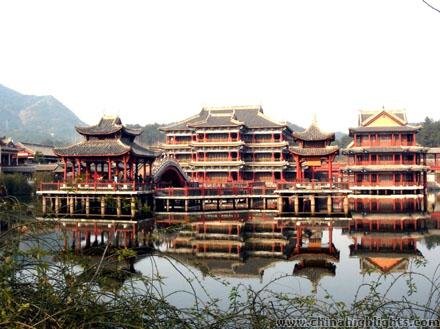 Having gathered the movie and television shooting base with regional characteristics of the south and the north and two super-large modern studios, Hengdian World Studios has now become the largest shooting base across the country, and even in Asia. It has been awarded the title of "China's Hollywood" by an American magazine's Hollywood report. Hengdian World Studios has created and broken a number of records in China. It is the largest Chinese studio to be recorded in the world's record association and has created several world records. Since 1996, more than 500 movies and TV shows have been filmed in Hengdian World Studios.
With an area of 10 square kilometers, Hengdian has more than ten star-rated hotels with over 8,000 beds. No matter whether they are high-grade hotels or ordinary hotels, with an amusement park, nightclub, sauna center, performing arts center, health club, or bowling center, they all have a full set of facilities.
Tourists can experience the movies and television and enjoy the fun, and in Hengdian the nightlife is colorful. Markets and streets are very prosperous. Bookstores, Internet bars and teahouses can be found everywhere. Snacks and food with different flavors, such as southern and northern ones, can be found in the restaurants and in the street. People can choose any kind they like.
Hengdian World Studios has become China's large-scale film and tourism leisure resort with a unique charm.
Transportation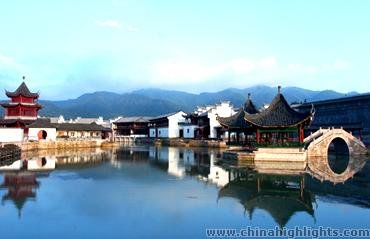 Hengdian World Studios
Hengdian World Studios is located in the Hengdian area of Dongyang city, 160 kilometers away from Hangzhou. It takes less than four hours' travelling time to get there from Jiangsu, Zhejiang, Shanghai, Fujian and Jiangxi. Transportation to it is available by air, trains and express roads.
Air
Fly to Hangzhou Xiaoshan International Airport, transfer to an airport shuttle bus to go to Hengdian World Studios near Hengdian Resort Hotel (横店度假酒店). The bus ticket price is around 65 RMB (10 USD).
Train
Take a train and get off at Yiwu Railway Station. Take No. 805 bus in this railway station to go to Jiangdong Bus Station, then catch the local bus (Jiangdong 江东 to Hengdian 横店) in Jiangdong Bus Station and the bus will arrive in Hengdian after approximately 50 minutes.
Bus
Coach buses are available from Hangzhou South Bus Station to Hengdian World Studios Resort, and from the north square of Shanghai Railway Station to Kangzhuang Road Station, Hengdian World Studios. Buses depart in Hangzhou from 6.50am to 4.50pm at one hour intervals, and in Shanghai from 9.00am to 4.10pm at intervals of 3.5 hours.
Tourist Spot Transportation
Tourism buses run between each tourist spot of Hengdian at intervals of 15 minutes, the ticket price is 1 RMB (16 cents) per person. It is also possible to reach each tourist spot by taking a rickshaw and the ticket price is 2–10 RMB (0.30–1.60 dollars).
Related Pages
Check out China Movie Tours and visit shooting locations of Hollywood blockbusters. Or let us help you arrange a visit. You could tailor-make a China tour including Hengdian World Studios.

China Highlights
Hangzhou Travel Guide