Six Harmonies Pagoda
Located on the north bank of the Qiantang River, Six Harmonies Pagoda was built in 970 to dispel the river's tidal bore, which was thought to be an evil manifestation. It was believed that unwanted natural phenomenon could be subdued by the building of pagodas, according to Buddhist understanding. Fortunately for tourism in Hangzhou the tidal waves don't seem to have been significantly suppressed, and still hold the world record of 9 meters (30 feet).
Liuhe Ta, Six Harmonies Pagoda, was once a seven-storey stone pagoda, but later a 13-story wooden pagoda was built around the outside enclosing the wooden structure. The top level, accessed by a spiral staircase in the stone pagoda, offers a fine view of the surrounding mountains, the Qiantang River and Qiantang River Great Bridge, which is the largest double-decker (road above, rail below) bridge built by China. The ceiling of each level is carved and painted with flowers, birds and animals in an elegant and delicate style.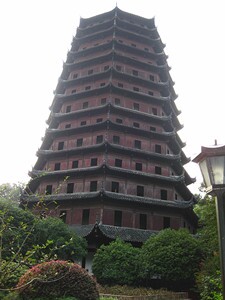 Six Harmonies Pagoda
Six Harmonies Pagoda is named after nearby Six Harmonies Temple, but it could be said there are six harmonies within the structure itself where the 7-story inner pagoda harmonizes with the 13-story outer pagoda.
Recommended Hangzhou Tours
You might like

Free Things to Do in and around Hangzhou

China Highlights
Hangzhou Travel Guide