Hangzhou Maps
Hangzhou maps cover Hangzhou area, the location, and the city center, including attractions and transport. See the West Lake Tourist Map show the attractions around the West Lake.
Hangzhou Tourism Map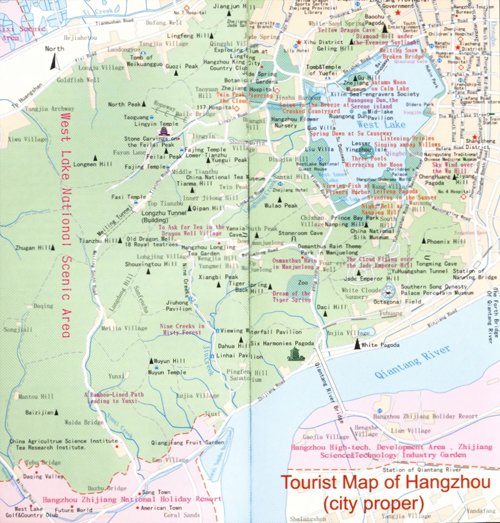 Other City Maps
View Hangzhou details on Google map
2101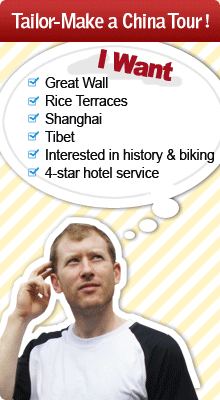 Planning a trip? Ask us here 800-2682918 (USA & CA)
86-773-2831999 (Int'l)
Q:
Dennis
Asked on 2013-04-18
Reply
What is the best way to travel from Heshan to Hangzhou?
Dear Dennis, I am not sure which Heshan you mean, could you please provide more information about it, so that I will check the transportation for you. Thanks. Lussie Lu Replied on 2013-04-19
Q:
Xin Yan
Asked on 2012-12-13
Reply
Hi, my family tour will travel to Hangzhou, Suzhou, Wuxi, Shanghai for 5 days 4 nights (Already have tour agent from Malaysia). I will end tour at Hangzhou. After this tour we will extend Free n Easy at Hangzhou on 30/5/13 to 01/6/13. Within this 2 days i have no idea which place for us to further explorer either Hangzhou or Shanghai. If Shanghai we need transport to go Shanghai and back Hangzhou again because our flight are depart from Hangzhou to Malaysia. Can you have any tour to recommend? We had about 20 person (including children).
Hi Xin, we can tailor-make this tour for you. Start from Hangzhou, sight-seeing in Shanghai, back to Hangzhou and escort you to the airport. Please kindly advice
1. class of hotel: 3/4/5 star
2 How many children & how old
Then we will send you the quotation with detailed itinerary.
Whitney Liao Replied on 2012-12-13
Q:
kevin
Asked on 2012-11-16
Reply
we are goingto shanghai from hangzhou just or a day,,, must we still take another transport to the Bund,,is a day just right? is itdifficult to get return tickets back to hangzhou say 9pm?
Hi Kevin, yes, you need to take another transport to the Bund when you arrived at Hongqiao Railway Station in Shanghai. Usually it is suggested spending 2 days or more in Shanghai to cover the can't missing attractions. But if you don't have enough time, 1 day is also okay. There is only a bullet train leaving for Hangzhou from Shanghai at 21:00 and 21:52. You would better arrange your tickets in advance.
Whitney Liao Replied on 2012-11-18
Q:
Ray Hunt
Asked on 2012-11-01
Reply
I wish to visit Shanghai and Hangzhou but have a very tight time frame l will be in Hong Kong on business and will need to depart HK on Friday to Hangzhou then depart for Shanghai on Sat....therefore need flight times and Hotel recommendations, also flights from Shanghai to Bangkok direct on Sunday 25th Nov
Q:
K.G.SUGATH
Asked on 2012-06-28
Reply
pl tell me how far from HANGZHOU to SHANGHAI
Hello, K.G.SUGATH. The distance between these two cities is nearly 200 KM. It is wise to take train from Hangzhou to Shanghai. By high speed railway, you can use your passport to buy train ticket (about 120RMB per first class seat without service fee) from Hangzhou South Railway Station (杭州火车南站). It takes about 30mins to take train to Shanghai Hongqiao Railway Station(上海虹桥火车站). If you are willing, China Highlights can offer the ticket booking service for you. For your convenience, taking private transfer (costs about 800RMB), you will be picked up at your hotel and be escorted to Shanghai directly. One way transfer takes 1.5-2 hours. You could rest relaxingly during the transfer, without worrying about what is the correct time to get off the train or any uncertainty. By the way, Hangzhou and Shanghai are two popular cities among tourists. There are lots of attractions, such as the Bund, World financial center and the famous West Lake. We can customize a private transfer &tour itinerary for you. If you need our service, please feel free to contact me. Best regards, Kevin. kevin Replied on 2012-06-29
Hangzhou Travel Guide
Hangzhou Facts
Chinese Name: 杭州
Chinese Pinyin: háng zhōu
Location: East of China
Latitude: 36°13' N
Longitude: 120°12' E
Elevation: 41.7M (137 FT)
Time Zone: (UTC+8)
Area Code: 0571
Population: 6.83 million