Huitengxile Grassland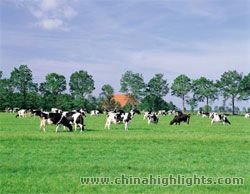 Cold in winter and cool in summer, Huitengxile Grassland has an average highest temperature of 18 centigrade. Lying over 1800 meters above the sea level, it stretches over 100 kilometers from east to west, dotted by 99 lakes. Tourists can enjoy a wide variety of entertainments including horse riding, camel riding, shooting, archery, Mongolian wrestling, or you can choose to climb the Aobao Mountain, visit a herdsmen's house, tasting the ethnical favor of milk food like milk tea, hare's milk wine and so on.
You can set up a tent for an overnight stay to enjoy the fresh air and tranquil night on the vast grassland or choose to stay in a yurt or an inn. A night spent in a herdsman's cave dwelling guarantees an unique experience of county life.
Latest Tips on Huitengxile Grassland
Huitengxile means" cold highland" in Mongolian,so the best season to there is from May to September.
Page Rating:
4.69

/

5
based on
8
ratings.

China Highlights
Planning a trip? Ask us here 800-2682918 (USA & CA)
86-773-2831999 (Int'l)
Q:
chong
Asked on 2012-08-07
Reply
How about end Sept ? Is the grass beautiful ?
Hi Chong, The temperature in September keeps going down and the average highs and lows range from 21 °C (69.8 °F) to 8 °C (46.4 °F) during the day. It is cool during the day but a bit hot in the afternoon. September marks the beginning of autumn in Hohhot. The flowers begin to wilt and the leaves turn yellow. However, the best time to visit Huitangxile Grassland is from May to August. Alice Cai Replied on 2012-08-07
Q:
Gyula
Asked on 2011-10-26
Reply
Is it worth visiting Huitengxile at the end of November for some days? Can I get accomodation that time?
Hi Gyula, Personally, I do not think November is a good time to visit Huitengxile. There is no grass there, and the freezing weather chilled people to the bone, and it is difficult to find hotels there at this period. Hope it helps ;) Robert Hui Replied on 2011-10-27
Hohhot Travel Guide