Hong Kong Wong Tai Sin Temple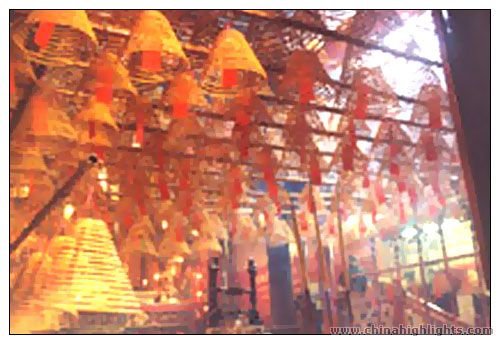 Features
Large and very active Taoist Temple complex with several halls and temples and a garden.
Hundreds of fortune tellers.
Mixes Buddhism, Confucianism and Taoism.
Worshippers worship Wong Tai Sin.
The Taoist organization that manages the temple runs several charities including a clinic.
Convenient travel. It is only about 200 meters from the Wong Tai Sin MTR station.
Overview
The Wong Tai Sin (黃大仙) Temple is a popular Taoist temple dedicated to Chinese religions including Buddhism and Confucianism. The founder of the temple said that the immortal Wong Tai Sin told him to build a temple at the site and also told him where to build structures and what to name them. He began to build the temple complex in 1921. There are several halls, temples and pavilions including the Three Saints Hall, the Bronze Pavilion that excludes women and girls, the Archives Hall, the Yue Hing Shrine that has a Buddha, a Confucian hall for the worship of Confucius, and a colorful garden called the Good Wish Garden. The complex has a library for Chinese religious literature. At times, there are hundreds of fortune tellers practicing at the site. People go there to get a prediction of their future, pray for happiness and worship the gods.
The temple complex is at the base of Mount Kowloon. According to the founder of the temple, the temple site is 3,600 paces from a pier in Kowloon. There are shops nearby where people can buy joss sticks, incense, and other things. The temple organization has a strong influence among some of the Chinese population in Hong Kong.
History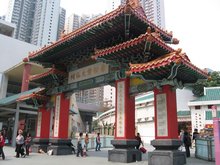 It is said that a poor boy named Wong Cho Ping who lived in Zhejiang Province around the year 330 AD experienced hunger and poverty when he was very small. At the age of 8, he became a shepherd boy. According to his Autobiography that is published by the temple, Wong Cho Ping said that when he was 15, he was visited by a fairy who showed him how to refine the mineral cinnabar to make a drug that made him immortal. He lived in a cave. He transformed white rocks into sheep when his brother came to visit him when he was 55. According to the Autobiography, his brother also reached enlightenment and became an immortal.
When the Qing Dynasty fell in 1912, the Chinese people lost their god because they worshipped the emperors as deities. The Chinese people needed a religion to replace the old one of emperor worship. In 1915, Leung Renyan (梁仁庵) came to Hong Kong and set up a Chinese medicine shop and put a Taoist altar in the back of it where people could worship. In 1918, his shop was destroyed by fire. In 1921, Leung said that Wong Tai Sin told him to build a new shrine at the present site at the foot of Lion Rock Mountain in Kowloon. It is 3,600 paces from the Kowloon pier. It has became a popular temple for Taoists.
Touring Activities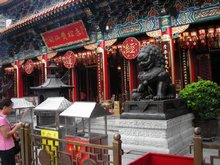 See the temple complex.
Walk around and take pictures.
Travel Essentials
Location: In Kowloon. On Lung Cheung Road.
How to go there:
MTR Train: MTR Wong Tai Sin Station Exit B2. The station is only about 200 meters away from the complex.
Taxi: In Chinese, the temple's name is written like this: 黃大仙祠. You can show the name to the taxi driver.
Best Time to Visit: There is a lot of rain in the summer. Hong Kong is still fairly warm and is drier in October and November.
Fee: There isn't a fee to get in. But there are small fees for several halls and the Good Wish Garden. For the services of the fortune tellers or other people, there might be a fee.
7 a.m. to about 5:30 p.m. The garden is open Tuesdays through Sundays from 9 a.m. to 4 p.m.
Nearby Attractions
The temple is only about a kilometer and a half away from Kowloon Walled City Park. That is where a large crowded complex of flats used to be. There is now a park there where people can learn a little about the history of that interesting place in Hong Kong's history.
There is another older Taoist temple called the Man Mo Temple on 124 Hollywood Road. It is dedicated to Man who is a god of literature and Mo who is a god of war.

China Highlights
Planning a trip? Ask us here 800-2682918 (USA & CA)
86-773-2831999 (Int'l)
Q:
calvin williams
Asked on 2012-11-19
Reply
Hi i''ll be going to Macau for a day trip by ferry from Kowloon. When i get to Macau is there any transportation from the ferry terminal to downtown if so is it free or is the terminal very close to the city? Thank you.
Hi Calvin, some hotels have free shuttle bus to and from the ferry terminal, but there is no free public transport. You can take a taxi to the downtown.
Whitney Liao Replied on 2012-11-20
Q:
grace
Asked on 2012-11-11
Reply
Hi, may I please ask if how do we get to wong tai sin temple and from wong tai sin to disneyland. we are staying at cosmic guesthouse.thanks
Hi Grace, you can walk to Tsim Sha Tsui Station which is about 130m from your hotel, take Metro Tsuen Wan Line, get off at Lai Chi Kok Station(Exit B1). Then walk to the temple which is about 900m away.
From your hotel to Disneyland, you can also take metro. You can take MRT Tsuen Wan Line to Lai King Station, transfer Tung Chung Line to Sunny Bay Station. At last, transfer Disneyland Resort Line to your destination.
Below is the map of HK metro for your reference: http://images.chinahighlights.com/city/hong-kong/hong-kong-subway-map.jpg
Whitney Liao Replied on 2012-11-11

Thanks for a very detailed instruction. May I ask again on how to get to Ngong Ping from our Hotel, Cosmic? and how long will it take us to get there? guest Replied on 2012-11-17
Hi Grace, you can take a taxi to get there. It is about 1.5hrs drive. Here is also a map of Hongkong subway for your reference: http://images.chinahighlights.com/city/hong-kong/hong-kong-subway-map.jpg Whitney Liao Replied on 2012-11-18
Q:
edna baltazar
Asked on 2011-11-29
Reply
Coming from Hop-Inn Hotel carnavon, how can we go to easily reach the temple? We'll go in the afternoon, what time is the last trip if ever we take the MTR? How much is the fare?
Hi Edna, you can take a subway from your hotel to the temple. Your hotel is quite near from the Tsim Sha Tsui Station, you can take the subway to Wong Tai Sin Station. It takes about 25 mins and cost about 8RMB Michael Hu Replied on 2011-12-01
Q:
shuchi
Asked on 2010-11-01
Reply
hello,i am coming from Mira hotel Tsim Sha Sui to Wong Tai Sin Temple which is the best and cheapest way to reach to the temple
Hi Shuchi, You can take MTR to get to the Temple easily. It is a 5 minutes walk from your hotel to the MTR, take the line to Tsuan Wan and stop at Mongkok, walk to the opposite side and take the line to Tiu Kang Lang, stop at Wong Tai Sin and take the exits B3 or A then you will see the Temple. The fare is about HKD7.5 per person and it takes about 20-25 minutes for the MTR ride. Have fun in HK! Candy Wei Replied on 2010-11-02
Hong Kong Travel Guide
Hong Kong Top Attractions