Hong Kong Nightlife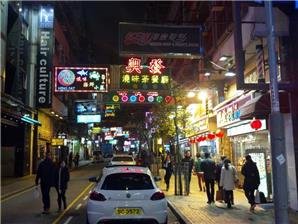 The nightlife in Hong Kong.
In Hong Kong, the vibrant nightlife will certainly tempt you to join in. There are the following things to do: take a luxury night cruise over Victoria Harbor; visit pubs, bars, nightclubs; or stroll in the bubbling streets with the locals, etc. Don't just sit back and watch.
There are three districts in Hong Kong that are famous for their entertainment spots. The first is Central where most expatriates and trendy locals go to after work, especially in the areas of Lan Kwai Fong. The second is Wan Chai, which includes nearby Causeway Bay with its many bars and discos that open till dawn. The third is Tsim Tsa Tsui in Kowloon where there is a distinct difference between bars exclusively for locals and those that appeal more to tourists.
Hong Kong's film, nightclub, bars and pubs, music and drama and all other events have merged into the sumptuous banquet of Hong Kong's nightlife. Jump into the rush and experience the dynamic charm of this Oriental Pearl.
Whether the intention of your trip is business or pleasure, Hong Kong has a full range of pubs and bars for you to totally relax yourself at night. The following is guidance for what to do and where to go at night in Hong Kong.
Night Tour
At night, Hong Kong is fascinating everywhere, the streets, the building, the lights, the sea are all attracting people from all over the world. Therefore, it would absolutely a great experience for taking a night cruise around the city of Hong Kong. China Highlights provides several well-designed Hong Kong night tours for our customers to enjoy the charm of Hong Kong and its gorgeous night scenes.
Pubs and Bars
Most bars and pubs are mass in east Tsim Sha Tsui, Lan Kwai Fong and Wan Chai. Among them, Lan Kwai Fong has become the icon of Hong Kong nightlife. The trendiest nightlife area of Hong Kong includes a bustling array of restaurants, eateries, pubs and bars, etc. Beer, alcohol and wine from a myriad of countries could be enjoyed here accompanied by chess, dart and music band. Locals come here for relaxing and socializing while tourists sample the unique and delightful Hong Kong's nightlife. These pubs and bars come in two flavors: western and Chinese. Western nightclub or cabarets cater to foreigners and tourists. Chinese nightclubs are adapted versions for the Chinese. The entertainment and dining package is suitable for both business and family occasions. Performance includes singing, acrobat, folk dances and Cantonese Opera.
Cyber 8 Discotheque Pub
Address: New Miramar Hotel Bldg, Tsim Sha Tsui
Club ING
Address: Shopping Arc HK Convention & Exhibition Centre, Wan Chai
Kara OK
Kara OK bars have mushroomed. Besides dining and drinks, entertainers are there to make guests feel at ease.
California Red - Red Box
Address: 8/F, Windsor Square, 311, Gloucester Road, Causeway Bay
Cinemas
Hong Kong is the world's third largest film producer. More than 100 cinemas screen the latest films from the world. Watching films in cinemas like JP Causeway Bay is an ideal choice for relaxation after dining and shopping.
UA Times Square
Address: G/F, Times Square, 1 Matheson Street, Causeway Bay
Chinachem
Address: 77, Mody Road, East Tsim Sha Tsui
Questions and Answers About Hong Kong Nightlife
Visheshh
2012-12-11
Show Answer
Hi, I''m visheshh from Mumbai.. Hkg for 4 nights, want to stay in a hotel centrally located in the main area where the nightlife is... 4 ppl, planning may, so looking to book early to get good rates at decent hotels.. Thanks
Hi Visheshh, what kind of hotel would you like, please? Below are 3 hotels recommended:
3 star:Metropark Hotel Mongkok - Hong Kong
Address: 22 Lai Chi

Kok

Road,

Mongkok

,

Kowloon

, Hong Kong, China
Tel: (Book this hotel, call 800-2682918)
Hotel Concourse is conveniently located in Mongkok, the city center of Hong Kong, 40 kms from Hong KongInternational Airport.
4 star: YMCA of Hong Kong
Location:

TsimSha

Tsui

Address: 41 Salisbury Road,

Tsimshatsui

,

Kowloon

Tel: 00852-22687000 (Book this hotel, call 800-2682918)
The YMCA of Hong Kong is situated at the tip of Kowloon Peninsula and the business center of Tsimshatsui, with magnificent views of Victoria Houbour and Hong Kong Island.
5 star: Harbour Plaza Hong Kong
Address: 20

Tak

Fung

Street, Hung

Hom

,

Kowloon

, Hong Kong
Tel: 852-26213188 (Book this hotel, call 800-2682918)
Situated along the Whampoa waterfront, the HarbourPlaza offers spectacular views over Victoria Harbour towards Hong Kong Island and the South China Sea.
More hotels in Hong Kong, please check here:http://www.chinahighlights.com/hotel/hong-kong-hotels/
Whitney Liao replied on 2012-12-12
Ann
2012-12-05
Show Answer
HiI am planning a trip to hkg arriving on 24 th dec and depart on 31st dec. I will be arriving from singapore with my 3 kids aged 18, 15 and 12. Since this will be our first time to hongkong I want to avoid the inconvenience of independent travel yet prefer free and easy.We are on tight budget about S$500 pax. We want budget hotel with transfers and to visit Disneyland and stay one night there. Also other attractions like ocean park etc. if budget permits we want to see Macau too.Also what to pack or the dec weather? Thanks.
Hong Kong hotels are very expensive during the Christmas holiday season, an average 3 star hotel will cost you more than 200USD per night, since you are on tight budget, I suggest that you should go after middle of Janurary , the hotel will be much cheaper then. Since English is widely used there , so you can go around on your own. we can arrange tour for you, but the price is high considering your budget.
Leon Long replied on 2012-12-07
Dilip
2012-11-20
Show Answer
Pax-3Duration-7 daysCity--Chongqing---Macabre--Shenzhenall the place of must seeHotel-3 */4*Budget- Rs.35000 per person
Hi Dilip, thanks for your information. When are you going to take the tour, please?
Whitney Liao replied on 2012-11-20
rajeev
2012-11-19
Show Answer
we r 2 person planning for 3 day tour of hongkong.plz suggest a bagpacker budget hostel.
Hi Rajeev. We would like to recommend two budget hostels to you. One is Well Yet Hotel伟溢商务宾馆, which is located at F3, 14/F, Mirador Mansion, 62 Nathan Road, Tsim Sha Tsui, kowloon peninsula. It offers budget accommodation for tourists and has many different types of rooms to suit every tourist's need. TEL: 852-27391136 Email: wellyethotel@gmail.com . Another is Rooms for Tourist逸园旅舍, located at 6/F, 36 and 42 Mody Road, Tsim Sha Tsui, Kowloon, Hong Kong, which is near to the Hong Kong Polytechnic University. The motel is specialized in tourist room rental only. TEL: 852-2366 0579/852-2721 8309, Email: room4touristhk@yahoo.com.hk Annie Wu replied on 2012-11-20
Neha Bhardwaj
2012-11-14
Show Answer
hi, i am planning to come to hongkong in december . could you please suggest some budgeted hotels which cost around INR 20,000 for four nights for two persons.
Hi Neha Bhardwaj. According to your budget, I think Chungking Mansion will be your best choice. Here are many cheap hotels housed in Chungking Mansion in Nathan Road 36 -44, Tsim Sha Tsui, Kowloon, Hong Kong. But the service of those hotels may be below your expectation. Annie Wu replied on 2012-11-15
April Offer $25 Coupon
Send your inquiry before Apr. 30, 2014, and we will email you a $25 coupon.
The coupon is valid till Dec. 31, 2014, for paying tour packages worth $250 or up.
The coupon cannot be used for paying flight tickets, train tickets, hotel rooms and day trips.
Travel Advice or Question? Ask us here

China Highlights
Hong Kong Travel Guide