Hong Kong in One Day for Budget Travelers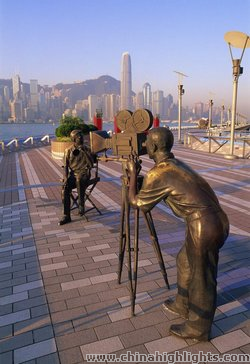 Avenue of Stars in Hong Kong
Here is a route to see some of Hong Kong's best attractions around Victoria Harbor at minimal cost and do some bargain shopping. You can spend as little as 10 USD. Shop, hike, sight see or relax at the places highlighted below.
Attractions
Morning — Star Ferry and Victoria Harbour
Whether you are coming from the border (70 minutes) or the airport (1/2 hour), you can go to Tsim Sha Tsui (TST) via the MTR.
Walk to the ferry from any TST exit (about 15 minutes). You'll see little tourist shops and restaurants on your way. Shopping in the tourist shops isn't recommended.
Breakfast
Try a cheap Hong Kong of bowl of noodles at the Cafe de Corals in Chungking Mansions on the way to the pier. It is probably the best and cleanest choice. Rice or noodles and a drink cost about 20 HKD (2.50 USD), and it is air-conditioned. Go up the escalator in the entrance to the left of the main entrance.
In Hong Kong McDonalds offers the best food at the lowest prices (26 HKD per meal). You'll see a McDonalds at the ferry pier. You could get a takeaway for lunch.
The Tourist Information Office
At Star Ferry pier Tourist Information Office stock up on English maps, attraction guides and coupons, just to the right of the Central Ferry entrance. They speak English, and you can ask a lot of tourist information questions for free.
Window Shop and Relax
At Harbour City Mall free coffee and drinks (all you can drink) are available at the Customer Care Center in the second floor wing parallel to the docks on the left.
Ferry Ride
Take the ferry to Central for about 3 HKD (7 minutes). The boat ride itself has been listed as one of Hong Kong's best attractions.
The harbor is surrounded by some of the world's tallest buildings. Check out the IFC Tower in Central, the Bank of China Tower in Admiralty, and the ICC Tower in West Kowloon.
Hong Kong Victoria Peak
Afternoon — Central and Victoria Peak
The IFC Mall
Take the pedestrian overpasses into the IFC Mall. It is free to enter and walk through it. You can window shop in one of Hong Kong's poshest malls.
A) Victoria Peak by Bus
Go to Exchange Square Station just next to the IFC Tower on the mountain facing side, and take bus 15 to the top (45 minutes, 10 HKD, 1.30 UD).
B) Victoria Peak by Tram
Most tourists prefer taking the tram (15 minutes, 40 HKD, 5 USD). Get off bus 15 at the Peak Tram (山頂纜車).
C) Walking up Victoria Peak
The Old Peak Road starts at Mid-Levels near the end of the Mid-Level Escalator. From the IFC Tower, follow the pedestrian walkway out of the second floor of the building and pass the Heng Seng bank. Go through the old market building until you reach the escalator.
Victoria Peak
Victoria Peak is a wonderful place to relax in the evening. The peak is usually breezy, and you can see the beautiful surrounding seas in the evening light.

Our Victoria Peak guide explains more about transportation and facilities. See also Hong Kong Island Hiking.
Evening — Tsim Sha Tsui
Get to the Star Ferry at TST by 8 pm to see the Avenue of Stars
A) Bus and Ferry to TST
Take bus 15 back to Exchange Square and take a Star Ferry back to TST.
B) Bus and MTR to TST
Take bus 15 to the IFC Tower and use the MTR station in the basement to travel to TST (11 minutes; about 9 HKD).
Temple Street
From the Tsim Sha Tsui pier, you can walk to Kowloon Park in 15 minutes. Temple Street is on the other side of the park in Jordan (35 minutes from the pier).
Temple Street is known for its outdoor eateries and pedestrian shopping stalls. A street restaurant is probably the best place for a decent cheaper Chinese dinner.
Related Reading

China Highlights
Planning a trip? Ask us here 800-2682918 (USA & CA)
86-773-2831999 (Int'l)
Q:
Zarfrizal nazar
Asked on 2013-10-14
Reply
hi ,i will come to Hongkong in January 17 where is the can i find the budget hotel.It''s the wheather ok at that time .we are from Indonesia.
Will you consider some Youth hostels? You may check the rate through following web site.
http://www.yhachina.com/index.php?hostID=2
January is the coldest month in Hong Kong, but it is usually dry and mild. It sometimes gets cloudy, with some rain, which is rarely heavy. The average low and high temperatures are 14 °C (57 °F) and 19 °C (66 °F). Light winter clothing should be sufficient for the days, but something heavier might be needed for the evenings.
Carol Wang Replied on 2013-10-15
Q:
mae angelie o. razo
Asked on 2013-04-28
Reply
hi,im planning to go in hongkong this coming august,and its our first time,what is the weather?and can u advice what clothes to wear during that time?thank u..august 18-21 is our schedule. were from philippines
Hi Mae, it is hot in HK, almost as hot as in Philipines. Summer clothes like T-shirts, skirts, shorts will do.
Whitney Liao Replied on 2013-04-29
Q:
Anne
Asked on 2013-01-14
Reply
Could you please tell me the average temperature in Hong Kong the last week of February ?
Hi Anne, the average temperature in Hong Kong the last week of February is from 8.33 °C (47 °F) to 25.56 °C(78 °F).
Whitney Liao Replied on 2013-01-14
Q:
moon
Asked on 2013-01-03
Reply
Hi, I am going to Hong Kong end of Jan 2013, how is the temperature there? after 6/7pm,is there any place to visit?
HI moon,
The tempearture in end of Jan is about 10 to 15 degree, so sweater and jacket are needed.
There are many places you can visit at evening, the famous Victoria Harbour or if you want to go to clubs, Lan Kwai Fong is suggested. There are many small bars.
Sammi
Sammi Dai Replied on 2013-01-03
Q:
PTan
Asked on 2012-12-04
Reply
Hi we will be in Hong Kong next week and would like to try taking the MTR from Airport either to Jordan or Austin MTR station. Can u advise how to get there.Can we also get Disneyland entrance tickets from your office i we come buy and book a day tour to Macau. Please let me know the prices for Disneyland tickest and one day tour for Macau.
From airport , you can take Airport Express and change to Tsuen Wan line at Lai king station and get off at Jordan station(there is not Austin station), you can easily walk to Austin street from Jordan station.
We
Leon Long Replied on 2012-12-05
The entrance ticket for Disneyland is HK$399 per person,we don't sell tickets, you can buy it on your own.
For day tour to Macau, we can arrange it for you, it is US$302 per person including ferry boat tickets to and from Macau(based on two people group) .
Leon Long Replied on 2012-12-05
Hong Kong Travel Guide