Hong Kong in One Day for Mid-Price Travelers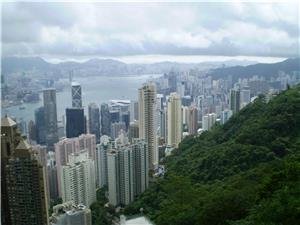 Victoria Peak
If you want to tour Hong Kong in a day, shop, enjoy some fine meals, and see fine highlights, here is a suggested tour of attractions around Victoria Harbour -- and you won't have to spend a lot of time travelling around. Victoria Harbour and Victoria Peak are quintessential Hong Kong highlights.
Also read How to Plan a Three-Day Tour of Hong Kong.
Attractions
Morning
ICC Tower
First, head over to the ICC Tower via the MTR to Kowloon Station. From the Sky 100 deck, see the whole city, the harbor and Victoria Peak from 100 stories (150 HKD or 20 USD). Enjoy the view and shop at the Elements Mall.
Breakfast
Have breakfast in a fine ICC restaurant, or take a taxi for a good all-you-can-eat Chinese and Western buffet at the YMCA (140 HKD).
Star Ferry Terminal
Walk 10 minutes to the Star Ferry. Stock up on free English maps, attraction guides, and coupons from the Tourist Information Office, just to the right of the entrance of the Central ferry. Get a Garden Road Walking Map. Tourist questions are answered for free in English!
Take the ferry to Central, and see some of the world's tallest buildings (15 minutes, 3 HKD). You'll see the IFC Tower in Central, the Bank of China Tower in Admiralty, and the ICC Tower in West Kowloon.
Afternoon
IFC Mall
From the pier, take the pedestrian overpass into the IFC Mall. Shop around in the IFC Mall in the IFC Tower -- the first building you come from the ferry pier. It is right above Hong Kong Station and quite near Central Station.
Lunch
There are many fine restaurants in the mall to choose from. Some may have long lines during lunch hours. Try dim sum at the Tim Ho Wan on the podium level of Hong Kong MTR station in the IFC complex (40 HKD or 5 USD).
Victoria Peak
There is a great walk up through a park, or the Peak Tram for sightseeing. See our Victoria Peak guide about transportation, the parks and facilities, and the island walking paths on the mountain. The breeze, walking paths, and views are invigorating in good weather.
Transport: The quickest way to the top is by taxi for about 50 HKD. Show them 太平山, or say "teye ping shan". Or take a taxi to the Peak Tram (山頂纜車, 15 minutes, 40 HKD or 5 USD). Most tourists prefer the tram for the view.
HK's Best Parks
Zoological and Botanical Gardens and Hong Kong Park are near each other. Take the tram back down and enter the nearby park. See the old colonial buildings and the Museum of Tea Ware with ancient ceramics.
Kids Option: See the primate zoo and gardens. Walk out the east gate of the park, up Cotton Tree Drive, and up Garden Road for a few minutes. You'll pass the tram and St. Joseph's Church.
Pacific Place and Dinner
There are many interesting sights close by. See your Garden Road Walking Map. Walk from Hong Kong Park west to Pacific Place across the street. Shop and enjoy a buffet meal in a hotel restaurant.
Transport: To get get Pacific Place by taxi, the address is 88 Queensway. It is near the Admiralty MTR station.
Evening
Avenue of Stars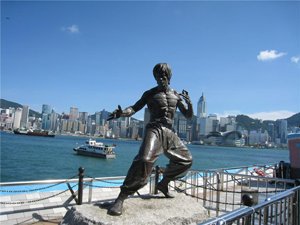 the Avenue of Stars
One of Hong Kong's evening highlights is the 8 pm light show at the Avenue of Stars in Tsim Sha Tsui next to the Star Ferry pier. Get there by 7:40.
Transport: You can take a taxi back to the Central ferry and cross by ferry, or use the Admiralty MTR station (15 minutes, 8 HKD / 1 USD) to go to the Tsim Sha Tsui station. The Star Ferry is a 12-minute walk from the station.
TST and the Temple Street Night Market
Walk via Kowloon Park to see the adjacent Kowloon Masjid in 15 or 20 minutes, or take the TST MTR 1 stop north to Jordan Station.
There are many small restaurants and tourist shops. Temple Street Night Market is known for bargain shopping and outdoor restaurants.
Related Reading
Questions and Answers About Hong Kong in One Day for Mid-Price Travelers
Becky Ting
2013-12-16
Show Answer
Hi, We''re planning to celebrate christmas in Hong Kong and we''ll be staying until the 30th would light jackets suffice? How''s the weather then? Also, We were thinking of visiting macau for a day…how do we go about it? we''re a family of 5.
The temperature is beween 13 to 20 degrees, it is a little bit chily, I suggest that you bring some warm coats with you. you can take ferry boat from Hong Kong to Macau. It has very convenient public traffics both in Hong Kong and Macau.
Please feel free to let us know if you need any tour service there.
Lily Guo replied on 2013-12-17
nausheen
2012-12-03
Show Answer
Hi, Im planing a trip down thr, 4nights hongkong & 2nights macau. Would like to knw if i need to buy ferry tickets to macau online before i arrive thr or is it conviniently available on the ferry terminal?? I hold an Indian passport n believe tht we get visa on arrival in hongkong, will i need a separate visa for schenzen ?? If yes, will i get it on arrival or will i hv to arrange it through chinese embassy?? thks looking frwd to hear frm u
Dear Sir or Madam, There are several ships between Hong Kong and Macau, I suggest you book it in advance in order to ensure you could get the ticket you need. You could book the tickets on this website: http://www.turbojet.com.hk/en/ You should apply for a China visa separately through Chinese Embassy in advance for visiting Shenzhen. There is an agent in Hong Kong which could apply for China visa, but it spend 3-5 days, it will waste your time. Lussie Lu replied on 2012-12-04
sabby ijaz
2012-12-02
Show Answer
Im visiting HK and China on 12th december 2012 umtil 1/01/13 I would like for someone to show me around the city as im travelling alone please help....I can provide contact details if anyone interested?
Hi Sabby, we can arrange a tour guide for you in every city. Please kindly advice the other cities you would like to visit besides Hong Kong, as China is so vast a country.
Whitney Liao replied on 2012-12-03
May
2012-11-04
Show Answer
HelloWhat kind of clothes do they sell during Nov/Dec period. Are the shops selling mainly winter clothes? I come from the tropics and we are looking for summer clothes. Will it be a good time to shop for clothes in HK?thanks! May
Hi May, they mainly sell autumn and winter clothes there at that period of time. But you may still find summer clothes as Hongkong is subtropical monsoon climate.
Whitney Liao replied on 2012-11-05
aini
2012-09-08
Show Answer
hi,im planning a trip for 4 adults to hong kong in nov. what is the weather like n which hotel do u recommend? we need muslim food and shopping and mtr within walking distance. thank you
Dear Aini, November is the best time to visit Hong Kong. Days are usually pleasantly clear and sunny. It is usually comfortable for outdoor activities or country walks. There are few (4–8) rainy days a month. Summer clothes will still do, but it is advisable to bring jackets and warmer clothes for the end of the November. For hotel with central location and value for money, you may consider following hotels. Harbourview-Hong Kong: http://www.chinahighlights.com/hotel/hong-kong-hotels/the-harbourview.htm MCA of Hong Kong: http://www.chinahighlights.com/hotel/hong-kong-hotels/ymca-of-hong-kong.htm Metropark Hotel Kowloon Hong Kong: http://www.chinahighlights.com/hotel/hong-kong-hotels/metropark-hotel-kowloon-hong-kong.htm These hotels are located in city center and you will easy find Muslim food and shopping around your hotel within walking distance. Nancy Nancy Deng replied on 2012-09-10
April Offer $25 Coupon
Send your inquiry before Apr. 30, 2014, and we will email you a $25 coupon.
The coupon is valid till Dec. 31, 2014, for paying tour packages worth $250 or up.
The coupon cannot be used for paying flight tickets, train tickets, hotel rooms and day trips.
Travel Advice or Question? Ask us here

China Highlights
Hong Kong Travel Guide