Beijing Hotels
Search 6000 hotels, or view our handpicked Beijing hotels for couples, business, families, value, or for traditional style. Our 'Beijing Visual Accomodation Guide' helps you quickly see which part of the city is best for you.
Rated
4.78
/5 based on
4441
customer reviews

No.6 Courtyard of Wangjing Butong East Avenue
The Holiday Inn Beijing Focus Square is situated in the core of commercial, catering and entertainment area. The Dazhong International ...

Jianguomen Wai Dajie, Beijing, China
Beijing New Otani Chang Fu Gong is a large-scale business-style hotel, which is located in the embassy and commercial district just ...
Near: Beijing Railway Station, The Embassy District , Xiushui Street
No.2 Xiaotianzhu Road, Tianzhu Town, Shunyi District, Beijing
The Stay One Boutique Hotel is an art and theme hotel located in the Tianzhu Town of Beijing, adjacent to the Capital Airport and ...
Near: Beijing Capital Airport

24, the Eastern Avenue, Xuanwumen, Beijing
The Beijing Xuanwumen Business Hotel is located in Xuanwumen East Street, Xuanwu District, closed to Xidan and Sogo. It is 3km away ...
Near: Xidan Shopping Street
No.28, Xiaguandi Village, Yanqi Town, Huairou District, Beijing
The Shambhala at the Great Wall is unique hotel nestled beside the Great Wall, in a private valley surrounded by mountains, with rivers ...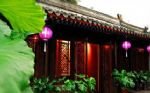 No.9 Zhengjue Lane, Xicheng District, Beijing
The Graceland Yard is a boutique courtyard thematic hotel with the theme of zen Buddhism. It was once the Zhengjue Temple which has ...
Near: Xidan Shopping Street
Note: Prices vary with date(s) of stay. Continue and enter your date(s) for the true price.