China Tibetan Hotels
Lhasa and Shangri-la Tibetan Style Hotels
Authentic Tibetan style hotels, especially luxury ones are mainly concentrated in Lhasa, the capital city of Tibet Province and Shangri-la in Yunnan province. Moderate Tibetan style hotels are also very easy to find in these two must-see destinations for tourists who would like to feel the true beauty and sacred power of Tibetan culture.
Tibetan Hotels in Lhasa
16 Taibeng Gang Wendui Xingka Sangdong Yuan, Lhasa
Location: Barkhor Street, Jokhang Temple
Hotel Name in Chinese: 香巴拉宫(原卓玛拉宫家庭旅馆)
The Shambhala Palace Lhasa is atmospheric and centrally located. It was the former residence of a high-ranking Tibetan lama. It tucked into a secluded private lane within the narrow maze in Lhasa City Center. The hotel is well-renovated by a team of Tibetan artisans. It is oozing with character and has a lovely rooftop restaurant/bar with fantastic views of the Potala Palace and the mountains. The staff are friendly and helpful, and rooms are cozy and romantic.
The Shambhala Palace Lhasa is composed of 17 spacious rooms – four of which offer full views of the Potala Palace – each room offers luxury comfort amidst the splendor of ancient Tibet.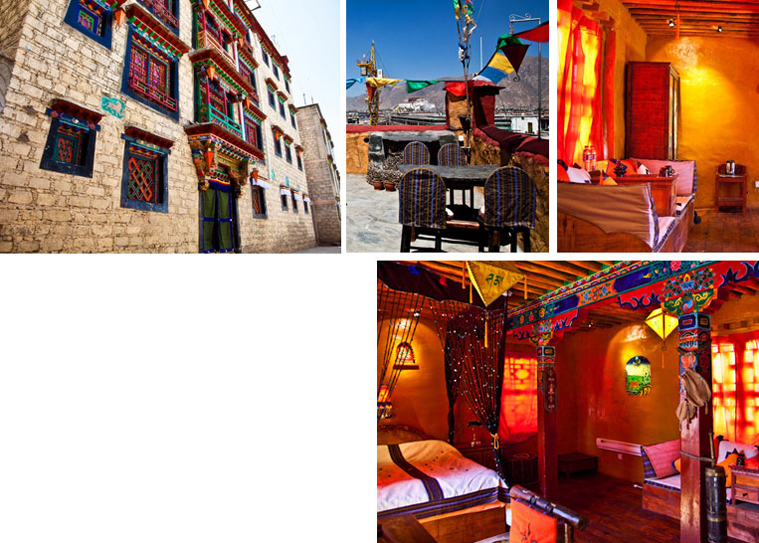 7 Jirier Lane Lhasa, Tibet
Location: Barkhor Street, East Beijing Road, Jokhang Palace
Hotel Name in Chinese: 拉萨香巴拉府
House of Shambhala is located at the center of ancient Lhasa City, adjacent to Barkhor Street, Jokhang Palace and East Beijing Road. It is a finely renovated traditional Tibetan style villa, with a private courtyard, excellent small dining room and a spacious rooftop terrace with views across the city to the Potala Palace and surrounding mountains.
The 4-story building offers ten guest rooms. It is a former residence of a Tibetan Lama. It is well-preserved, and decorated with traditional Tibetan images, furnishings and artifacts. The rooftop terrace offers a wonderful place to relax, read, drink and just enjoy the sights, sounds and sunshine. A shop where you can buy daily goods and make an international phone call is nearby.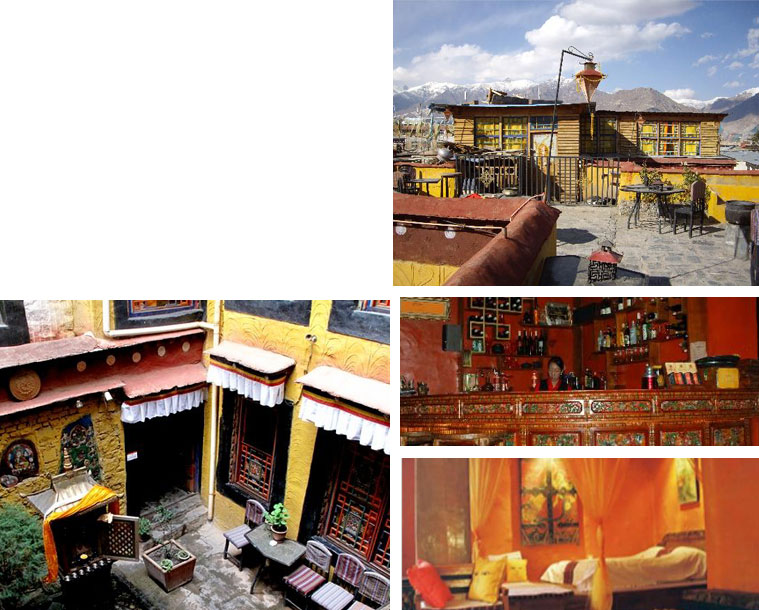 38 Lugu First Lane, Chengguan District, Lhasa
Location: Potala Palace, Jokhang Temple
Hotel Name in Chinese: 拉萨林仓精品酒店
The Lingtsang Boutique Hotel, with a history of over 300 years, is said to be the former residence of a living Buddha. It is well-preserved and renovated with Tibetan decoration style and modern amenities. It is within walking distance to the Jokhang Temple Square, the vibrant center area of Lhasa City, and 1.5 km from the Potala Palace.
It provides 9 rooms. All the rooms are equipped with electric kettle, tea/coffee pot, complimentary bathroom amenities, mini bar, mini refrigerator, bathrobe, multi-type electrical outlet, broadband internet access and bathtub.

1 Danjielin Road, Lhasa, China
Location: Barkhor Street, Potala Palace
Hotel Name in Chinese: 拉萨香巴拉宾馆
Shangbala Hotel is of good value for its perfect location (just around the corner from the Jokhang Temple and the outdoor market and only 20 minutes walk to the Potala Palace), authentic Tibetan style rooms and reasonable price. Shopping for gifts is a matter of stepping out the door of the hotel and joining Barkhor Street and the throng.
The ShangBaLa Hotel has 70 comfortable and well-furnished guestrooms, all of which are equipped with modern amenities. The hotel is 10km away from the Railway Station and 70km away from the Lhasa Airport.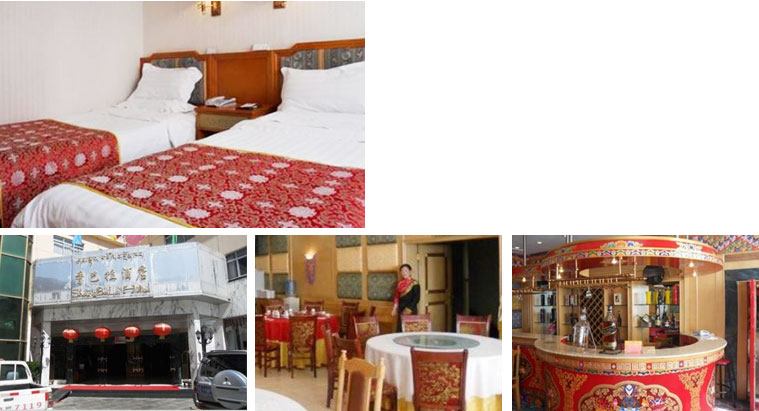 Tibetan Hotels in Shangri La
Songtsam Retreat At Shangri la
Songzanlin Temple, Shangri-La County, Diqing Tibetan Autonomous Prefecture, Yunnan
Location: Songzanlin Temple
Hotel Name in Chinese: 松赞林卡美憬阁酒店
Mgallery Songtsam Retreat at Shangri-la is perfect located adjacent to Songzanlin Temple. The surrounding is tranquil and beautiful. You can have great hikes around.
The hotel is constructed with traditional Tibetan dry stone wall techniques, the rooms and common areas are all filled with beautiful Tibetan antiques, from barley bowls to carpets and mandalas. The hotel provides 75 rooms including standard room, superior room, suite and villa. Rooms are quite well appointed, designed in the local style with great terraces offering amazing scenery. Each room comes with its own wood fireplace to help keep you warm during chilly evenings.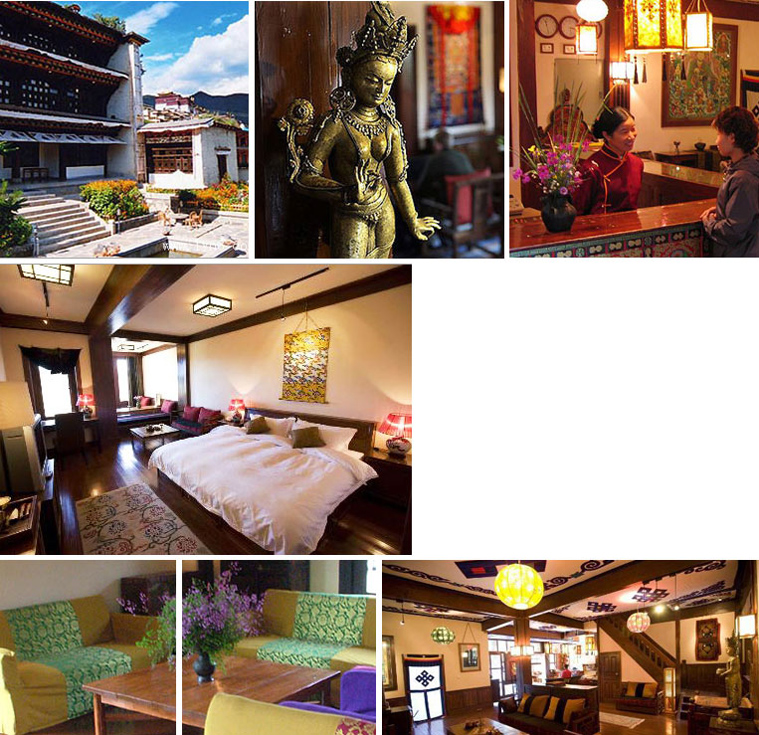 Hong Po Village
Location: Hong Po Village, Jian Tang Town, Shangri-La County, Diqing Tibetan Autonomous Prefecture
Hotel Name in Chinese: 香格里拉仁安悦榕庄
Banyan Tree Ringha is located far from the town of Shangri-la, about half an hour from Shangri La by car. It is 15km away from the city center and 30km away from the Shangri-la Airport. But if you would like to experience peaceful harmony of local countryside, it is worth it.
The Banyan Tree Ringha offers 32 rooms. The rooms are all suites and are with re-built Tibetan farmhouses. The style is purely Tibetan in every detail. The meals are impressive, combining Tibetan, Chinese and international needs, with helpful staff in restaurant and more generally in the whole hotel.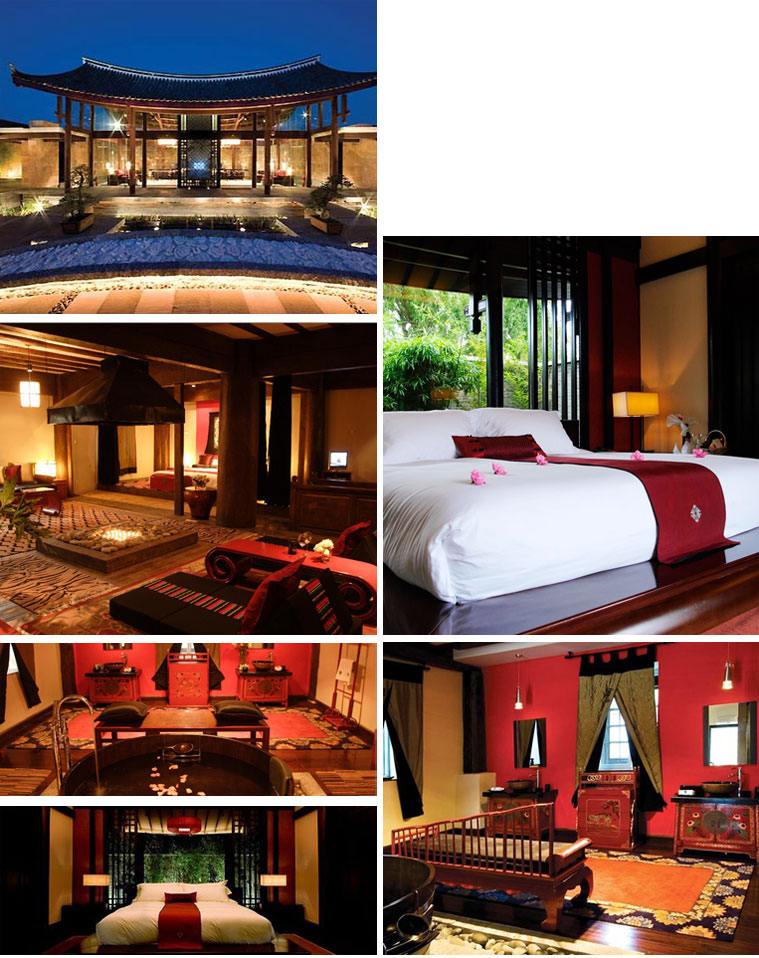 Songzanlin, at the foot of Songtsam Lama temple, Shangri-La County
Location: Songzanlin Temple
Hotel Name in Chinese: 香格里拉松赞绿谷酒店
Songtsam Hotel is located Next to Songtsam Monastery. The surrounding is beautiful. There is a nice lake with a nice walking trail in front and a small village adjacent to it. The room is in Tibetan style but very comfortable with all the modern amenities. Renovated in 2009, the Songtsam Hotel is the most popular boutique unique hotel in Shangri-la. It is 5km away from the city center and 7km away from the Shangrila Airport.
The Songtsam Hotel offers rooms. Rooms are provided with broadband internet access, hair dryer and 24 hour hot water and other service amenities. The rooms are clean and with a balcony overlooking Snow Mountains.